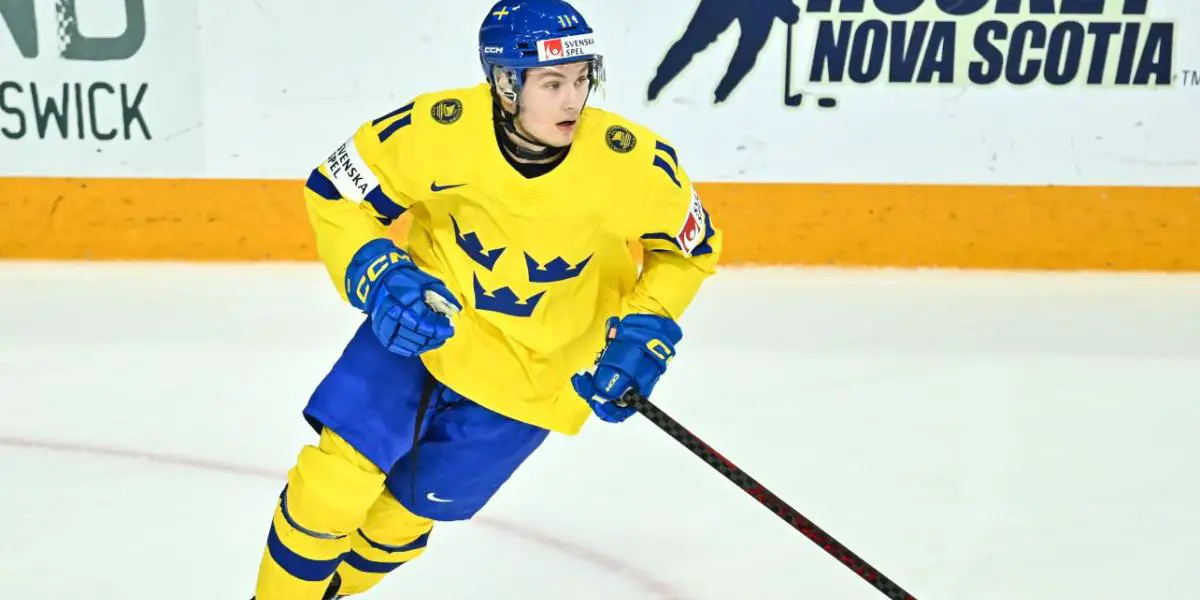 The Bruins entered the season with a prospect pool that ranked last among many hockey pundits, partly due to drafting near the bottom of each round and also due to some misses in their selections. Boston Bruins General Manager Don Sweeney managed to make two significant trades to solidify a roster that has made history through 61 games with 101 points without surrendering a single prospect. As the season has progressed, Boston has seen a few young players develop into legitimate NHL candidates. Here are the top ten Bruins prospects entering March:
Fabian Lysell (2021 1st Round – 21st overall)
Widely regarded as the Bruins' top prospect, Lysell possesses some dynamic offensive skill and great speed with the puck. The 20-year-old totaled 22-40-62 in 53 games with the Vancouver Giants in the Western Hockey League. The 5-foot-11, 176-pound right wing has improved his defensive ability and awareness with the Providence Bruins this season. There are some ups and downs with Lysell, as evidenced in his last five games (0-1-1, -9). Lysell projects to be a viable top-six forward in the NHL and has developed chemistry with teammate Georgii Merkulov. Lysell has registered 11-17-28 in 37 games.
Georgii Merkulov (Undrafted – Signed as a free agent)
Merkulov is one of the hottest prospects in minor-league hockey right now. The former Ohio State Buckeye was signed as a college free agent last season. The 22-year-old has had a great first season with Providence, with 18 goals and 23 assists in 49 games. Recently, Merkulov has surged into the conversation as Bruins' top prospect, with 9-5-14 in his last ten games. The skilled center is signed for the next two seasons with a salary cap hit of $925,000 per year. Look for Merkulov to get a hard look this summer for a possible spot on the NHL roster.
Mason Lohrei (2020 2nd Round – 58th overall)
Lohrei is the top defensive prospect in the system. The 6-foot-4, 205-pound defenseman has the size to compete in the NHL. The Ohio State sophomore has very good offensive skills and puck-moving ability. The Verona, Wisconsin native is the quarterback of the Buckeyes' power play and has three goals and 23 assists on the season, all three goals coming in his last six games. The odds are good that Lohrei will sign with Boston at the end of the collegiate season. No decision has been made on whether the 22-year-old will stay at Ohio State for a third year.
Brett Harrison (2021 3rd Round – 85th overall)
Harrison might be the second hottest riser in the Bruins' farm system. The 6-foot-2, 185-pound center started the season with the Oshawa Generals in the Ontario Hockey League and was traded midseason to the Windsor Spitfires coached by former Bruin Marc Savard. The 19-year-old signed a three-year entry-level deal with Boston through 2024-25. In 51 games overall, Harrison has 32 goals and 31 assists. In the last ten games, the London, Ontario, native has had six goals and seven assists.
Matthew Poitras (2022 2nd-Round – 54th overall)
Poitras is playing his second season with the Guelph Storm of the Ontario Hockey League and is one of the top centers in the league. The Brooklin, Ontario native has 14 goals and 60 assists and has collected an assist in 12 straight games. In two seasons with the Storm, the 5-foot-11, 176-pound pivot has 35 goals and 89 assists. Poitras turns 19 years old on March 10 and is currently unsigned.
Brandon Bussi (Undrafted – Signed as a free agent)
Bussi is a tall, athletic goaltender who is 16-3-4 with a 2.45 goals against average and .924 save percentage with the Providence Bruins this season and climbing the ranks of Bruins prospects. Bussi was a three-year starter at Western Michigan University and signed a one-year entry-level deal with Bruins at the end of the collegiate season in 2022. Recently Bussi's numbers have slipped. In his last three games, the 6-foot-5, 210-pound netminder has allowed twelve goals with a save percentage of .836. However, the 24-year-old from South Beach, New York, has become a top goaltender prospect and one to watch as he enters restricted free agency at the end of the season.
John Beecher (2019 1st Round – 30th overall)
Beecher followed an injury-filled career at Michigan by signing a three-year entry-level deal with the Bruins through 2024-25. The 6-foot, 210-pound center has speed and a good motor on the ice. The early projections for the Elmira, New York native are a solid bottom-six center in the NHL. However, the Bruins would like to see more offensive production from the 21-year-old. With Providence, Beecher has six goals and eleven assists in 42 games this season. Next season, Beecher could be able to assume a role on the Boston Bruins roster as the team faces a salary cap crunch.
Marc McLaughlin (Undrafted – Signed as a free agent)
The former Boston College Eagles captain had a good camp this summer but was the victim of a numbers crunch on the NHL roster. After signing with the Bruins after completing his senior season at Boston College, the hometown kid burst onto the scene. The North Billerica, Massachusetts native scored three goals at the end of last regular season and showed promise that he could be a candidate for a permanent bottom-six role with Boston. After a slow start at Providence, McLaughlin has ten goals and twelve assists in 50 games. The 6-foot, 200-pound forward has scored three of those in his last ten games. McLaughlin will be a restricted free agent at the season's end.
Trevor Kuntar (2020 3rd Round – 85th overall)
Kuntar has had a very good season at Boston College, with 13 goals and 15 assists in 28 games. The 6-foot, 195-pound junior plays a physical, grinding game, improving his offensive production. Kuntar's stocky frame helps him win puck battles and leverage himself around the net. The 21-year-old left-shot forward is unsigned and could either play his senior season at BC or sign and turn pro after this season.
Kyle Keyser (Undrafted – Signed as a free agent)
Keyser was signed to a three-year entry-level deal by Boston as an 18-year-old in 2017 after a strong rookie camp invite. The 23-year-old goaltender is now on a one-year extension and will be a restricted free agent in the off-season. The 6-foot-2, 180-pound played three seasons with the Oshawa Generals of the OHL before joining the Providence Bruins. Keyser has played 14 games as Bussi's teammate and has a solid 2.44 goals-against average with a 7-2-2 record. The Coral Springs native has struggled in his last three games by allowing eight goals on 39 shots for a .795 save percentage.
Other notable prospects are forwards Andre Gasseau and Oscar Jellvik at Boston College, forward Riley Duran and Philip Svedeback at Providence College, defenseman Ty Gallagher at Boston University, Dans Locmelis heading to UMass-Amherst next season, and defenseman Frederic Brunet who is playing for Victoriaville of the Quebec Major Junior Hockey League.
Season 2. Episode 38. Special Guest Terrence Wallin
–
Bruins Benders Podcast
Maine Mariners Coach Terrence Wallin makes a return visit to recap the season. Should the Bruins make room for Tyler Bertuzzi? Will the Bruins move some core pieces? I guess there is more time for golf and more!