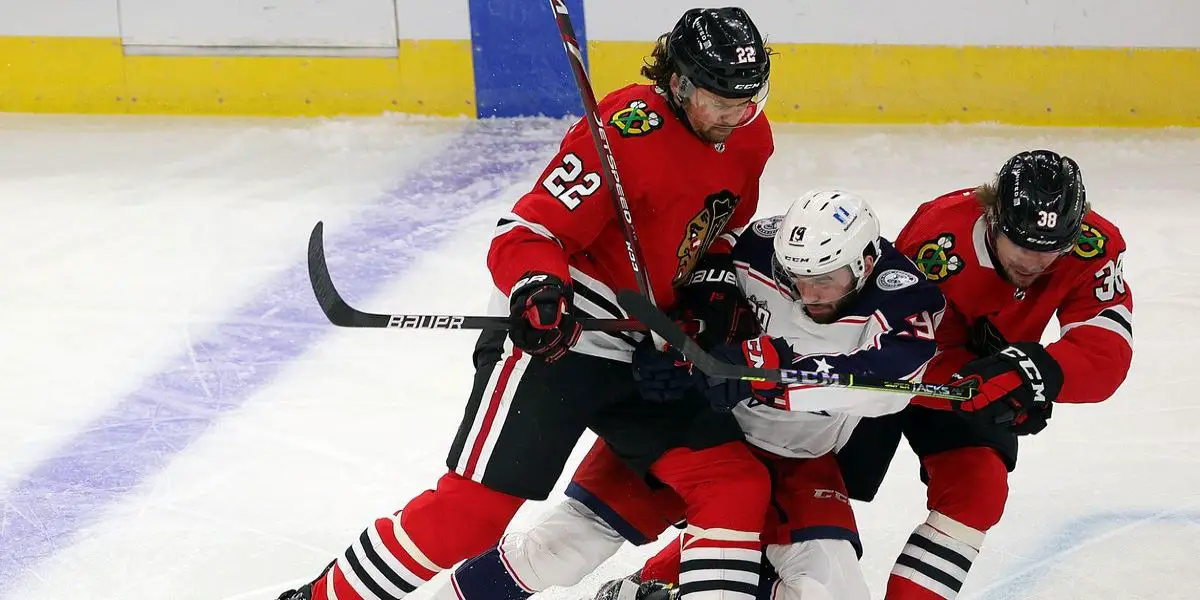 The Blackhawk's season started in a huge hole, and they have been climbing out since the firing of Colliton, but the Blackhawks will need help. This is where their Christmas list comes in; maybe Santa can bring the holiday cheers to Chicago.
1) Toews hot streak to keep going:
During Toews's last five games, Toews has finally found his offensive game that was nonexistent at the beginning of the season. Over this span, Toews has scored all 3 of his goals and added an assist as well. If Chicago plans on continuing the climb to a playoff spot, Toews will need to keep putting the puck in the net. Hopefully, this break doesn't slow him down, as he seemed to be just hitting his stride after missing all of last season.
2) Trade Gustafsson for anything of value:
Erik Gustafsson was brought back to Chicago by Bowman in the early parts of the season before Bowman would step down. This was a failed move, and Gus must go. He's a liability in his defensive zone. Gustafsson makes 4-5 boneheaded plays every game, and many times it lands up in the back of the Hawks net. Gus has been in and out of the line-up as of late. He has played in 27 games and has a goal and five assists. Chicago has plenty of young defensemen in the AHL who deserve a look in the NHL. (Beaudin, Mitchell, and Kalynuk) If Chicago can find any way to get some value in the form of a draft pick, they should jump on this and take the draft capital for Gustafsson.
3) Dach to take the next offensive step:
If Santa wants to really bring joy to Chicago, he will help Dach take the next step offensively. Dach is already a responsible 2-way forward. He kills penalties and takes care of his responsibilities in his zone. Dach also has unreal hands and has shown his ability to drive the rush through the neutral zone. Dach issues come when he is in the offensive zone. Dach loves to try to force the pass at all times and seldom looks to shoot the puck. Dach will need to adjust his mindset and start to shoot. When Dach figures this out, not only will he find the back of the net more. The other team will have to respect his shot, and this will open the passing lanes allowing him to make the passes that he has been trying to force through. Dach only has 52 shots in his 30 games played, just not enough. Dach has five goals on the season.
4) Play Dylan Strome:
Chicago has struggled to put the puck in the net all year, yet they've sat a good offensive player. Strome has changed this season; he looks like he is putting in the effort every shift. Even with this, both King and the bum Colliton have scratched Strome. Strome has played in the last four games and has been good. In fact, Strome has 4 points (2G 2A) in his previous six games. Chicago needs to play Strome. Either he is a part of their future, and they need him to grow, or he's trade bait, and you want his trade value as high as it can get.
5) Dominik Kubalik to find his game:
Kubalik has been one of the most disappointing players thus far. Through 30 games, Kubalik has six goals… this coming from the player that scored 30 his rookie year and also had 17 in 56 games last year. Kubalik has also lacked effort at times this season, and it shows on the defensive side of the puck. In his first two seasons, you saw Kubs playing alongside Toews playing versus the other team's top lines. This season he's found himself on the bottom six and is a -11 on the season. Kubalik is in a contract year, and Chicago will have to decide to pay him or not. He will be an RFA, so Chicago really holds all the cards.
6) Kevin Lankinen to stop a puck:
Lankinen has been horrendous this season. At first, he got a pass because the team as a whole was a dumpster fire. Since King has been on the throne, Chicago has been a top defensive team in the NHL. Chicago gives up shots but mainly to the outside of the high-danger areas now, so why can't Lankinen find his game? He has been bad since about this time last season after starting on fire. This season he has a GAA of 3.43 and an SV% of .884… which makes me sick! Santa can bring the cut-out goalie, and he would have better numbers than that! In his last five starts, he has had one good start. It was against the Blues, so that was nice. He's given up five goals, two goals, three goals, four goals, and five goals in his last five games. Chicago can't win games when he plays like this. In 3 of those games, he was below a .900 SV%. Lankinen has shown he can be the starter, but he will need Santa to bring him some confidence.
7) Please find a way to bring back the Flower.
Marc-Andre Fleury has been magnificent on and off the ice. Let's just hope that 3 cups and already having everything in his Hall of Fame career is enough not to want to move his family again. The Flower is already a fan favorite in Chicago. The Blackhawks will need someone to hold down the net till Drew Commesso is ready, so why not the Flower. This one could be just me, but it's not worth it unless we are offered a 1st round pick from a team either just out or just in the playoffs. This could just be the post rubs getting to me, but I love seeing Fleury in a Blackhawks sweater.
8) Find the correct GM and Coach:
I'm not sure who this is, and I want to see what Davidson and King do with the rest of the season before moving away from them. Either way, the organization needs exemplary leadership both on the bench and in the front office after the last regime. Let's hope Santa leaves them a box with the correct names under the tree.
9) Trade Calvin De Haan:
De Haan is in the last year of his contract making 4.5 million. Chicago will either want to get him at a number closer to the 3 million mark or trade him for a 2nd round, maybe a first if they can fleece a GM at the deadline. He has been good, particularly with Seth Jones. Those two have been the best defensive pairing for the Blackhawks, but at the age of 30, he's a little on the older side. With DeBrincat and Dach, the Hawks need to form the team closer to their age. De Haan is a solid defenseman and will get a good return for a team looking to go on a run.
10) Trade Ryan Carpenter:
Chicago should move on from the 4th line forward and get a late draft pick back. Carpenter will be a UFA in the offseason and is 30 years old. Chicago needs to add offensive to their bottom-six, not Carpenter. Trade him for a 4th or 5th round pick and play a younger player there for the rest of the season.
11) Extended Dach and Kurashev before they break out:
Chicago will have to PAY DeBrincat when his contract is up, so they will need some luck with other contracts. The two that Chicago fans should be eyeing are Dach and Kurashev. Both are up this season, and both will be RFAs, meaning Chicago holds all the cards. If Chicago can get both on 4-6 year deals at a lower #, it could be the Holiday magic the Blackhawks need. Dach and Kurashev have yet to break out offensively ( as mentioned, Dach is already an excellent 2-way player). So Chicago should get on the phone with their agents and try to get a deal done fast. Both players have high skill and can break out at any point. Dach showed that in the bubble, and Kurashev has had many flashes throughout his short career. Let's hope the Blackhawks have contracts under their trees.