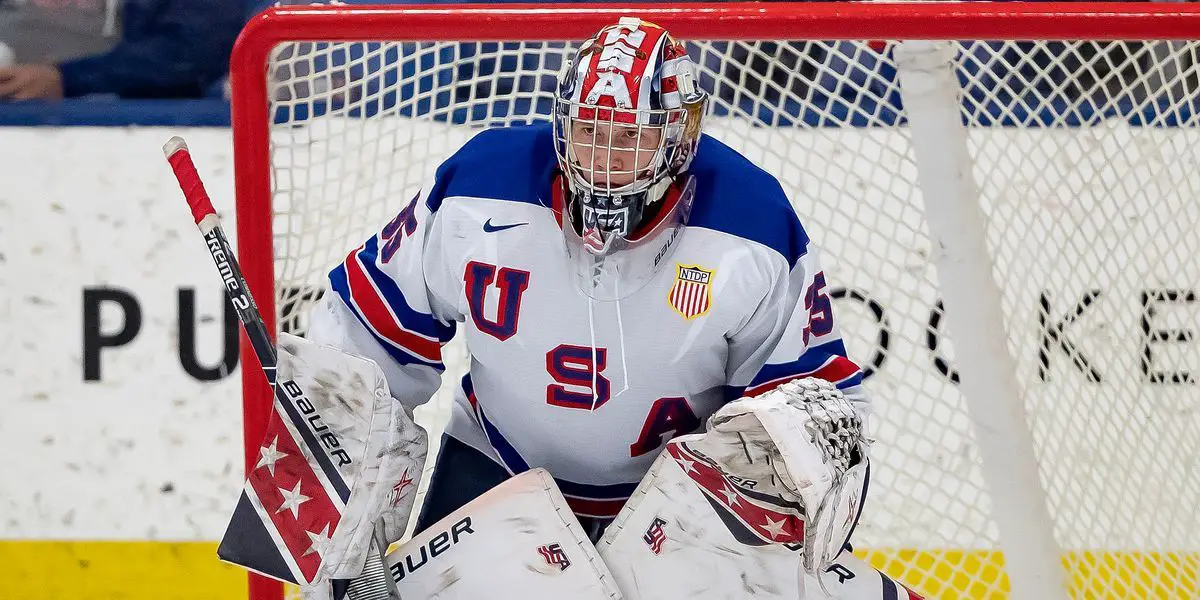 Chicago is in the midst of a rebuild. Kyle Davidson has his hands full trying to fix the roster's construction at the NHL and prospect level. The Blackhawks have holes on every level, but none more glaring than in the net. Chicago fans have been blessed for years with goaltending; some fans even took it for granted. Fleury, Lehner, Crawford, Darling, Nemi, and Khabibulin are just some of the goalies that have worn the Indian crest in recent history. You have to go back to the early 2000s to find below-average goaltending in the Blackhawk's net. The Blackhawks feel the effects of having AHL caliber goaltending at the NHL. 
What do the Blackhawks have in goal? 
Chicago has played three goalies outside of Marc-André Fleury. Lankinen, Delia, and Soderblom all have had an audition to be the starting goaltender next season, and they have all failed miserably. Lankinen started his NHL career on fire, but that fire went out fast. Lankinen has played 24 games this season and has posted a .886 SV% and a 3.66 GAA. Lankinen has flashed in a few games this season, like versus the blues in November. But overall, he has been below average since the halfway mark in his rookie season. His inability to play consistently will be a detriment to his NHL career. Lankinen is in the final year of his contract. If Chicago brings him back in the Starter role next season, it will be a long season. Lankinen is nothing more than a backup goalie. He is 26 years old. More than likely, this is what Kevin Lankinen will be for the remainder of his career. 
Collin Delia is not it. His rebound control is just putrid, and his glove acts more like a trampoline. Delia has good positioning and decent athletic ability but has always struggled to control his rebounds. Delia is not young at the age of 27, and it's unlikely he will be able to fix this aspect of his game. On the season, Delia has played in 5 NHL games and has an SV% of .902 and a GAA of 3.88. It's likely Delia wants out of the Windy City after getting passed over by Lankinen and Soderblom. Delia, like Lankinen, is in the final year of his deal. Delia will want to test the market and will likely play his last games as a Blackhawk this season. 
Chicago seems to have high hopes for Arvid Soderblom. Soderblom was able to take the starting job in Rockford from Delia during Fleury's tenure with the Blackhawks. Soderblom has had a strong season for the IceHogs, posting a .917 SV% and a GAA of 2.76. Soderblom is a significant reason for the IceHogs being in a playoff push. His play is even more impressive when you factor in this is his first season on North American ice. Soderblom decided to jump from the SHL after posting an SV% of .922 and a GAA of 2.03 in 22 games for Skellefteå AIK in the 20-21 season. This season, Soderblom got his first taste of the NHL, and it was not pretty. Soderblom saw NHL action three times this season, giving up three or more goals in each outing. He gave up more than a few weak goals, showing he needs time to polish his game in the minors. His GAA of 5.01 and SV% of .863 are just horrendous. Even though Soderblom is showing potential in the AHL, it's unlikely he will turn out to be anything more than a fringe starting goaltender. He is still young, at the age of 22. Maybe Chicago can develop Soderblom into a starting goalie. Unfortunately, it's more likely he turns out more like Lankinen than Crawford. 
Cale Morris and Dominic Basse are both very raw prospects. If either one can turn in an AHL regular, that would be a win for the Blackhawks. However, Basse is entering the transfer pool and returning to college for another season, while Morris will be looking to win the backup role in Rockford. It will be surprising if either goalie becomes an NHL-caliber player.
The prophet and savior 
The Blackhawks do have a high-end prospect on the backend. His name is Drew Commesso. The Blackhawks drafted Commesso in the second round of the 2020 NHL draft. Since then, Commesso has been nothing less than spectacular. Commesso is only 19 years old and is 6'2″. The Norwell, Massachusetts native didn't go far and is playing at Boston University. Commesso has posted a .915 and a .914 SV% during his first two college seasons. He got the call from Team USA to play in the Olympics. Commesso would go on to start a game for the Red, White, and Blue, becoming the youngest goalie to start in goal for Team USA. Oh, he would go on to post a shutout in that game. Commesso would only get into one more game for Team USA and finish the Olympics with an SV% of .964 and a GAA of 1.0. Commesso Is the real deal and has a shot to be the next great Blackhawks goaltender. Unfortunately, Chicago is going to have to wait. He is still young at 19, turning 20 in July. Goalies tend to take longer to develop. Chicago needs to be patient and allow Commesso to tell them when he's ready and not force him on the NHL roster too soon. Commesso is probably two to four years away from being the starter, just enough time for Davidson to rebuild the roster in front of him. The wait may be extended and grueling, but he will be awesome when Commesso finally gets to Chicago! 
Please check out the Cue The Dagger Pod!
We talk everything and anything Blackhawks. In this episode, we go over the goalie situation, Hossa, what numbers should head to the rafters, and so much more! Don't forget to follow us on Twitter @CueTheDaggerPod