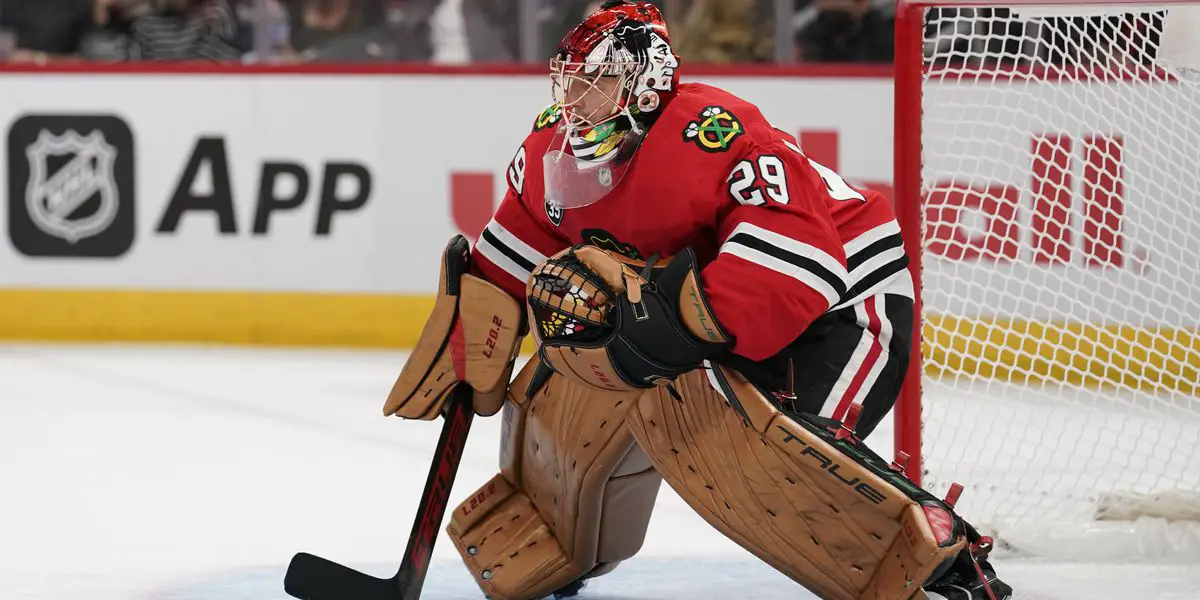 The Chicago Blackhawks did what they needed to do during the back-to-back versus Edmonton and Vancouver. It was not pretty, if not for Marc-Andre Fleury, Chicago would have lost both games. Chicago battled in the game versus Vancouver and did what they had to do to get the 2 points. Evident from guys like Jones laying their bodies out there blocking shots late. Edmonton blew the socks off the Blackhawks in the first game; throw that game in the trash. There is plenty to take away from these two games.
The biggest glaring issue the Blackhawks have was evident in the game versus McDavid. Chicago has a problem of turning the puck over to the middle of the ice in their zone. They also tend to take shifts off and play soft on the puck, leading to more turnovers and prolonged shifts. Ask Murphy and Caleb Jones, who both recently had a 5-minute shift due to this. They have had this issue for years. It's a lack of accountability in their zone that King and Crawford will need to address if they plan on keeping this winning culture they have brought in. The power play has not been so great as of late; not only did they give up two short-handed goals while playing the Oilers. Chicago has gone an abysmal 2 for 26(7.7%) on the power play in the month of November. It's time to change the power-play unit. Even if this isn't a permanent move, King should find a way to get Kubalik on the top unit. Kubalik and the PP need something to get them going. Moving a guy like Dach or Toews down to the second unit may be the best option. King could also move Jones to the second unit or down into the bumper role and put Kubalik on the top of the formation, I don't love this, but it is an option. Change must come to this power play soon.
Borgstrom was noticeable versus Vancouver. While only playing 10:21 of ice time, Borgstrom had one hit, one block shot, and three impressive takeaways. He had his legs going in that game. Borgstrom backchecked and forechecked with all his mite playing the Canucks. During one play, he carried the puck in the zone, took a shot, Vancouver got the rebound, and went to go up ice. Too bad Borgstrom had other ideas, stripped the puck from him, and generated more offensive zone time. He has been back in the lineup for three games now since being on the covid-19 list and has looked better each time he has gotten the chance to play. King should keep Borgstrom in the lineup instead of playing guys like Mike Hardman, who I like a lot as a player, has zero offensive upsides, and the Blackhawks are still struggling to score goals.
Dylan Strome has been doing everything asked of him to stay in the lineup. Strome's effort level cant, be questioned over the past few games. Dylan has been diving all over to try to block shots, get in a passing lane, or even keep the puck in the offensive zone. Has he been perfect? No, and he still has made some bad plays and had some gross turnovers, and this will still need to be addressed by King and his staff? Strome has been generating offensively as well. In the last four games, Strome has scored his first goal of the season, a GWG versus the Coyotes, and assisted on the GWG in Vancouver, While also getting plenty of other chances. Strome is what he is when it comes to his speed. He is just not the fastest guy on the ice. He will need to continue to get smarter as a player to put himself in the right areas of the ice since his speed won't allow him to make up for being out of position. Strome also needs to go practice not shooting in the logo on the opposing goalie's chest. Overall, Strome still has to put in the work, but he is playing better as of late and should stay in the lineup till the trade deadline and Chicago decides what they will do with him. 
Philipp Kurashev has been a disappointment so far this season. Kurashev takes shifts off at times, and you can see the lack of effort. He has a high skill set and is able to play make at a high level and has some excellent hands-on him as well, but he continues to be quiet on the ice for Chicago to start the year. -4 and only 5 points and zero goals through 17 games is just not good enough. He was down to only playing 6:25 in Chicago's last game and still took a penalty, and if it weren't for that, you would not have noticed him at all. Kurashev needs to be a healthy scratch for a night or two just to remind him this is the NHL, and you have to give it you're all on every shift. 
Brandon Hagel also has returned to the lineup and seems to be getting back into the speed of the game as he scored the GWG on a double deflection in just his second game back from the shoulder injury. There was a moment where he got hit again from behind and went off with that same shoulder limp but came back and seemed to be okay. Hagel's effort and energy are unmatched; I love this kid. He brings something the Blackhawks need in their lineup, and it's great to have him back.
Marc-Andre Fleury is a top goalie in the NHL at the age of 38, and that is just CRAZY. His playstyle is so much fun to watch. As long as he's not wearing your team's sweater, then he will give you a heart attack as he makes some of the craziest insane acrobatic saves in the world. In his last four starts, he is 4-0-0 and has a 1.25 GAA, .962 SV%, and a 40 save shutout. It's safe to say that Fleury is back to being the Flower and having fun while playing at an elite level in the net. Plus, who doesn't love that he rubs his post after every hit by the opposing team as a thank you to the post. Fleury's ability to be calm and collected rubs off on his teammates; you can tell they love to battle for him.
Chicago has taken many positive steps under King, and the 5-1-0 record shows this, but if they want to keep crawling back into the playoffs, they will need to keep adjusting their game and getting better. The power-play needs to be tweaked and maybe even changed entirely, and the horrendous turnovers in their zone must be eliminated from their game. There is a lot to be hopeful for, though, as the Blackhawks will continue their season moving on to Calgary to finish up this road trip before heading back home to Chicago to face the foul St. Louis Blues. The Blackhawks will need to take this season one game at a time and remain focused on Calgary. Let's go, Hawks!