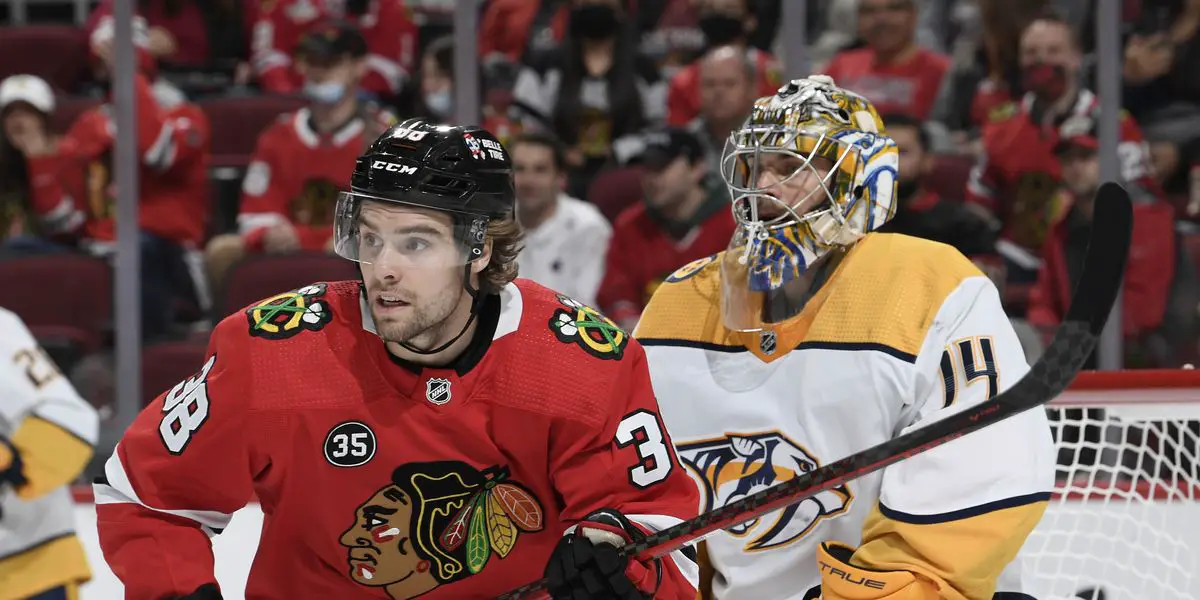 Frank Seravalli recently said that teams have offered the Blackhawks a first and a prospect for Brandon Hagel. Seravalli noted this on the Daily Faceoff Rundown podcast. He did go on to say it's unlikely that Hagel would be moved by the upcoming trade deadline. Most people will see the package and think the Blackhawks would be crazy not to move him, but that would be the wrong move for the Blackhawks.
Brandon Hagel might be the only bright spot on the tough season so far for the Hawks. Hagel has broken out in a significant way. Hagel is only twenty-three years old. On the ice, Hagel brings intangibles that you need to win. His ability to inject energy throughout the lineup with his play is invaluable. This was evident in the games Hagel missed this season, and the Blackhawks were flat in those outings. Hagel plays a solid defensive game and is willing to sacrifice his body for the team. This alone makes Hagel valuable, and we haven't even mentioned the evolution of his offensive game.
Hagel is no longer just the fourth-line grinder he was once looked at as, but a player who is now on the power play and a crucial part of it. Hagel can win puck battles and find the open player to allow the power play to set up. His grittiness and willingness to get dirty in front of the net and find rebounds have created havoc in front of opposing goalies. This season, Hagel has played forty-three games and has tallied fourteen goals and thirteen assists. He is on pace for around fifty points if he continues at this rate. Hagel has also turned into a fan favorite with a small cult following. While also having one of the best nicknames in the league. Hagel the Bagel. Epic.
Hagel is also being robbed by the Blackhawks, as I recently mentioned on my podcast "Cue The Dagger." Hagel has a cap hit of 1.5 million and has two years remaining after this season. Chicago will need as many "team" friendly deals as they can get next season with Kane, Toews, and Jones big contracts all on the books next season. So why trade a young player on a good deal? Unless Chicago is getting offered a pick that is in the top fifteen, which they aren't. It's not worth it. Teams looking to trade for Hagel are teams that are looking to go for a cup run. So the first-round pick the Blackhawks would get would be in the mid to late twenties, which is far from a guarantee to turn into an NHL player. Hagel is a guarantee.
Now, if Chicago gets offered a first-round pick and an "A+" prospect, that's when the Blackhawk's ears should perk up. But unless the New York Rangers call you up and offer Vitali Kravtsov a first-round pick, Chicago would be better off keeping Brandon Hagel. Chicago could already have a nice young core forming in DeBrincat, Dach, and Hagel. Dylan Strome's recent play could force his way onto the future young core of Chicago decide not to trade him at the deadline. But if a team wants to sell the farm for Hagel, then you trade him. I'm looking at you, New York Rangers.