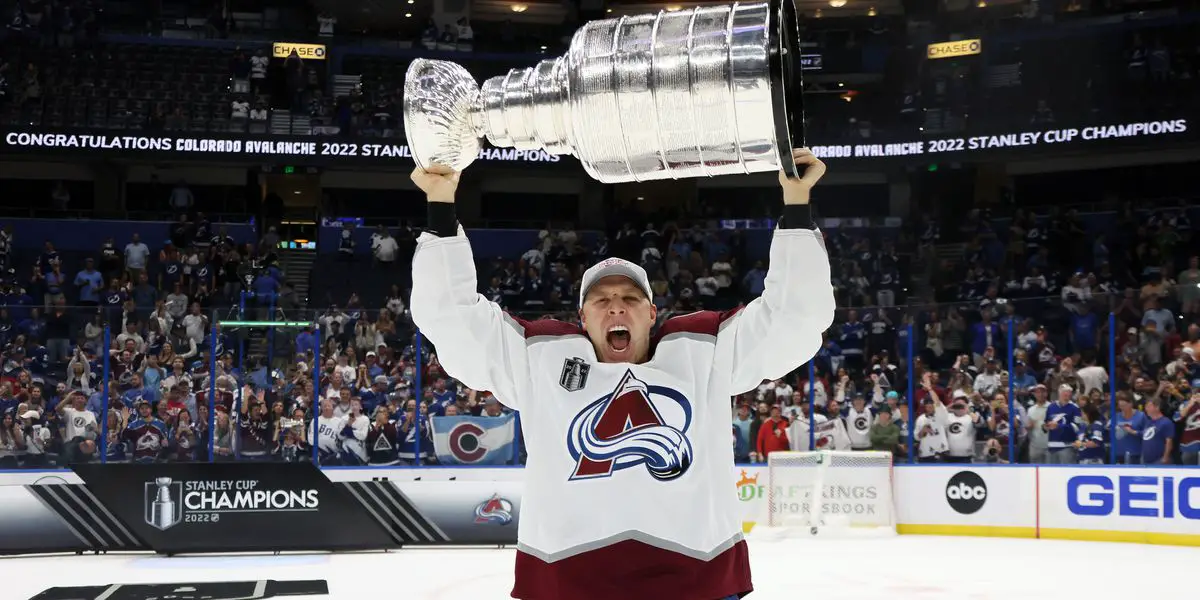 While the Eastern Conference keeps loading up on top-end talent in preparation for the playoffs, the defending Stanley Cup Champions, the Colorado Avalanche, didn't want to get left in the dust. So, they made a couple of "blockbuster" trades of their own over the weekend to bolster their depth by adding veteran defenseman Jack Johnson from the Chicago Blackhawks and backup goalie Keith Kinkaid from the Boston Bruins.
Kinkaid is a career backup with 168 games of NHL experience; he started 146 of those games and even has two playoff games under his belt. However, that was back in 2018 for the New Jersey Devils and was largely forgettable, considering he lost both games and had a 5.88 goals against average and .804 save percentage.
The Bruins are hoping they can un-tap some of the 1st round potential, a good low-risk/high-reward move for both teams. "Kinky," as he was affectionally referred to in Boston, will clearly just be depth and insurance for an organization that can never seem to have enough healthy goalies. He has spent the majority of this season in the AHL but did have a quick cup of coffee for the Bruins in a 31-save win over the Buffalo Sabres. All he cost the Avalanche was former 1st round pick Shane Bowers, who was acquired in the 2017 deal that sent Matt Duchene to the Ottawa Senators. Bowers has yet to make an impact at the NHL level or even the AHL, and the 23-year-old will be a restricted free agent at the end of the season.
The other deal mentioned, and the one more likely to make an impact brings locker-room favorite Jack Johnson back to Colorado, with whom he won the Stanley Cup last season. That said, it's been a rough season for Johnson on the tanking Blackhawks, but he is still reliable and logged the second-most minutes for Chicago this season.
Going to the rebuilding Blackhawks in exchange for Johnson is 27-year-old Andreas Englund, an absolute bruiser of a defenseman. While Colorado liked his game, and he had been developing, Englund isn't as polished as Johnson, nor does he have the playoff experience that Johnson does. He led the Avalanche with 105 hits but was only averaging around 11 minutes of ice time, which shows there wasn't much of a trust factor there.
According to Avalanche head coach Jared Bednar, he is excited to have Johnson back, stating Johnson was very dependable and that experience never hurts. He also said that while he was a fan of Englund, he thought he was heavy and tough but not as polished as Johnson. Bednar even went as far as to say he wasn't worried about the veteran defenders' stats in Chicago, "His underlying numbers were terrible [when] we got him the first time—some of the worst in the league. And I felt like he did a heckuva job for us. Helped us win a Stanley Cup."
Johnson now gets to help Colorado try to defend the Stanley Cup he helped them win last year instead of circling the drain with the Blackhawks. Good for him, and while these may not have been the biggest moves made by the Avalanche, they do signal that they aren't just going to lay down and die in the Western Conference. They still have plenty of talent and experience to make a serious run, and as we all know, you can never have enough depth, especially once the playoffs roll around.
The boys are back after a long break but have plenty to talk about as the playoffs are in full swing. We go series by series, looking at how teams have fared so far and who will come out on top. Thanks for listening! Please rate and review our show on your favorite listening platform. Check out our partner's website at www.insidetherink.com for all your latest hockey news.