Heading into the 2021-22 season fresh off of signing a 2-year extension, Mike Smith was looking to replicate last season's play, where he had an unbelievable campaign. In 2020-21, Mike Smith had a record of 21-6-2, a GAA of 2.31, and a .923 SV%. Both Smith's GAA and SV% last season was the 2nd best he's ever had in his 15-season career. While it was a fantastic run last season, it was a complete 180 when this season started.
Mike Smith has not been dealt the best hand with health this season, suffering injury after injury, setback after setback. It seemed like he could never get his feet under him, and it showed with his on-ice play as his numbers were anything but pleasant. Through his first eight games, Smith had a record of 3-5-0, a GAA of 3.62, and an SV% of .890. It seemed as if a goaltending change was imminent, with many fans penciling Stuart Skinner's name into Smith's spot.
Ken Holland was forced to fire head coach Dave Tippett and hire AHL affiliate head coach Jay Woodcroft as the season progressed. While this change has shown for the better 5v5 for the Oilers (by a ton), it also brought something that fans have been waiting for, Mike Smith's play.
Teaching An Old Dog New Tricks
Since hiring Woodcroft, Smith's play has seen a much-needed increase in the numbers department. Through 18 games, Smith's record is 12-5-1, has a GAA of 2.27, and an SV% of .924%. Those are tremendous numbers and something that both the Oilers and Smith have needed and has been a big reason for the Oilers' success since hiring Woodcroft. With the new head coach, the Oilers' record is 22-8-3, and they are one win away from clinching a playoff spot.
Another thing to note is Smith's last ten games he has started, which again have been nothing short of stellar. In his previous ten games started, Smith has a record of 9-0-1, a GAA of 1.40, and an SV% of .948. All while setting records as the 6th goalie in NHL history to post back-to-back shutouts while being over the age of 40. He has also jumped to #4 for the longest winning streak by an Oilers goalie with seven straight wins (#1, of course, is Grant Fuhr with ten straight). Some could say he's finally hit his prime! While this likely isn't the case, it's been nice to see this play from Smith.
One Game At A Time
While it's been a fun time for Smith and co., it's worth keeping in mind what happened at the start of the season. Smith has been known to be a bit of a hot and cold goalie, and at his age, anything could happen. As we've seen earlier this season, a slight tweak could go from day-to-day to being out for the rest of the season. While it's good to enjoy the ride, it's best to proceed cautiously. Plus, let's not forget about Koskinen, who has been decent for the Oilers since hiring Woodcroft; he has a record of 9-7-2, a GAA of 2.87, and an SV% of .904.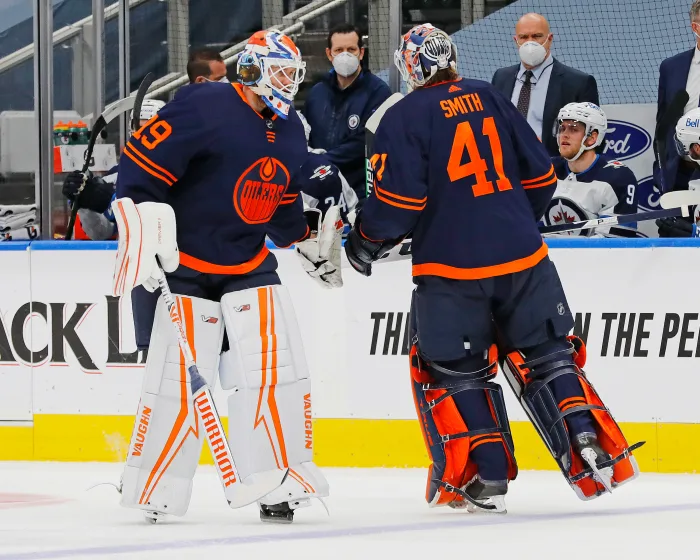 Down The Stretch We Go
It'll be interesting to see how the season wraps up, as the Oilers only have five games remaining. A win against Colorado will seal the deal for a spot in the playoffs, who will be the starter in game 1? Could it be Smith, as he has been lights out lately. Do you go Koskinen? The guy who has, generally speaking, been the most consistent of the two. Or do you just play the two evenly? 2019-20 showed they can be a decent 1A/1B option, but that was two years ago. It'll be a challenging but interesting decision for Woodcroft. Either way, with playoffs, unofficially being a lock for the Oilers, fans back this time around, and Game 1 most likely being in Edmonton, this is where the fun begins.