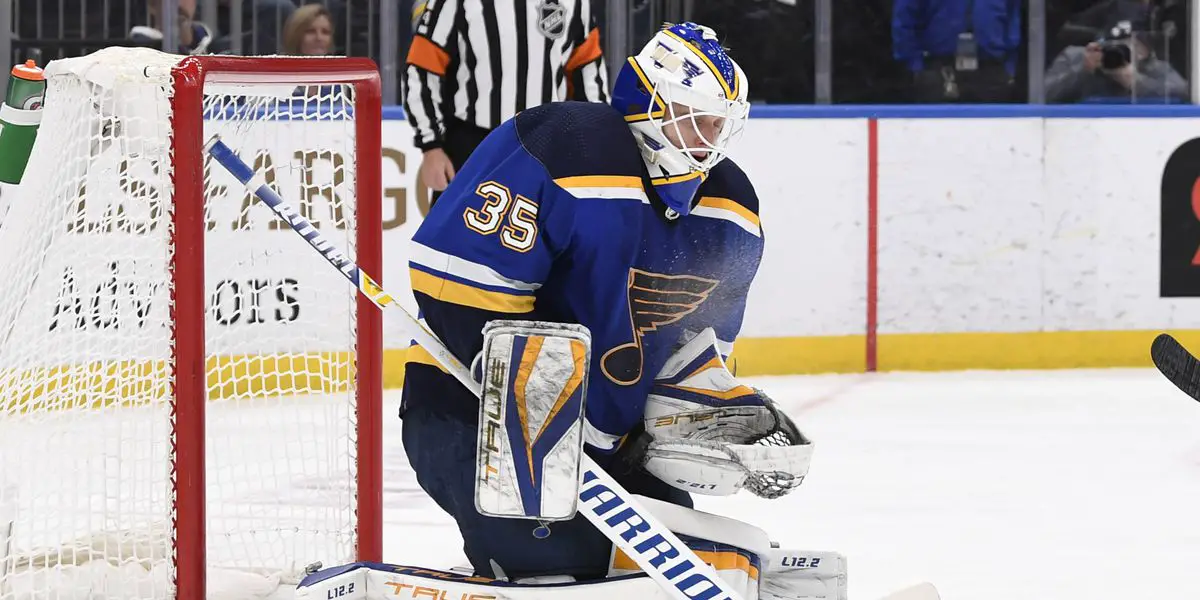 It is no secret that the New Jersey Devils could use some goaltending. Despite being buried deep in the basement all season long, the Devils had a few bright spits and quite possibly would have won more games if not for subpar goaltending. To want to get better and be more competitive, riding AHL-level goaltending is not sustainable for achieving that goal. With the uncertainty of Jonathan Bernier returning from hip surgery, the team must make the necessary adjustments to add to the crease.
There are some big names on the open market this offseason for goalies. Highlighted by Stanley Cup Champion Darcey Kuemper and Toronto Maple Leaf's netminder Jack Campbell. Tom Fitzgerald could circle his finger around those two, but a name to watch for is Ville Husso.
The Rumor
Rumor: Elliote Friedman on 32 Thoughts podcast discusses the possibility of the Devils pursuing Ville Husso.
Ville Husso would be an upgrade in the crease. He can come in and form a tandem with Blackwood and have an A-B situation in net. The need is there, and the former Blues goalie coach in New Jersey could attract the netminder to the Garden State.
The Season He Had
Ville Husso had a good campaign for the St. Louis Blues. He has only spent two years in the league, and despite the small sample size, it has shown his growth in his game. In 2020-21 he suited up in 15 games and posted a 9-6 record. Primarily in a backup role, he posted a 3.21 goals-against average and a .893 save percentage. In 2021-22 he saw his game rise to a new level. He went on to outplay Jordan Binnington for the majority of the year. In 40 games, he went on to post a 25-7-6 record. The 27-year-old netminder went on to finish the season with a 2.56 goals-against average (14th) and a .919 save percentage (7th). He went on to finish 9th in the league with 13.5 goals saved above expected. It was a huge season for the young netminder, and he stole the show with the Blues. With the cap space, they have to work with, keeping him in town will be tough.
Husso did have a postseason to forget. The netminder posted a 3.67 goals-against average against Minnesota and lost the net to Jordan Binnington. That should not hurt his stock, and he will be a highly coveted goaltender.
Why It Could Be Good
The Devils have longed for a tandem in goal. They have tried with aging veterans to not only help mentor Mackenzie Blackwood but also come in and help win games. It has backfired each time, with Corey Crawford retiring and Jonathan Bernier requiring hip surgery. This time could be different and better. Villa Husso is 27 years old and fits the mold of the core the Devils are building and already boasting a young team with star center Jack Hughes, Nico Hischier, Jesper Bratt, Dawson Mercer, Dougie Hamilton, and even up-and-coming Alexander Holtz. He would be entering the prime years of his young career and could provide the spark in the net the team desires.
Why It Could Be Bad 
The sample size for goaltender Ville Husso is small. Can he replicate this season? Was it a one-hit-wonder type of year? Can he be a legit presence on the net? Would the money he is seeking equal out to the production he can put forth on the ice? It is quite possible he can replicate this season and be the goalie he was this year.
The St. Louis Blues were a better team defensively than the Devils, as the Devils ranked 31st in goals against. That isn't to say Husso was not a good goalie because he showed that with his play. He would need to do that on a Devils team that is weaker defensively.
Final Thoughts
The New Jersey Devils are a much better team with Husso than without. With the $25 million in cap space and other holes to fill, they could make this deal work and could have a solid tandem in goal. Whether it comes to that remains to be seen, but if the rumors are true, Devils Nation will be joyful.
The boys are back after a long break but have plenty to talk about as the playoffs are in full swing. We go series by series, looking at how teams have fared so far and who will come out on top. Thanks for listening! Please rate and review our show on your favorite listening platform. Check out our partner's website at www.insidetherink.com for all your latest hockey news.