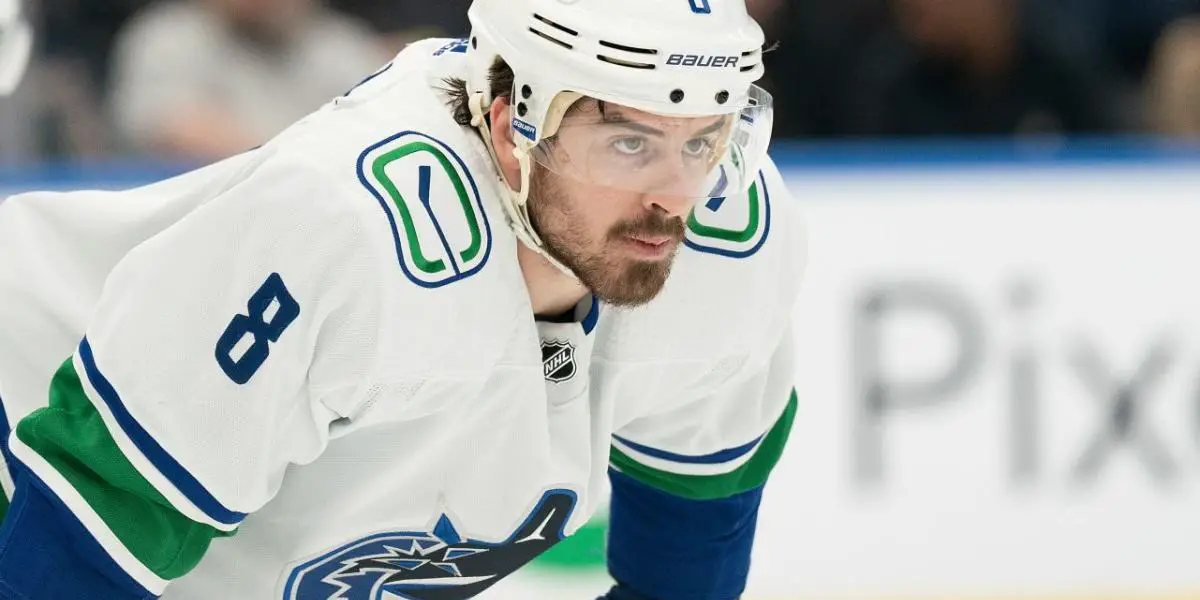 After the news broke that Maple Leafs General Manager Kyle Dubas was in Vancouver, taking in the Canucks 5-2 win over the Chicago Blackhawks. I initially didn't think much of it because the top prospects game was the following day in Vancouver. However, when the news came out that the Maple Leafs General Manager was there again three nights after Vancouver hosted Columbus, I found that odd. Especially since the Maple leafs had a game of their own that night in Toronto, some might think more of it than others, but it's clear Kyle made the trip more than just to see the top prospect's game.
Now after the Vancouver Canucks traded away Bo Horvat, a name many fans wanted to come here in Toronto. I've begun to speculate who Kyle could have been watching in Vancouver. Kyle Dubas values players who are strong in possession, mobile, and can skate well. An option I've thought about is Canucks winger Conor Garland. Dubas was previously rumored to be interested in the skilled forward back when Conor was with the Arizona Coyotes organization. 
The 26-year-old winger came over in a massive trade between the Arizona Coyotes and the Vancouver Canucks in 2021. After an impressive breakthrough with the Coyotes, the fifth-round pick out of Moncton contributed ninety-six points in a total of one-hundred and sixty-four games as a Coyote. Garland became one of the most sought-after trade pieces for a little while. Once he became a Canuck, the trade chatter was shut, and things never really became what was expected. 
Garland had a solid first season in Vancouver that is truly unappreciated. In seventy-seven games last season, Garland scored nineteen goals and thirty-three assists for fifty-two points. The versatile winger was also second in even-strength scoring last year. This season for the Canucks, with only nine goals and fifteen assists for twenty-four points through forty-eight games, and it's safe to say Garland's season has left both fans and management wanting more. Garland was also a healthy scratch earlier in the season, which looked like it set the tone of the relationship between the two sides.
After times got tense in Vancouver, rumors of a potential buyout started circulating. Most teams would certainly welcome the 26-year-old winger. However, with a salary of $4,950,000 until the 2025-26 season, that might be what scares teams away. If the rumors of a buyout were true, I don't think it's entirely impossible a team would come around asking for a trade that involves retention from the Canucks. I would say it's pretty obvious Vancouver Canucks General Manager Patrik Allvin would rather recoup an asset, rather than let go of Garland for free while still paying him. 
What I find intriguing most about Conor Garland is the talk surrounding his contract. Yes, it's got term, and a $4,950,000 cap hit is quite high with today's cap system. However, per The Athletic, the 26-year-old forward has been playing at a $4,000,000 value this season. It would be a significant bargain if a team could get him retained to a salary closer to three million or even below. This season Garland has an eighty-seven percent projected wins above replacement percentage, a seventy-five percent even-strength offense percentage, and a ninety-six even-strength defense percentage, all per JFresh. Those are extremely encouraging numbers from a player on a buyout radar.
The fit with the Maple Leafs might not be perfect, but it certainly would be a nice addition. The 26-year-old right-handed winger can play on both sides and slide up and down the lineup. Garland would bring good speed, strong play in possession, and deep offensive awareness. Conor also has good puck-handling ability and can often draw the opponent's defenseman to pinch, opening up space for his linemates. Garland might profile as an undersized skill driven forward, but he certainly doesn't lack grit and determination. Garland would likely strive better in a top-six role but ideally projects as a top-nine forward that can contribute offense at a higher rate than the league average.
It's unclear what the asking price would be for Garland. With the buyout rumors, it could be cheaper than projected. However, Garland would bring a nice use of pace and energy to the group. Ideally, it would be a spark to the group that it lacks at certain times. A player with Garland's skill would also be an excellent addition to the second power-play and open up a lot of space for more shooting-based forwards like Maple Leafs forward Calle Järnkrok. With most of Garland's production coming at even strength, this would be a nice tinkering piece to the blue and white long-term.
Thanks for reading! For more Leafs content, follow me on Twitter at ITR_Anselmo.
So Nice, It Ended Twice feat. Marty Zylstra
–
Leafs Late Night
WELCOME BACK TO LEAFS LATE NIGHT! Presented by Inside The RinkGalaxy Biehn / Marty Zylstra of Sports! Is FunCheck out Marty's Music- Lucky To Be Good, Good To Be Lucky- Mitch Marner Is Underrated- Joseph Woll Remembers.- Gregor's ArkNEW MERCH IS AVAILABLE!JOIN OUR DISCORD!Remember to follow us on Twitter @LeafsLateNight & IG @LeafsLateNightCheck out Mike, Josh, and Nathan's articles on the Leafs + many more! insidetherink.com