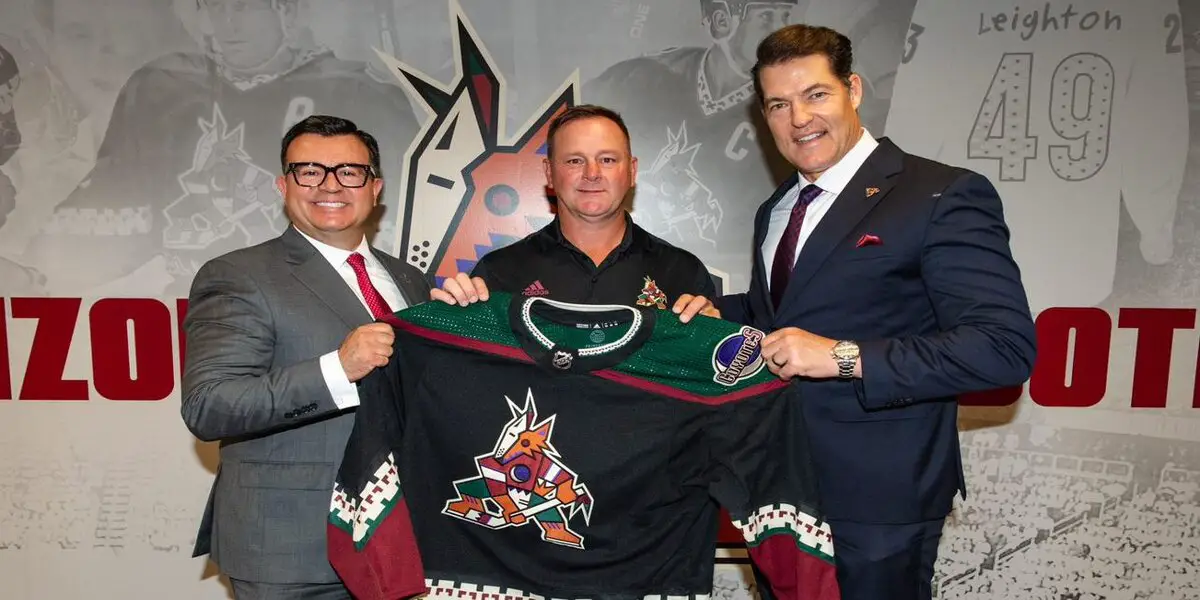 The Arizona Coyotes have hired three-time Stanley Cup champion John Madden as the club's new assistant coach, announced earlier this week.
"We are very pleased to add John to [head coach] André Tourigny's coaching staff," said general manager Bob Armstrong. "John is an experienced coach and a three-time Stanley Cup champion. He's a proven winner who had a very good NHL career as a defensive specialist. I'm confident that he will be able to help our penalty-killing unit, and he will be a great addition to our staff."
Looking Ahead
Madden joins the Coyotes from the San Jose Sharks, where he served as an assistant coach from 2020-22. However, on July 1, Madden was among a slew of coaches fired from the organization, including head coach Bob Boughner, John MacLean, and Dan Darrow. But Madden will remain in the Western Conference as the Coyotes were willing to give the 14-year NHL veteran another shot to prove his worth behind the bench.
"It's exciting to have the privilege to work alongside a proven winner like John," said Tourigny. "His resume as a coach and as a player is extensive. Our staff, our players, and I will take full advantage of his knowledge and experience."
Other Experience
The 49-year-old Madden spent three seasons as head coach of the Cleveland Monsters (AHL) from 2016-19. He led Cleveland to a semifinal appearance in the Calder Cup Playoffs in 2018-2019. His record over those three seasons was just a hair above .500 at 101-99-19-9.
"I'm very excited to join André's coaching staff," said Madden. "The Coyotes have a lot of young talent and are building something special in Arizona. I'm really looking forward to being a part of it and can't wait to get started."
Happier Days
Madden won the Stanley Cup twice with the New Jersey Devils in 2000 and 2003 and with the Chicago Blackhawks in 2010. He won the Frank J. Selke Trophy as the league's top defensive forward with the Devils in 2001 and finished runner-up in 2003, 2004, and 2008.
Where Madden Can Help Arizona
Madden was also known for being a beast on the penalty kill during his prime and generating breakaway chances while his team was shorthanded. 
During the 1999-00 season, Madden led the NHL and set a New Jersey Devils' team record—and tied the then-NHL rookie record at the time, held by Gerry Minor—by scoring six shorthanded goals. That record was erased during the 2006-07 season when Jordan Staal netted six shorthanded goals for the Pittsburgh Penguins. 
Arizona has particularly struggled on the penalty kill. During an April 19, 2021, game against the Minnesota Wild, the Coyotes gave up two power-play goals out of three opportunities. In 2009, Madden explained the art of killing a penalty.
"Now we pay more attention to what teams do off the draw," he explained to ESPN. That said, Arizona will have to study their opponents' faceoff tendencies from the left or right-wing circle to allow their coaches to develop options. By doing this, even if their teammates lose the faceoff, they're in a position to take possession of the puck up the ice or clear it out of the zone.
The College Years
Madden played four years at the University of Michigan, setting the NCAA record for most career-shorthanded goals with 23. He was a member of the 1996 NCAA championship team and was selected to the CCHA First All-Star and NCAA West First All-American Teams during his senior year. Madden also led the Wolverines to three Central Collegiate Hockey Association championships.
Cactus Style
Big, gritty, and physical. That is the essence of what Armstrong has branded as "Cactus Style" as the Coyotes prepare for the 2022-23 season. Hard but clean. Madden may not have been the most imposing character on any of his teams, but he certainly has been around some of them, including Scott "Captain Crunch" Stevens, one of the game's most fearsome hitters. We'll see what Madden brings to the table, but could he find a way to lure Stevens back to the bench?
Stevens spent two years as an assistant coach with the Devils (2012-14) and one year in the same position with the Wild (2016-17). They say Arizona, in particular Scottsdale, is a great retirement community. This idea could be out to lunch, reminiscent of the Arizona Diamondbacks pitching staff, but it's worth a try.
The boys head out west and north of the border as they cruise around the Pacific division previewing topics like Trevor Zegras, Calgary getting deeper, the Kings have a loaded prospect pool, and the NHL having some handsome coaches.Thanks for listening! Please rate and review our show on your favorite listening platform. Check out our partner's website at www.insidetherink.com for all your latest hockey news.