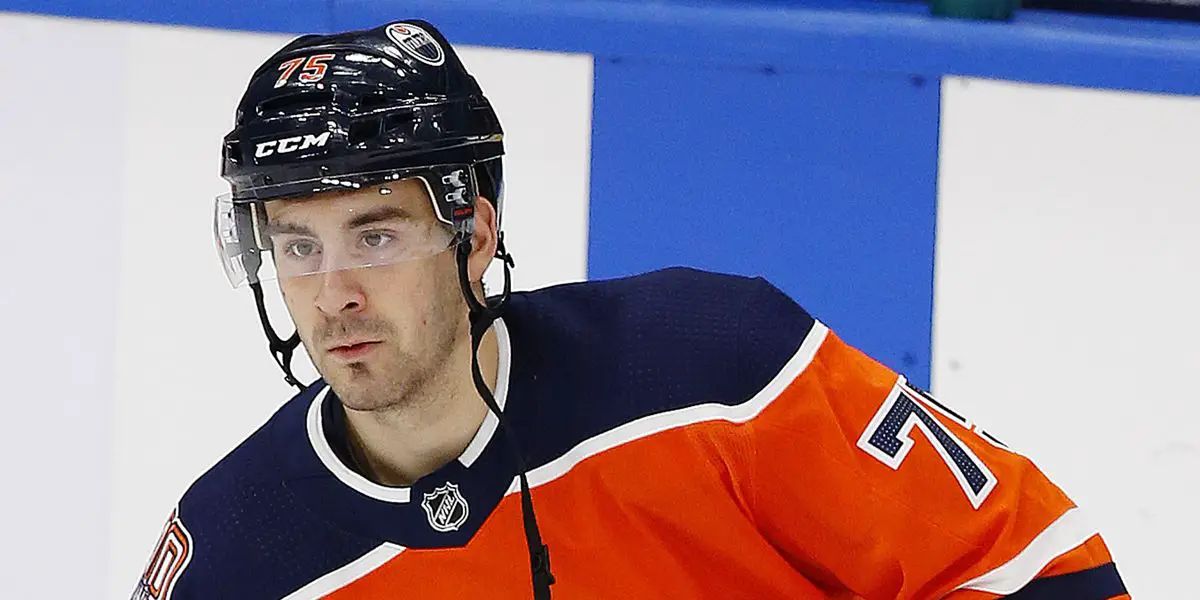 The inspiration for this article comes from the tweets of @mathewjdp.
So far this season, it seems that Bouchard has been struggling on both the offensive and defensive sides of the game. Offensively, it has been a step down on the score sheet compared to last season, as through 15 games, Evan Bouchard has a total of 5 points, all assists. While Bouchard has not got much time on the powerplay, with most of that going to Tyson Barrie, Bouchard's 5v5 production last season was his strong suit. Defensively, it has been a bit deceiving. For the most part, Bouchard has been average but has made some costly mistakes that lead to high-danger chances against. Another player who seems to experience the same thing defensively is Brett Kulak.
It's funny how hockey sometimes works: stats can differ from what you think you are seeing or what you are missing. I say this because Evan Bouchard has the best analytics on the blueline by quite a significant margin. I am about to throw a lot of categories that Bouchard is #1 on the defense in at you, so get ready… CF/60, CA/60, FF/60, FA/60, SF/60, SA/60, xGF/60, xGA/60, SCF/60, SCA/60, HDCF/60, and HDCA/60.
For those who don't know, I will list below the info on each of these stats.
What Do They Mean?
To say there is a lot to understand about analytics as a whole would be an understatement. There are a massive variety of statistics that could be found for literally every situation that goes on in a hockey game. Analytics for a powerplay? Yup. Penalty Kill? Yup. Team defense when the opposition has their goalie pulled or playing 6v5? Yup. Some people are entirely against analytics as a whole, and some people love them and use them alone to judge a player. There has always been the "eye test vs. analytics" argument, but I would advise using both. Why not gather all possible information when judging a player, especially for GMs. Fun fact: the Tampa Bay Lightning are tied for having the deepest analytical approach in their management in the league, and they almost won 3 straight cups (the team they are tied with is the Toronto Maple Leafs.).
Some of these are self-explanatory when you read the name, but I will still list the info for them.
CF/60 – Corsi For per 60 minutes: "Corsi" counts as any shot attempt for their respective team.
CA/60 – Corsi Against per 60 minutes: Any shot attempt against their team.
FF/60 – Fenwick For per 60 minutes: "Fenwick" is any shot attempt that does not get blocked per 60 minutes. The key difference between "Corsi" and "Fenwick" is shot blocks. Corsi includes blocked shots; Fenwick does not.
FA/60 – Fenwick Against per 60 minutes: Unblocked shot attempts against the team.
SF/60 – Shots For per 60 minutes: Shots on goal for their team per 60 minutes.
SA/60 – Shots Against per 60 minutes: Shots against their team per 60 minutes.
xGF/60 – Expected Goals For per 60 minutes: This is a way to determine the quality of a shot on net. The lower probability a shot has to go in, the lower xGF it will be for the person who shot it. The higher the quality, the higher the xGF.
xGA/60 – Expected Goals Against per 60 minutes: For this stat, you want to treat it like golf… the lower, the better. The "lower" means lower quality shot on the net given up.
SCF/60 – Scoring Chances For per 60 minutes: The number of scoring chances your team has against the opposition while you are on the ice.
SCA/60 – Scoring Chances Against per 60 minutes: The number of scoring chances against your team that the opposition gets while you are on the ice.
HDCF/60 – High Danger Chances For per 60 minutes: The amount of high-quality chances your team has against the opposition while you are on the ice.
HDCA/60 – High Danger Chances Against per 60 minutes: The amount of high-quality chances your team gives up while you are on the ice.
Seeing them all in one big mess in a paragraph can seem like a lot, but once you take the time to find out what they mean, they are pretty interesting. Again, there are still a lot of factors that surround all of these—for example, competition. Player A has amazing analytics, and Player B has awful analytics; most would think Player A is a clear choice. Meanwhile, Player A is playing against some of the worst players in the league, and Player B is playing against Connor McDavid. In a nutshell, analytics can be flawed or deceiving if not used properly.
The point here, though, is that Evan Bouchard leads the Oilers in every one of those categories listed above. Every. Single. One.
You may also notice that Tyson Barrie is at the bottom of that chart. The talk in Edmonton over the past two off-seasons for Barrie has been about his relevancy of him with the Oilers. Barrie is a good offensive option on the blueline, but when you have a younger and much cheaper option in Bouchard, you might just find yourself asking if Barrie is really what the Oilers need right now.
Sample Size
Another fair argument is the sample size. We are still pretty early in the season, only at the 15 game mark so far, so asking if these stats can stay consistent is fair. A good reference for this is to look to last season for Bouchard, who played his first full season.
For the 2021-22 season, Evan Bouchard's stats were very similar to this season so far. His CF/60, CA/60, FF/60, and FA/60 are a bit better this season, with the biggest difference coming between his FF/60 (the difference being 3.4%).
Another good chart to look at is J-Fresh, which uses a 3-year system when putting charts together for a player.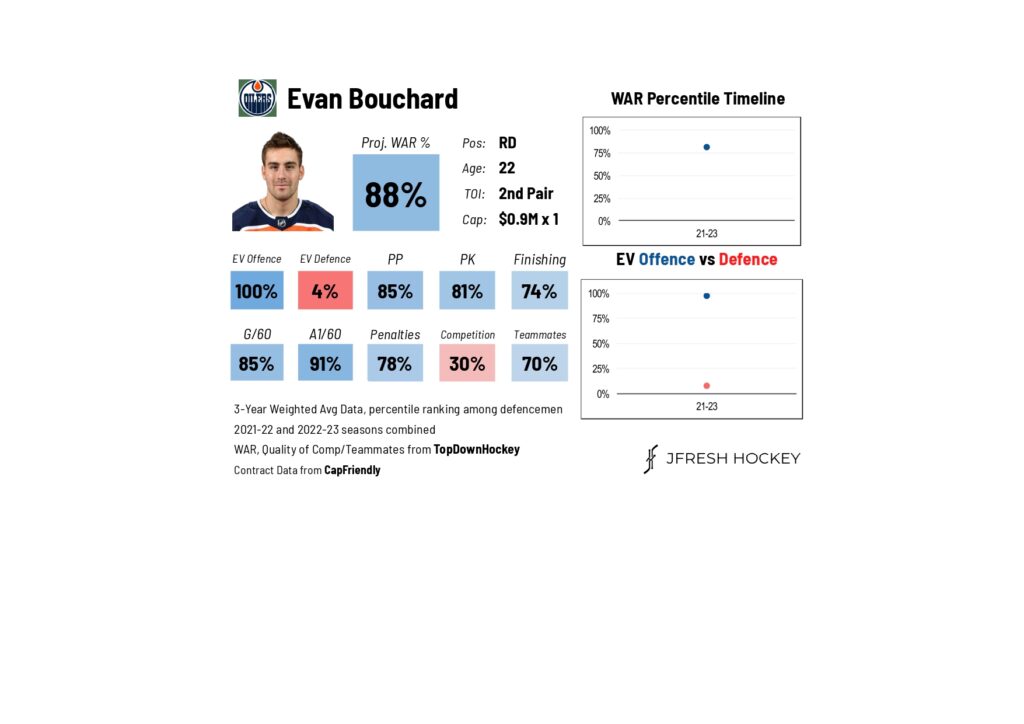 Here it shows that his defense needs work, but everything else he's got figured out very well. Bouchard's defensive analytics have been good this season, but those 15 games aren't shown very much here.
All In All
This season has been a mixed bag for Bouchard, but for a player, at his age, he's almost ahead of schedule for how he's developed so far. What makes it even crazier is how he is getting a small amount of time on the powerplay. There is a real possibility that Bouchard could be a 60-70+ point defenseman when given the role to play on the top powerplay unit. It sounds crazy, but scoring 43 points in his first full season with sheltered minutes really showcased to the Oilers fans what type of player he can be. If Bouchard can get his defensive game to even average, with his offense staying just as good, the Oilers will be in a good spot for defenseman scoring in the future.
As I mentioned at the beginning, this article comes from a tweet made by @mathewjdp, one of the tweets used here is the thread to which I am referring.