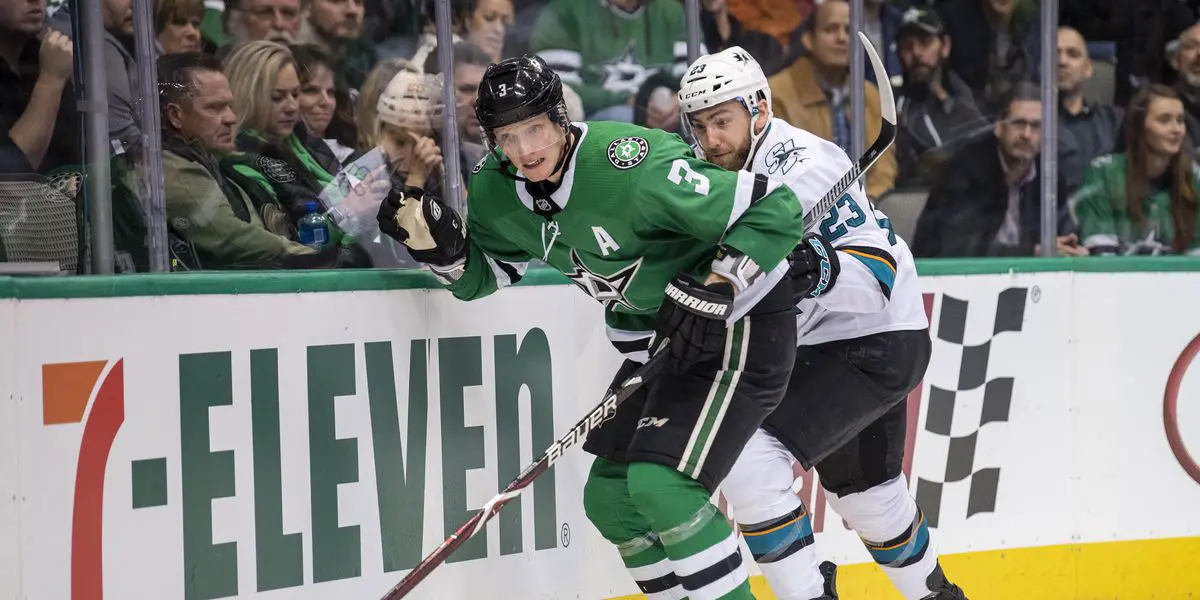 It is no secret that Dallas Stars defenseman John Klingberg has been the topic of many teams' acquisition discussions during last season and this off-season. After not being able to agree on a contract last season and the trade deadline coming and going, Klingberg was essentially used as the Stars' own rental. Now the off-season is in full swing, and the question is: do the Stars move forward with or without Klingberg?
Klingberg is a 29-year-old, right-handed defenseman drafted as a fifth-round pick in the 2010 draft by the Dallas Stars. The 6'3" defenseman can walk the blue line beautifully and has proven to be lethal from the point. He is an unrestricted free agent coming off a seven-year contract carrying a $4.25 million AAV. John Klingberg is notably one of the best offensive defensemen in the National Hockey League, with a career total of 71 goals and 303 assists, for 374 total points in 552 games. In June of 2021, the Chicago Blackhawks signed Seth Jones to a $9.5 million AAV/8 year deal, setting an alarming standard for what the Dallas Stars could expect the ballpark to be for the defenseman.
However, Klingberg had an uncharacteristically rough season, where frustrations could be seen from him to the coaching staff and fans. One could assume those frustrations were coming from where his contract stood. In January of 2022, Klingberg stated in a post-game press conference that he did not feel appreciated because they had not come to an agreement, indicating that he had been offered less than market value or could not agree on the length of the contract to stay in the organization. Klingberg finished the 2021-2022 season with six goals, 41 assists, and 47 points in 74 games.
Though this was not the best offensive-producing season he has had, much of that can be attributed to the system head coach Rick Bowness was running. Bowness's philosophy was based on "the offense will take care of itself." And even publicly discouraged Klingberg from an offensive style of play. Bowness's game plan did not include carrying the puck but rather dumping it into the zone. Taking away Klingberg's two most significant assets, his offense and his ability to carry the puck or walk the blue line, this did not bode well for the defenseman the two years under Bowness' reign.
Despite not having the best season, Klingberg still has much to offer if used correctly. The Dallas Stars recently hired Pete DeBoer to be their head coach. His style is completely different than what Dallas has seen in the last two years. DeBoer is not only big on puck possession but also including defenseman in the offense. This is a system where Klingberg's strengths will flourish. Not only will we see more production out of his offensive game, but he will also be able to move the puck to create those chances for his teammates.
If the Stars decide to let Klingberg walk, the next question is: who do they get to replace him? Right-handed defensemen are a hot commodity this off-season. None that can clearly fill the offensive hole that Klingberg's absence would leave. Not only offensively, but someone who can also move the puck down the ice. As it stands, Miro Heiskanen is the only other solid defenseman that can do that. Either way, the Stars' front office risks replacing him with a player who may or may not be able to fill the void. Or that Klingberg's play goes back to pre-Bowness condition.
The Dallas Stars currently have roughly 18 million dollars in cap space. Their two main priorities this season will be signing forward Jason Robertson and goaltender Jake Oettinger. Both proved themselves to be essential to the Stars' future. Even with the signing of those two, the Stars have the money to sign Klingberg if they want to and if the two parties can agree on the details of the contract. All in all, the Stars believe they are in a win-now position, and keeping Klingberg currently best fits the bill.
Bruins prospect tournament standouts, Metro Division Preview, Blake Wheeler loses the "C", Nic Hague contract dispute, and Evander Kane gets another bag.Thanks for listening! Please rate and review our show on your favorite listening platform. Check out our partner's website at www.insidetherink.com for all your latest hockey news.