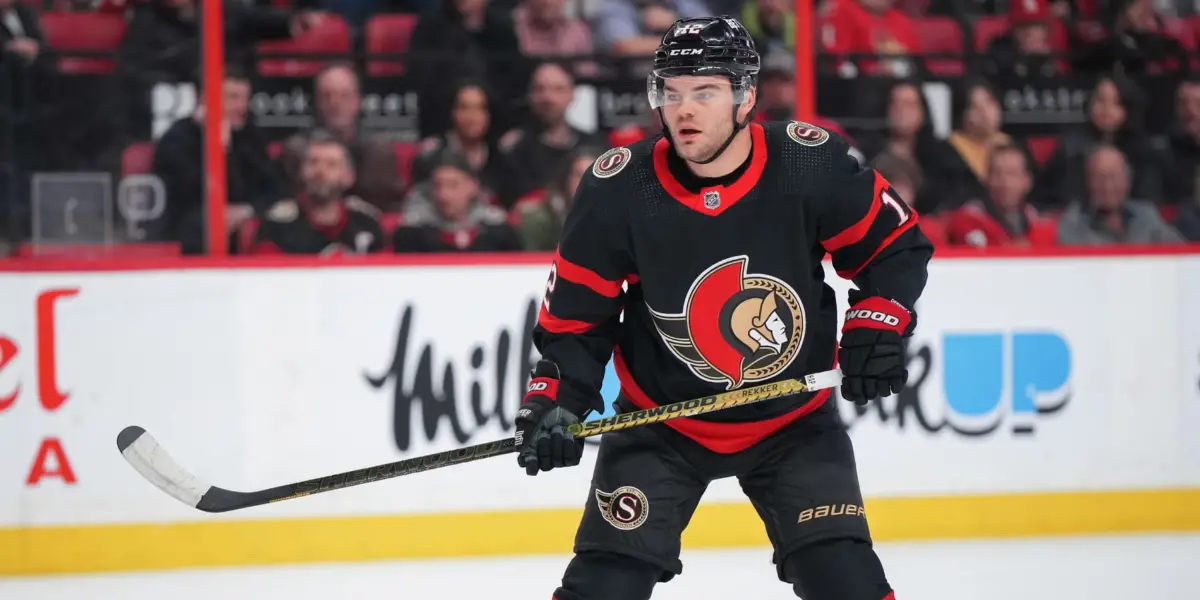 The offseason for the National Hockey League is in full swing, with winger Alex DeBrincat potentially being on the trade market. It is highly likely that Alex DeBrincat is traded rather than taken to arbitration or signed via an offer sheet.
Since DeBrincat wishes to wait till the completion of the Ottawa Senators sale (via Elliotte Friedman) and him needing a new contract for the 2023-24 season, I can see a few potential trade scenarios taking place for Alex DeBrincat.
Winnipeg Jets:
It's no secret that the Winnipeg Jets have exhausted all efforts to sign Pierre-Luc Dubois to a long-term contract extension. Dubois' preferred destination, which is reportedly the Montreal Canadiens, just recently signed star winger Cole Caufield to a long-term extension. The Canadiens have nearly maximized their salary cap usage for the offseason with this extension, so Dubois being traded there is highly unlikely as of right now.
Related Story: What's Going On With Pierre-Luc Dubois?
However, the Winnipeg Jets could use some extra depth on the wing by acquiring Alex DeBrincat for Pierre-Luc Dubois. The trade wouldn't be a one-for-one trade, it would likely include a bunch of other pieces going back and forth, but it would certainly be a groundbreaking trade.
Carolina Hurricanes:
After a tough Eastern Conference Finals loss to the Florida Panthers during the 2023 NHL Stanley Cup Playoffs, the Carolina Hurricanes will certainly be looking to shake things up ahead of the 2023-24 season.
There have been names like Sebastian Aho and Andrei Svechnikov potentially available via trade, it is just a speculation as of right now and could remain speculation.
If the Ottawa Senators were to make a trade involving DeBrincat, I can see Carolina being interested in whether it takes them a piece like Aho or Svechnikov or potentially future prospects, like Seth Jarvis, and some picks.
New York Islanders:
Lou Lamoriello is airtight and quiet when it comes to what he does in the league, he despises it when information surrounding what he's doing is leaked.
I'm purely speculating on this one, but the New York Islanders could use a young winger who is one year removed from a 41-goal season. Alex DeBrincat could help the Islanders get younger and build into the future. Mat Barzal and Bo Horvat are signed for the next eight seasons, so why not get another huge piece to build upon?
While the Islanders lack assets, I could see them making a trade for DeBrincat work, I've been fooled before on certain trades, and I think DeBrincat and the Islanders are a perfect fit.
Buffalo Sabres:
The Buffalo Sabres are a solid young team who have the tools to be incredibly competitive for many years to come. Alex DeBrincat could bring incredible experience and depth to the Buffalo Sabres.
If this is a trade made, Buffalo wouldn't hesitate to trade a few future players as well as draft picks to acquire Alex DeBrincat. The fans in Buffalo are incredible, and DeBrincat could help Buffalo make a legitimate push for the Stanley Cup Playoffs.
Washington Capitals:
The Washington Capitals are due a solid retool, and I don't see them rebuilding as long as Alex Ovechkin is a part of the franchise. Alex DeBrincat could bring more depth on the wing for the Washington Capitals and be another strong addition that shouldn't take a ton of futures to acquire.
Final Thoughts:
If the Ottawa Senators and Alex DeBrincat can't reach an agreement and choose to move the young forward, I can certainly see every team in the league expressing interest.
There are a ton of teams already in the mix, but I've purely gone and speculated on teams I can realistically see trading for Alex DeBrincat.