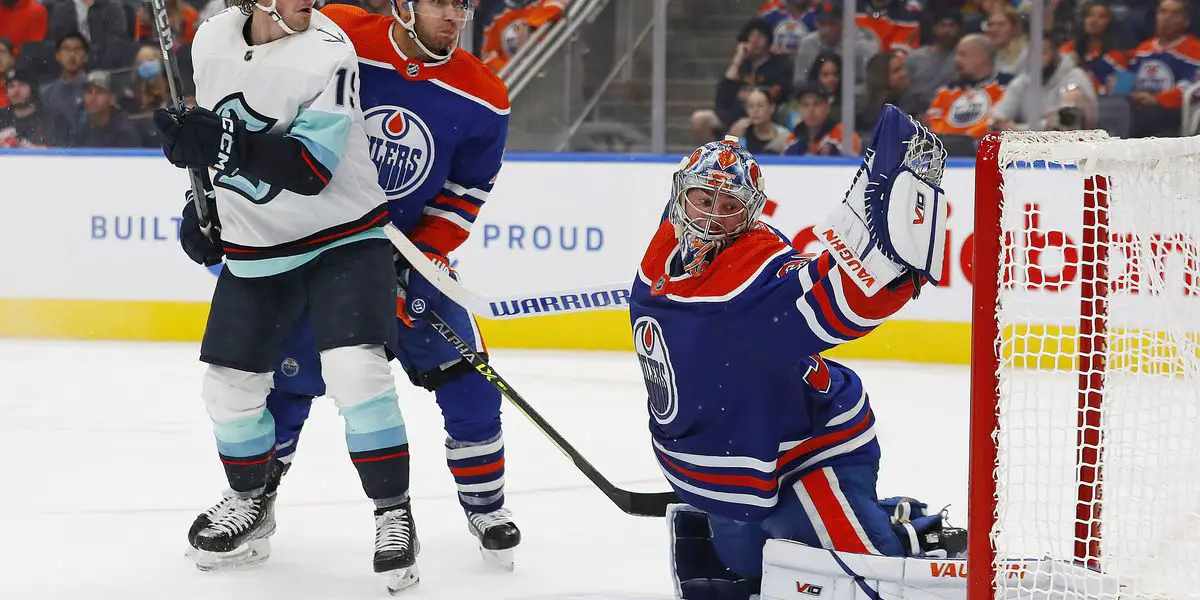 When it comes to the Edmonton Oilers, the offense is never going to be a problem.
It starts with Connor McDavid. McDavid, still just 25 years of age, leads the NHL with 73 points on 33 goals and 40 assists. McDavid is the game's best offensive player and produces just about every single night.
The team also has the likes of Leon Draisaitl (58 points), Ryan Nugent-Hopkins (46 points), and Zach Hyman (41 points), who produce consistently. If you are counting at home, that is four players with at least 41 points on this hockey club.
Overall, the Oilers are currently (Wednesday, January 4) third in the league in goals scored, with 138 in 39 games (3.54 goals per game). The offense is not this team's problem.
Rather, keeping the puck out of the net is a problem for this hockey club. It cost them dearly in last year's Stanley Cup playoffs, and it could end up costing them a spot in this year's postseason if things do not change in a hurry.
The Oilers are 22nd in goals allowed, as they have given up 131 goals this season. They are lucky that they can put the puck in the net because when you allow the number of goals they do, they should have a losing record instead of being 20-17-2 and in the second wild card spot in the Western Conference.
Part of the problem defensively has been their penalty kill. They are 27th in the league, as they have killed off just 72.9 percent of the penalties they have taken this season.
Another issue that this team has is they give up a lot of shots. The Oilers are 23rd in the league, giving up an average of 32.4 shots per game.
Lastly, and simply put, their goaltending is not good. This was also the case last season.
Due to their struggles between the pipes last season, the team went out and signed unrestricted free agent masked man Jack Campbell to a five-year, $25 million contract in the offseason. At the time, it seemed like a smart signing as Campbell was coming off a successful season with the Toronto Maple Leafs, where he went 31-9-6 with a 2.64 goals-against average, a .914 save percentage, and five shutouts.
Well, Campbell certainly has not brought that success with him to Edmonton. He is 8-7-0-1 with a 3.80 goals-against average and a .877 save percentage.
Campbell is not playing up to his contract. He is allowing goals that he should stop, he is not playing with any confidence, and any time he does give up a goal, he looks defeated.
Because of Campbell's inconsistent play, the Oilers got comfortable with using backup netminder Stuart Skinner. Skinner has been much better than Campbell this season and has certainly earned the playing time he has been given so far.
Skinner is 12-10-0-1 with a 2.88 goals-against average and a .914 save percentage. Thanks to his somewhat consistent play, Skinner earned himself a three-year contract extension worth an average value of $2.6 million.
With that said, can Skinner really be trusted? What if his play goes south, and the team has to go back to using Campbell?
If the Oilers cannot find a way to fix these issues, it could cost them dearly.
The boys are back after a long break but have plenty to talk about as the playoffs are in full swing. We go series by series, looking at how teams have fared so far and who will come out on top. Thanks for listening! Please rate and review our show on your favorite listening platform. Check out our partner's website at www.insidetherink.com for all your latest hockey news.