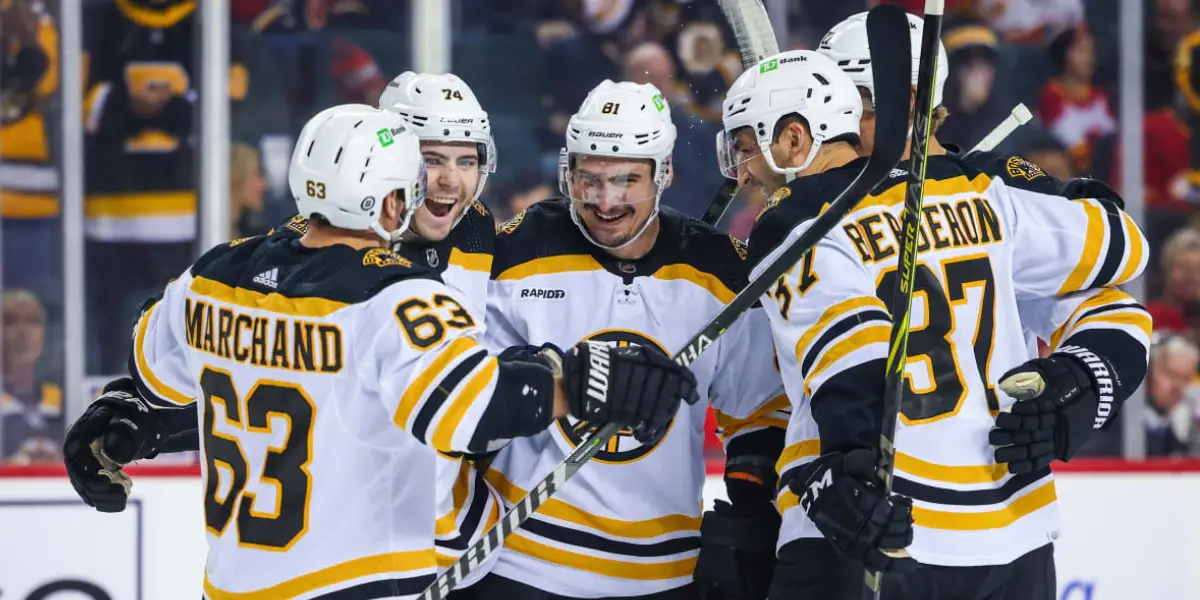 A two goal performance from the top talent in the world, Connor McDavid, on February 27th was not enough for the Edmonton Oilers to skate past the Boston Bruins. What was the difference in that 3-2 victory? Boston's depth. Of the three goals scored, only one point was recorded by a member of the Bruins top-flight talent, David Pastrnak's primary assist on Pavel Zacha's game-winning goal. 
Thursday night's rematch was a change of scenery and outcome. Boston suffered a 3-2 loss at the hands of the Edmonton Oilers. The ultimate deciding factor was depth scoring. Leon Draisaitl's secondary assist on Darnell Nurse's game-winning goal was the lone point recorded by either himself or Connor McDavid. Edmonton's workmanlike performance ended Boston's ten game winning streak. A slice of humble pie, served cold, with no vanilla ice cream. 
The Good
Brad Marchand's first-period goal came on Boston's first shot attempt of the game, his 10th consecutive 20 goal season. 
Oiler netminder Stuart Skinner's lapse in judgment as the first period was seconds from expiring resulted in Pastrnak scoring with less than a second remaining in the first period. 
Jake DeBrusk was removed from the game momentarily after colliding with Mattias Ekholm. Diagnosed with a bad case of "getting the wind knocked out," he's fine.
Connor McDavid has 124 points through 66 games played. None of which came Thursday night in Boston. Just the seventh time all season, McDavid was held without a point. Turns out, the last change is still an invaluable tool. 
The Bad
The power play finally capitalized, or did it? David Krejci's powerplay goal was nullified after a lengthy review to determine whether Boston's zone entry was on-side. ESPN's play-by-play personality Ray Ferrero put it best "so they're going to go back about a day and a half and check and see if this is off-side." Rules are rules.
Dmitry Orlov has been a spectacular addition to a Bruins team lacking mobility on its backend beyond Charlie McAvoy, Hampus Lindholm, and Matt Gryzelcyk. But his presence has required bench boss Jim Montgomery to juggle his pairings in search of chemistry. Connor Clifton was a healthy scratch against the Oilers for that exact reason. 
By virtue, Gryzelcyk drew into the lineup in Clifton's spot on the right side of Derek Forbort. One caveat, Gryzelcyk is a left handed shot which means he is playing his offhand side. 
So when Marchand attempted to dance through the Oilers defense near the blueline, only for the puck to leak to Gryzelcyk on his backhand, his options were limited. The easy play for a defensemen on his forehand is to chip the puck down the wall to Jake DeBrusk. However, not wanting to limply paddle it on his backhand, Gryzelck spins to his forehand, loses an edge, and turns the puck over at the blueline resulting in an Evan Bouchard goal.
The self Inflicted wounds continued in the third period. During a neutral zone regroup, Patrice Bergeron's pass intended for Charlie McAvoy was offline and skittered back into Boston's defensive zone. To compensate, both Bergeron and McAvoy chased it to the wall. Bergeron failed to go high and hard enough off the glass, Devin Shore intercepted the puck, and with both Bergeron and McAvoy out of possession, Ryan McLeod snuck into the slot and tied the game at two.
The Conclusion
Up until Thursday, Boston had won 10 straight games. A victory against the Oilers would have clinched a playoff spot on March 9th; simply ridiculous. Edmonton, in their own right, is battling to remain in playoff contention, a loss was bound to happen. 
Enjoy this ride while it lasts.
Season 2. Episode 37. It's Going To Be A Long Off-Season
–
Bruins Benders Podcast
The Bruins off-season will be longer than expected. We like some CHL rules changes. The Bruins defense needs to be nastier, not just bigger. Can this core going forward win a Cup? Plus Beauties and Benders and Rod Brind'Amour whines.