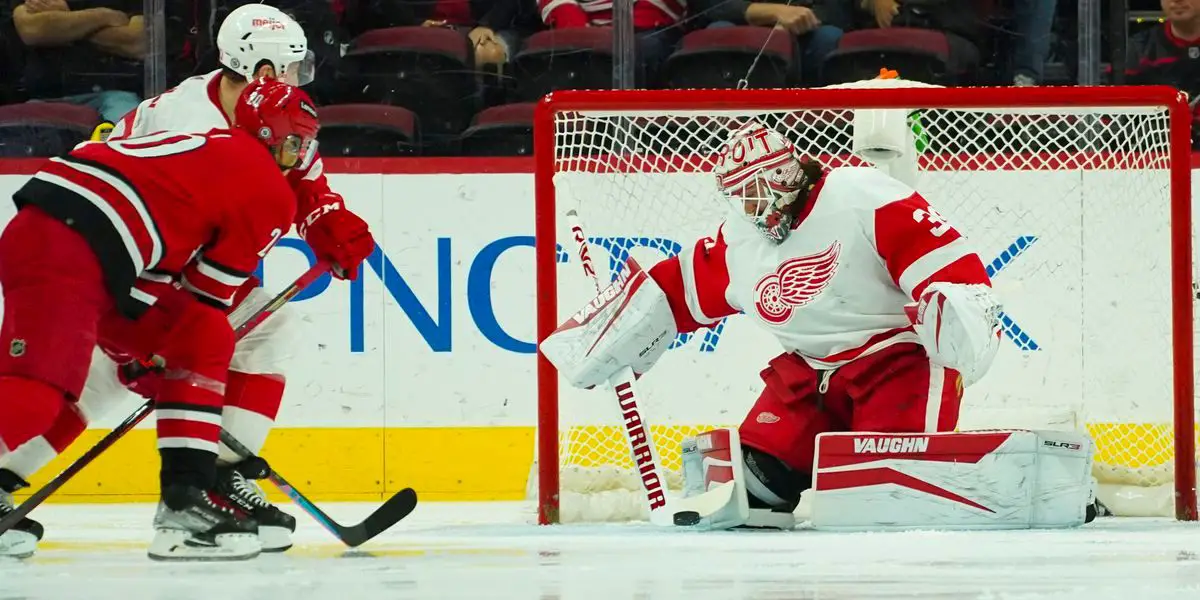 Every year, the Detroit Red Wings attempt to add a goaltender through the draft. The past eight drafts produced nine goalies, and during the most recent season, not one of these selections played a game in the NHL. The Red Wings currently have eight goaltenders in their system; however, Detroit only has two signed to contracts for next season.
The Red Wings have typically relied on trading for or signing free agent goaltenders to fill their vacancies in goal. Recently drafted goaltender Sebastian Cossa is the #1 goaltending prospect in the system. The #1 goaltender at the NHL level is Alex Nedeljkovic, and he was traded to Detroit by Carolina last summer.
Here is a look at Detroit's current goalie situation.
Goalies at the NHL Level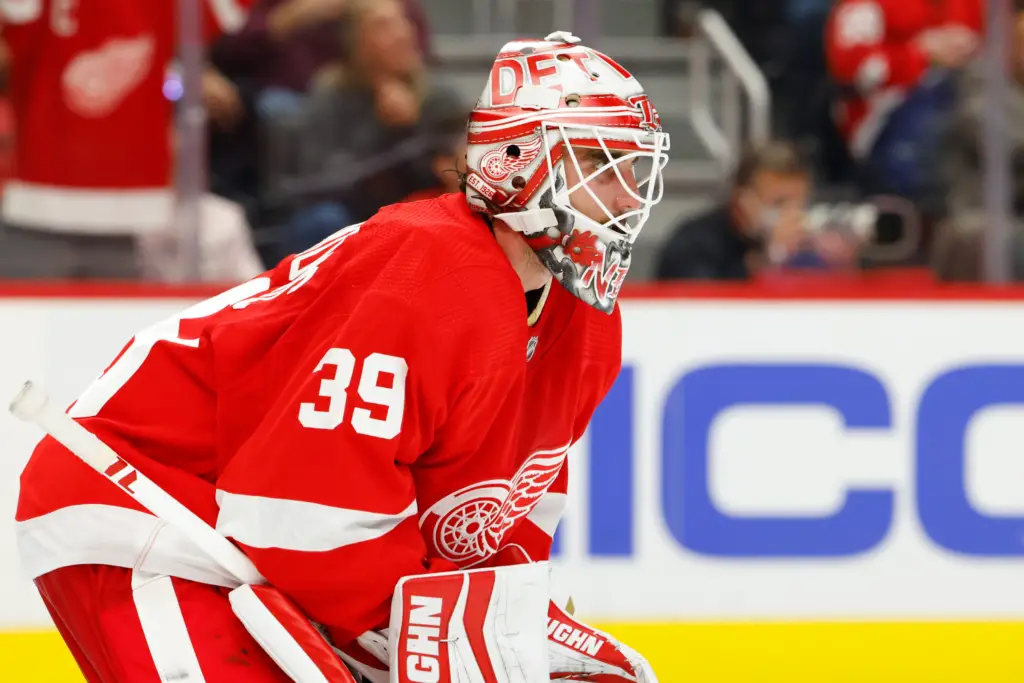 Alex Nedeljkovic
Age: 26
GP: 59
Record: 20-24-9
GAA: 3.31
SV%: .901
Alex Nedeljkovic is the only NHL regular goaltender signed to a contract for next year. Nedeljkovic was acquired by the Red Wings last summer. He immediately signed a two-year contract with a cap hit of $3.0M annually. Nedeljkovic took over the #1 goaltending position before mid-season and never looked back. Nedeljkovic was at times tremendous during his second rookie campaign. He played the most games of his professional career and earned four shutouts in the process. With a tighter defensive game, Nedljkovic should have better numbers for Detroit next year. Nedeljkovic has one year remaining on his current deal with the Red Wings and will become a UFA if he is not resigned prior to free agency next July.
Goalies in the System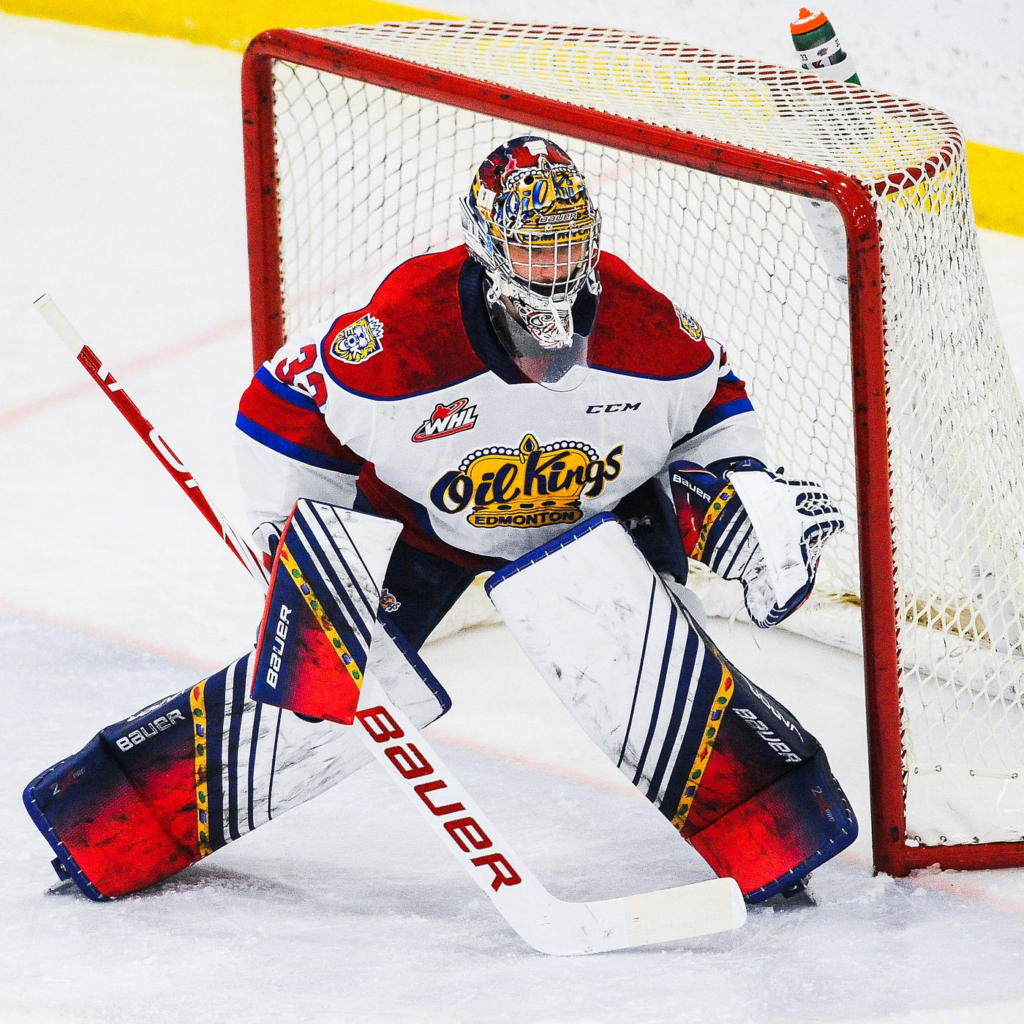 Sebastian Cossa
2021-2022 Team: Edmonton (WHL)
Age: 19
GP: 46
Record: 33-9-3
GAA: 2.28
SV%: .913
Sebastian Cossa is currently the only other goaltender signed for next year. He is currently playing in the WHL Finals with the Edmonton Oil Kings. If they win the WHL Championship, Cossa will lead Edmonton to the Memorial Cup that begins on June 20th. Cossa will also likely play for Canada in the World Junior Championships that begin in Edmonton beginning on August 9th. Cossa will most likely play in the AHL for Grand Rapids next season. His AHL salary for next season will be $80,000. If Cossa plays in the NHL during his entry-level contract, he will have a cap hit of $894,167.
Restricted Free Agents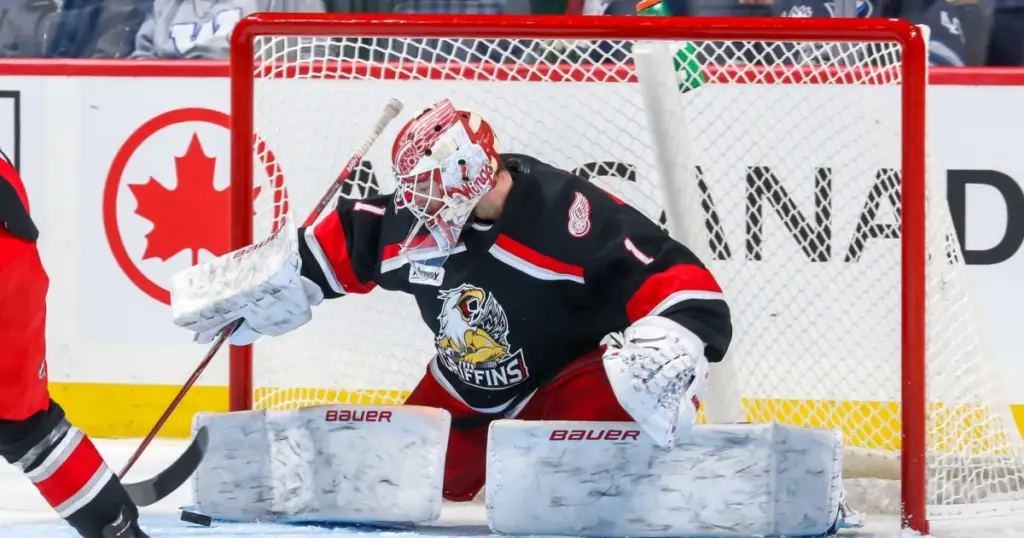 Victor Brattstrom
2021-2022 Team: Grand Rapids (AHL)
Age: 25
GP: 32
Record: 11-16-4
GAA: 3.32
SV%: .864
Victor Brattstrom recently completed his first season in North America. He played most of the season in the AHL with Grand Rapids. His career in the Red Wings organization started slowly, but he turned it around and played much better during the second half of the season. Brattstrom is an RFA, and only time will tell if he played well enough to earn an extension with the Red Wings.
Kaden Fulcher
2021-2022 Team: Toldeo (ECHL)
Age: 23
GP: 19
Record: 10-7-0
GAA: 2.46
SV%: .912
Kaden Fulcher recently completed his fourth season in the Detroit organization. Fulcher played all but four games in the ECHL. During his four seasons, Fulcher has been unable to become a full-time goaltender at the AHL level. It is unlikely that the Red Wings will re-sign the impending RFA.
Filip Larsson
2021-2022 Team: HV71 (HockeyAllsvenskan)
Age: 23
GP: 18
Record: 13-4-0
GAA: 2.25
SV%: .911
Filip Larsson was on loan to another European team during the 2021-2022 season. Larsson was supposed to play for Farjestad (SHL) but ultimately ended up playing for HV71 (Allsvenskan). Even though Larsson had a decent season that included two shutouts, it is unlikely he will be given a second opportunity to play for Grand Rapids in the AHL.
Unsigned Goalies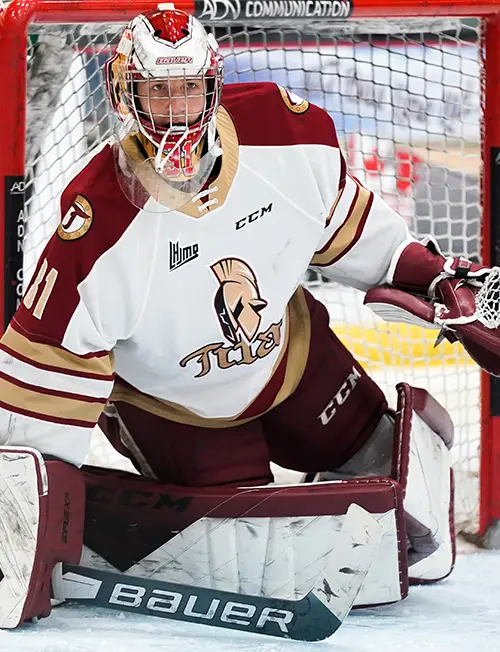 Jan Bednar
2021 Team: Acadie-Bathurst (QMJHL)
Age: 19
GP: 47
Record: 28-14-4
GAA: 2.72
SV%: .912
Jan Bednar just completed his second season in the QMJHL in Canada. His statistics improved immensely from his rookie season one year ago. Bednar earned two shutouts during the regular season for Acadie-Bathurst. Bednar will likely play for Czechia in the World Junior Championships in August. It has yet to be determined where Bedar will play next year. If he signs his entry-level contract with Detroit, Bednar will play in either the AHL with Grand Rapids or the ECHL for Toledo. If he doesn't sign with Detroit, he could play his overage season in the QMJHL or return to Czechia and play professionally in Europe.
Joren van Pottelberghe
2021 Team: EHC Biel-Bienne (NL)
Age: 25
GP: 44
Record: 24-12-3
GAA: 2.23
SV%: .921
Joren van Pottelberghe continues to be the most experienced goalie not currently playing in the Detroit system. Prior to his season-ending injury, van Pottelberghe was rumored to be signing his entry-level contract with Detroit. His lengthy injury may have jeopardized his opportunity to play in the Red Wings organization. As it now stands, van Pottelberghe is slated to remain with EHC Biel-Bienne (NL) for at least one more year.
Carter Gylander
2021 Team: Colgate (NCAA)
Age: 21
GP: 16
Record: 7-8-0
GAA: 2.76
SV%: .908
Carter Gylander recently finished his second season playing for Colgate in the NCAA. He only played 16 games, and his numbers were similar to the statistics he earned during his freshman season. Gylander will return to Colgate for his junior year next season.
Final Thoughts
The Detroit Red Wings have numerous goaltenders scattered in a variety of leagues throughout the world. Despite the large number of goalies whose rights remain Detroit property, the goalie position remains a significant weakness in the organization. Don't be surprised if the Red Wings sign at least one free agent goaltender when free agency opens up in July.
After beating two top-ten teams in the NHL, the Red Wings have dropped three straight and are facing a crossroads. In this episode we look at what the future may hold for key players, the current roster construction, and the performance form the youth! Please rate and review our show on your favorite listening platform. Check out our partner's website at www.insidetherink.com for all your latest hockey news.