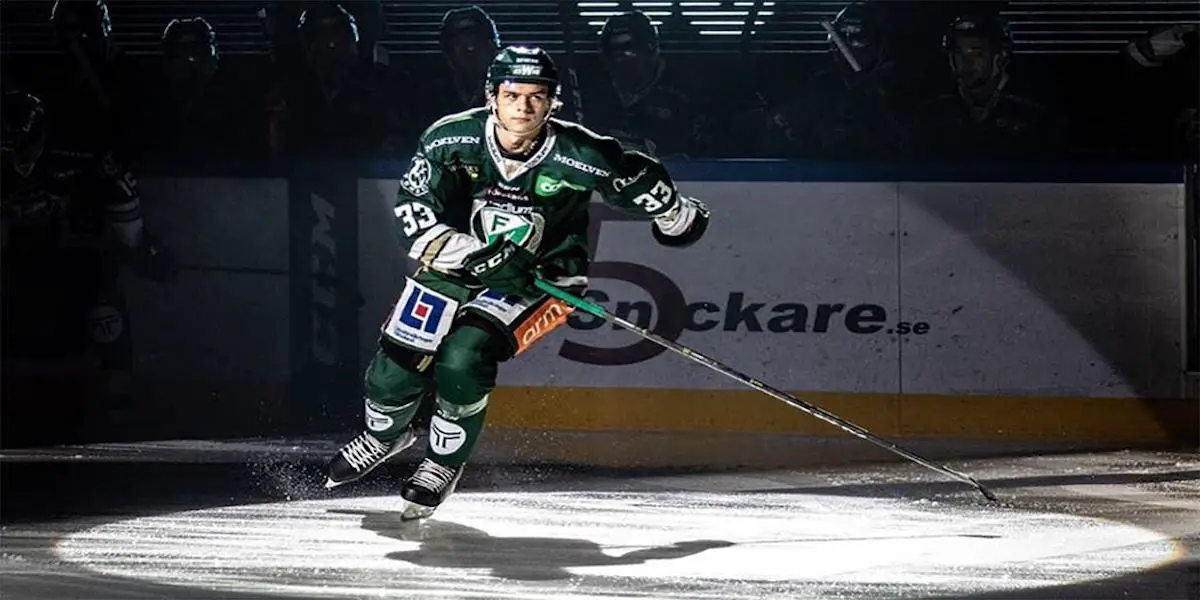 In 2019, Detroit Red Wings' new General Manager, Steve Yzerman, decided to load up on defensemen in the first two rounds of his first draft with Detroit. After selecting Moritz Seider and Antti Tuomisto with his first two picks and forward Robert Mastrosimone with pick #54, Yzerman selected Swedish defenseman Albert Johansson with pick #60.
Was Albert Johansson the steal of the second round of the draft?
The 2019 Draft was Deep in Talent
2019 was a deep draft with numerous high-level prospects available in the first two rounds. The Detroit Red Wings had the 6th overall pick plus three picks in the second round. Seeing a need to draft defensemen, Yzerman drafted Seider out of Germany, Tuomisto from Finland, and Johansson from Sweden.
Johansson has deep hockey bloodlines as his father; Roger played parts of four seasons in the NHL with Calgary and Chicago. He also played 12 seasons in the SHL for Farjestad BK and Leksands IF. Albert Johansson is the youngest of three sons. Albert's older brothers also play in the lower levels of professional hockey in Sweden.
Underrated Red Wings Prospect
Albert Johansson is the forgotten defense prospect in the Red Wings system. With Moritz Seider winning the Calder Memorial Trophy on Tuesday and last year's first-round pick Simon Edvinsson ready to crack the Detroit lineup, Johansson seems to be a prospect that very few people talk about.
Don't be fooled; Johansson is a terrific prospect who will make his North American debut next year and could likely make the Red Wings out of training camp.
Back to Sweden
During the Covid-19 pandemic, Detroit loaned Johansson back to his club team, Farjestad BK. In the two years since he was loaned, Johansson has played 96 regular season games, scoring 13 goals, 31 assists, 44 points, and had a +9 rating. In 25 playoff games, Johansson scored two goals, eight assists, 10 points, and had a -6 rating. This year, Johansson helped Farjestad win the SHL Championship.
Three-Year Entry Level Contract
In June 2020, the Detroit Red Wings signed Albert Johansson to a three-year entry-level contract. The start of this contract was delayed for two years because Johansson was on loan to Farjestad (SHL). This contract calls for a cap hit of $820,000 if he plays in the NHL and $65,000 for Grand Rapids (AHL).
Where Should Johansson Play in 2022?
It will be interesting to see where Johansson plays next year. Steve Yzerman likes his prospects ripe and ready to contribute once they reach the NHL. Johansson has already proven that he can play against men and be successful in a strong professional league. With several veteran defensemen opting for free agency, the Red Wings certainly have openings on their blueline. Will Yzerman insert two rookies into the lineup on defense, or will he opt to sign at least one free agent to round out the defense for next season?
Prediction
I predict that the Red Wings will bring one free agent defenseman into the fold next year. This will still allow Detroit to take a long look at Albert Johansson and Simon Edvinsson for roster spots out of training camp. In my opinion, Johansson will be on the opening night roster in Detroit and will be on the top pair with Moritz Seider. This will allow Simon Edvinsson to play on the second pairing with Filip Hronek.
Watching both rookie defensemen develop into top-four defensemen on the Detroit roster should be fun.
With five picks in the top-50 of the 2023 NHL Draft, the Red Wings are in prime position to make a trade for a top-six forward. We breakdown fits of players that are potentially on the trade market and what a potential package could look like. We also start with how Red Wings at the World Championships are performing, focusing on Dominik Kubalik, Carter Mazur, and Lucas Raymond.