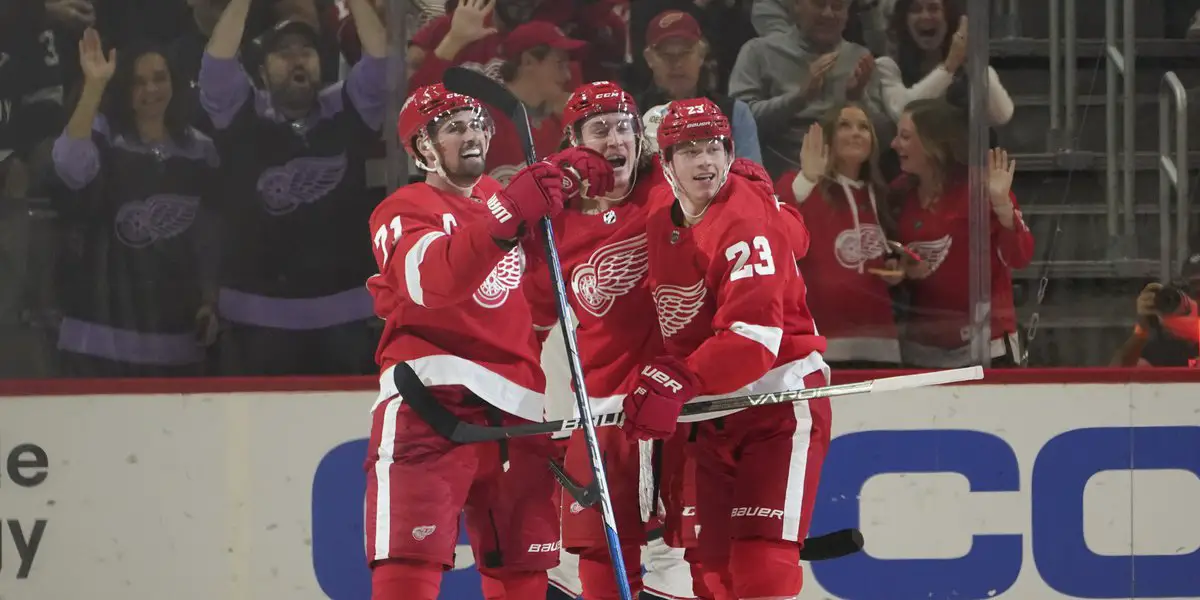 Training Camp for the Detroit Red Wings starts on Thursday, September 22, at Centre ICE Arena in Traverse City. The camp will run until Monday, September 26. The Red Wings will play eight exhibition games in 12 days beginning Tuesday, September 27, at PPG Paints Arena in Pittsburgh against the Penguins.
Several roster decisions must be made through training camp and the exhibition schedule. Numerous players have a lot to prove over the next couple of weeks.
Here are some players in the spotlight as we begin what will hopefully be a strong push towards the playoffs this year.
Dylan Larkin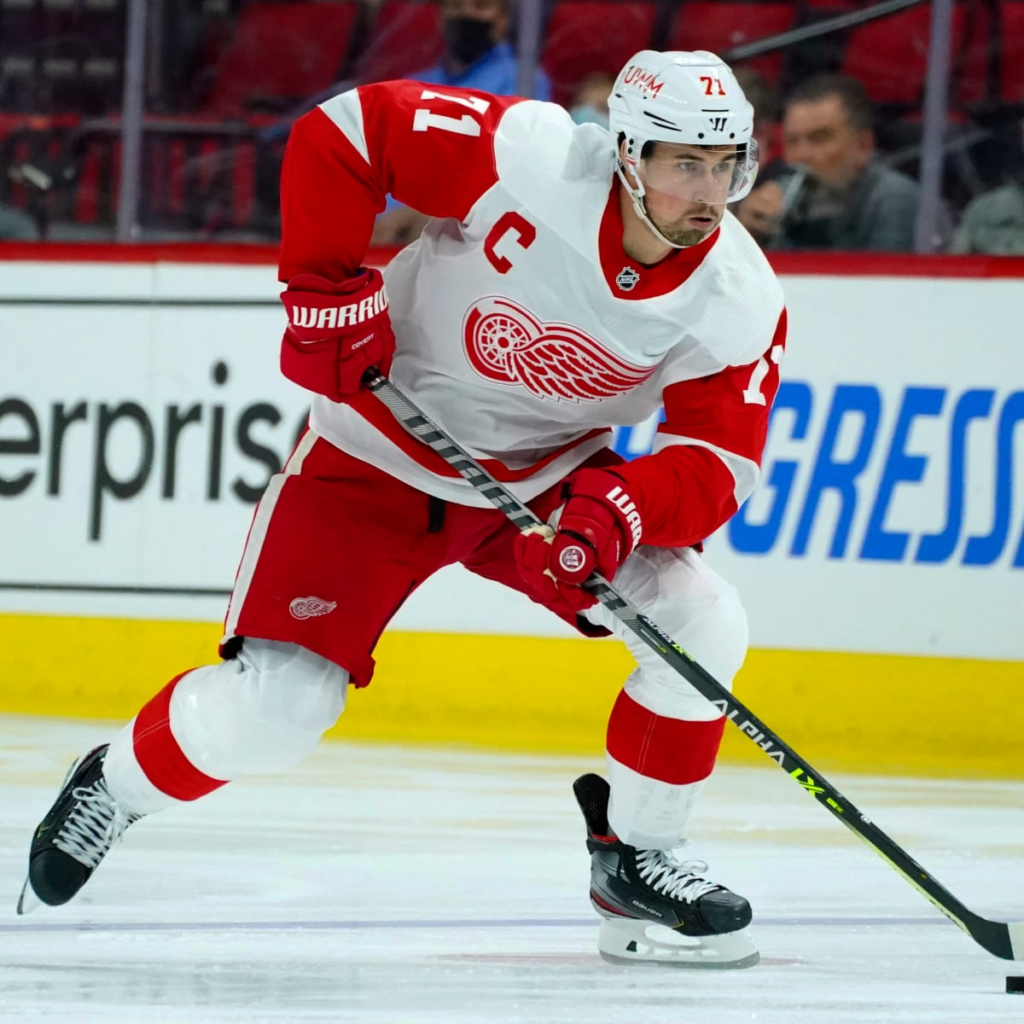 At 26, Dylan Larkin is one season away from potentially hitting free agency as a UFA. Larkin and the Red Wings are in contract negotiations, but the two sides seem far apart for now. Offensively, Larkin had an outstanding year in 2021-2022. He scored 69 points in 71 games before a core muscle injury ended his season.
This year, Larkin will be looking to build on a year where he scored 31 goals. With several free agents adding depth to the roster, Larkin will attempt to lead the Red Wings back into the playoffs for the first time since he was named captain.
Larkin has one year left on his current contract before he becomes a UFA. He is the highest-paid player on the Red Wings at an annual salary of $6.1 million. He is entering his third season as the captain of the Red Wings and needs to prove that he is part of the long-term plan for the team.
General manager Steve Yzerman will be watching Larkin closely throughout the season. Everyone is hoping that Larkin can continue his progression as a top forward. It will be interesting to see what general manager Steve Yzerman does with Larkin if he cannot extend him before the start of the season.
Larkin's no-trade-clause kicks in once the season begins. Will Yzerman sign Larkin before the season, trade him before his clause kicks in, or will he allow him to run the course of the season knowing that he could hit free agency next summer? A trade deadline deal is also in the cards for Detroit's premier forward.
Tyler Bertuzzi
Tyler Bertuzzi is entering the final year of the two-year contract extension he signed last summer. He will earn $4,750,000 annually and can become a UFA next summer.
Bertuzzi had a career year last season when he scored 30 goals for the first time. He also collected 62 points, placing him second behind Dylan Larkin. Bertuzzi missed nine games in Canada due to his insistence on remaining unvaccinated against Covid-19. This will be an issue again this season, as the Red Wings play ten games in Canada, and Bertuzzi will not be able to travel into his home country to play games.
Bertuzzi's inability to play games in Canada is a sticking point in any contract negotiations. He will be missing over 10% of Detroit's games, and there are no guarantees that border restrictions between Canada and the USA will change any time soon.
Bertuzzi is also going to be difficult to trade. Canadian teams would love his services, but not if he is going to miss all games in American cities. American teams know what they are getting. He is a gritty forward but a player who will miss games in Canada.
It will be interesting to follow this situation closely. Bertuzzi seems to be on a short leash with Detroit management, and his time in Detroit may be coming to an end.
Lucas Raymond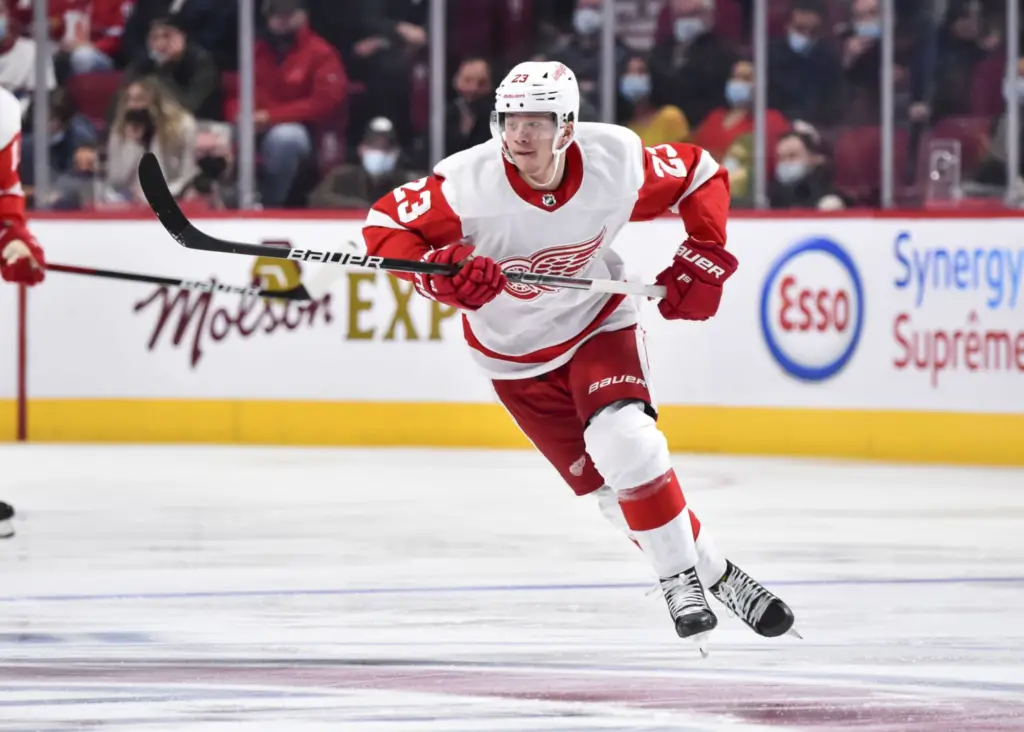 Lucas Raymond is one of the top young players on the Detroit roster. After placing third in NHL rookie scoring last year, Raymond placed fourth in the balloting for the Calder Memorial Trophy.
Last season, Raymond was one of only three Detroit players to play in all 82 games. He was third in goals (23), assists (34), and points (57) on the Red Wings roster.
Raymond will be entering the second season of his three-year entry-level contract with Detroit. He will have a cap hit of $925,000 for the next two seasons before becoming an RFA.
Raymond will likely play on the top line again this year with Dylan Larkin and Tyler Bertuzzi. This year, it will be fun to watch Raymond blossom into a bonafide sniper with the Red Wings.
Moritz Seider
After a season where he was awarded the Calder Memorial Trophy as the top rookie in the NHL, what can Moritz Seider do for an encore? He is a fabulous talent, ready to play big minutes again for Detroit, and likely will help push the team into the playoffs.
Seider averaged just over 23 minutes a game during his rookie season. He also played all 82 regular season games, scoring seven goals, 43 assists, and 50 points. He placed 4th overall in rookie points and 1st overall for rookie points by a defenseman.
Seider will enter the second year of his three-year entry-level contract. He will have a cap hit of $863,333 for the next two seasons before becoming an RFA.
If he continues to develop at his current rate, Seider will garner attention for the James Norris Trophy as the top defenseman in the NHL. For now, Seider will likely be paired with either Ben Chiarot or Olli Maatta and will look to help stabilize the defense to keep the goals against at a more sustainable rate than last year.
Alex Nedeljkovic
After goaltender Alex Nedeljkovic was traded to the Detroit Red Wings last summer, he had to become the #1 goaltender with the Red Wings. He will have to do that again this year after Detroit traded for and signed former St. Louis Blues goaltender Ville Husso.
Last year, Nedeljkovic played 59 games with Detroit and had a 20-24-9 record, 3.31 GAA, .901 SV%, and four shutouts. This year, Nedeljkovic will likely share the duties with Husso until one of the goaltenders claims the #1 spot.
When play resumes in October, Nedeljkovic will be playing in the final year of the contract extension he signed with Detroit last summer. In the upcoming season, Nedeljkovic will have a cap hit of $3M and can become a UFA next summer.
Nedeljkovic loves to play and will relish the opportunity to win the starting job in a friendly competition with Husso. This is the best goaltending tandem the Red Wings have had in a long time. Both are athletic and young, a combination for a very good tandem that could possibly lead Detroit to a playoff spot at the end of the season.
After an eventful trip up to Traverse City, the Red Wings have begun preseason action. In this episode, we recap Detroit's games versus Pittsburgh and Chicago while also pointing out top performers. We also give our biggest storylines around the rest of the preseason. Thanks for listening! Please rate and review our show on your favorite listening platform. Check out our partner's website at www.insidetherink.com for all your latest hockey news.