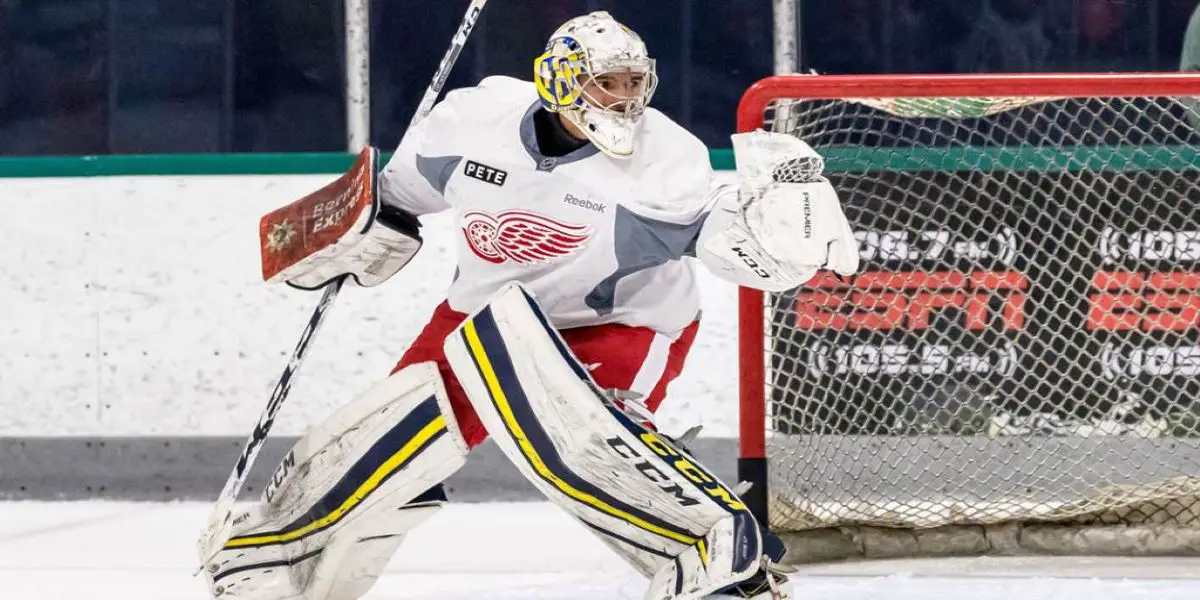 The Detroit Red Wings have a plethora of prospects who remain unsigned. This is the first in a series exploring the Red Wings' unsigned prospects. Here is a look at the three goaltenders who have yet to sign a contract with the Red Wings.
Jan Bednar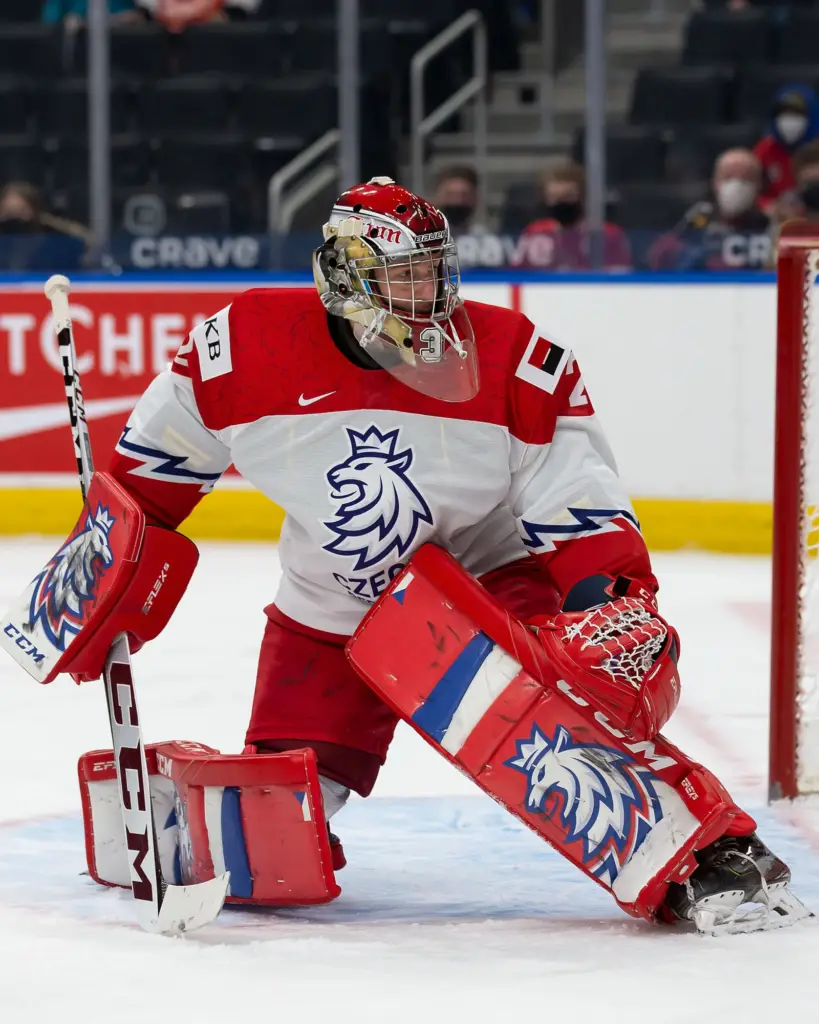 Detroit Red Wings Rights: June 2024
Jan Bednar was drafted in round 4, #107 overall by Detroit in the 2020 NHL Entry Draft. Last season, Bednar played 47 regular season games for Acadie-Bathurst (QMJHL) and had a record of 28-14-4, a 2.72 GAA, a .912 SV%, and two shutouts. Bednar also played eight playoff games for the Titans, recording a 3-5 record, 2.93 GAA, and a .895 SV%. Bednar recently played for Czechia in the WJC-20. Bednar posted a 1-2 record in three games, with a 4.00 GAA and a .851 SV%. In the upcoming season, Bednar will return to play his third and final year as an overage player with Acadie-Bathurst (QMJHL).
Carter Gylander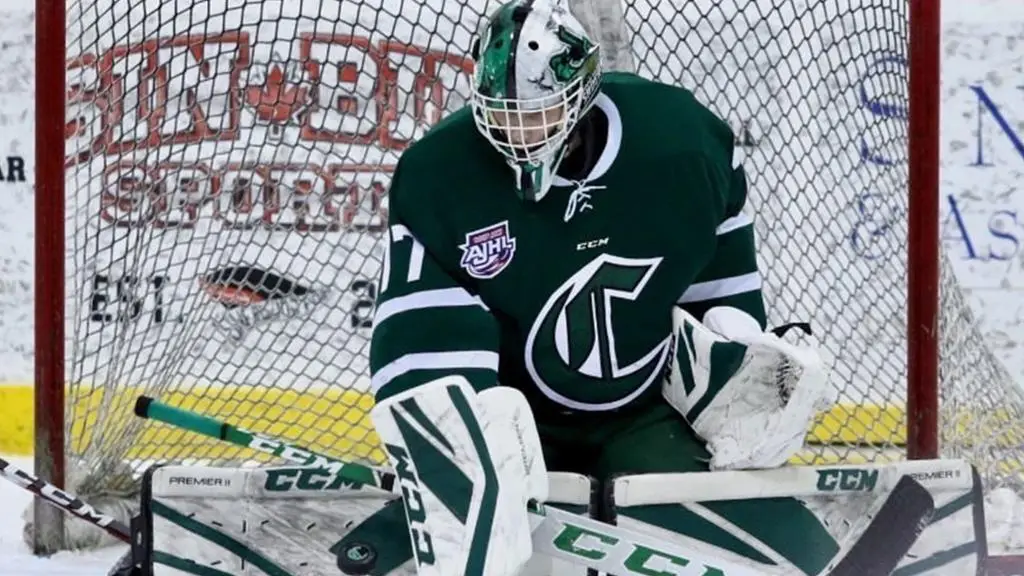 Detroit Red Wings Rights: June 2024
Carter Gylander was drafted in round 7, #191 overall by Detroit in the 2019 NHL Entry Draft. Last season, Gylander played 16 games for Colgate (NCAA) and had a record of 7-8, a 2.76 GAA, a .908 SV%, and two shutouts. In two seasons at Colgate, the 6'5″ Gylander has played 35 games, a 13-17-4 record, a 2.73 GAA, a .904 SV%, and three shutouts. Gylander is expected to return for his junior season at Colgate this year.
Joren van Pottelberghe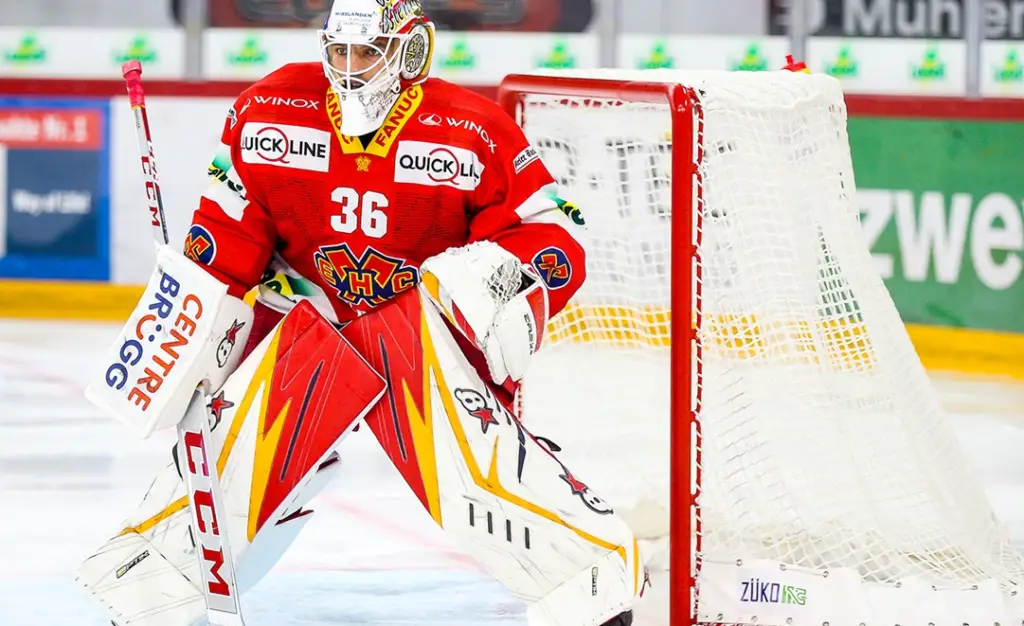 Detroit Red Wings Rights: Indefinitely
Joren van Pottelberghe was drafted in round 4, #110 overall, by Detroit in the 2015 NHL Entry Draft. Early in the 2021-2022 season, it was rumored that van Pottelberghe wanted to sign an entry-level contract with Detroit. Last season, van Pottelberghe played 44 regular season games and had a record of 24-12-3, a 2.23 GAA, a .921 SV%, and five shutouts. Late in the season, van Pottelberghe suffered a strain to his ACL and a bone contusion of the tibia when he was involved in a goalmouth collision. After being injured, van Pottelberghe missed the opportunity to represent Switzerland in the Olympics, World Championships, and the entire NL playoffs. On the elite prospects website, van Pottelberghe is listed as injured as he tries to recuperate from the injury that sidelined him for the remainder of last season. When he is healthy, van Pottelberghe is expected to resume playing for Biel-Bienne (NL).
Final Thoughts
Detroit owns the rights of these three unsigned goaltenders until at least June 2024. During the next two seasons, each player has the opportunity to develop and possibly earn an entry-level contract with the Red Wings. Currently, Detroit is fairly deep in goal, but with Alex Nedeljkovic, a potential UFA next Summer, and recently signed Jussi Olkinuora, a UFA next summer as well, the Red Wings only have two goaltenders signed beyond this season. There are possibilities that one or more of these unsigned goaltenders could be playing in the Red Wings organization by 2023.
In this episode, we recap the Detroit Red Wings' 2023 trade deadline moves of Tyler Bertuzzi, Jakub Vrana, and Oskar Sundqvist. We also dive into Steve Yzerman's media availability and what's next in Hockeytown. We wrap by talking about the Red Wings' past three games and the play of the "2018 line" and more!Please rate and review our show on your favorite listening platform. Check out our partner's website at www.insidetherink.com for all your latest hockey news.