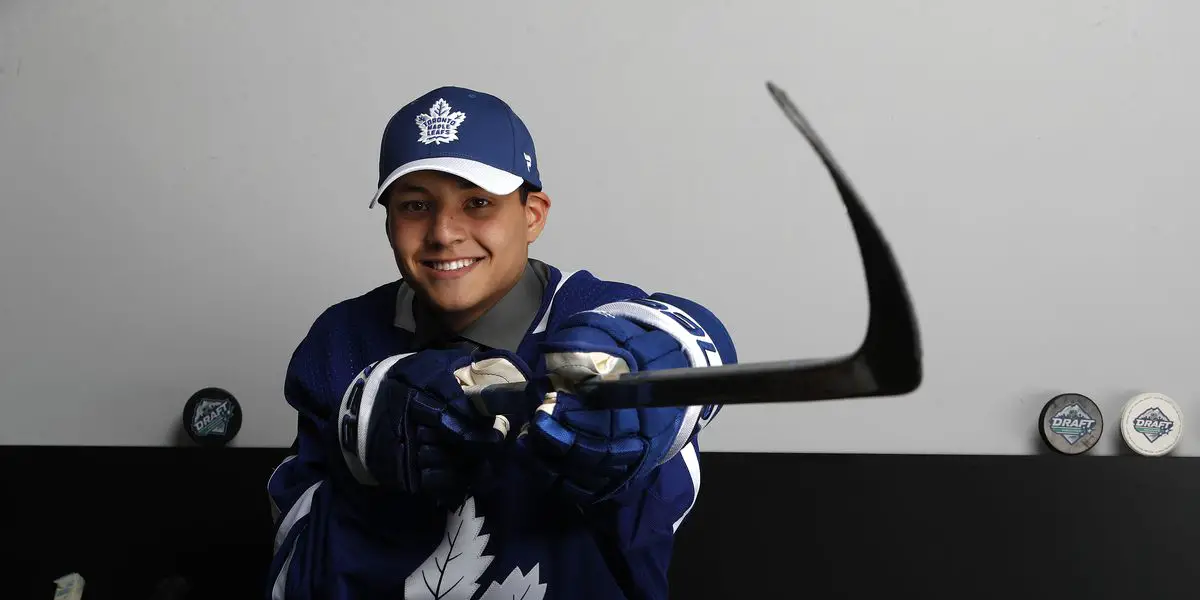 Are you tired of hearing the Leaf's prospect pool is weak? Or do they not have any talent on the way? Doesn't Dubas know how to draft? If so, good. I am too. Do they have another Auston Matthews, Mitch Marner, or William Nylander in the system? No, probably not. They do, however, have several intriguing pieces on the way. Some are closer to making an impact at the NHL level than others may realize. For my next handful of articles, I will talk about some of my favorite prospects within the Toronto Maple Leafs organization and give a little background on each in case you are unsure about some guys. I figured I might as well kick this thing off with a bang and start with the three guys I am most intrigued by.
Nick Robertson 
Even if you are a casual Leafs fan, I guarantee you've heard Nick Robertson's name over the past couple of years. However, you may not know that Robertson was born two months premature. Robertson, who just turned 21 on September 11th, was drafted in the second round of the 2019 NHL Draft; he was selected 53rd overall. However, some would argue if he had a little more size, he could have easily been a first-round pick. This year Robertson is entering his fourth year with the Leaf's organization. Unfortunately, he has not been able to get a full season under his belt in his first three seasons since turning pro. While yes, he has been nagged with several injuries, Covid-19 also interrupted the development of all prospects for over two years. In the 2020/21 season, he skated in just 21 games with the Toronto Marlies of the AHL. In those 21 games, he scored five goals and added 11 assists for 16 points. While he only played in 21 games, he produced at a great rate. He followed that up by suiting up in 28 games with the Marlies during the 2021/22 season scoring 16 goals and 12 assists for a total of 28 points. So yes, he hasn't played much hockey over the past couple of seasons. However, when in the lineup, he has consistently produced. For example, in his final season of junior hockey playing for the Peterborough Petes of the OHL, he appeared in 46 games scoring a staggering 55 goals and 31 assists for a total of 86 points; quite impressive. One can only hope some of that scoring touch will make the transition to the NHL level. While Robertson is a speedy guy, I would argue his best attribute is, without a doubt, his shot; he has an NHL-caliber release, in my opinion. Unless he blows everyone away with an amazing training camp, I think he will start the 2022/23 season with the Marlies. However, I believe he will end up on the Leafs' roster at some point throughout the year. I would love to see the Leafs give him a fair chance to play on a line with Leaf's captain John Tavares and William Nylander. I think that the trio could be an incredibly dominant line.
Matthew Knies 
Everyone was hoping Knies would have joined the Leafs last season just before the playoffs started. He is a very intriguing prospect. He was drafted in the second round of the 2021 NHL draft, 57th overall. You could say the 2021/22 season was quite busy for Knies. He played for the University of Minnesota of the NCAA but also appeared in the 2022 Winter Olympics and the 2022 World Junior Hockey Championship with Team USA. He brings a lot of elements to the table that some would say the Leafs lack. He is a big framed body, standing 6'3 and weighing 210lbs. That is impressive for a guy who will only turn 20 on October 17th. The best part of him having that kind of size? He isn't afraid to throw it around. Knies is always looking to finish his check and pressure the opposing team's defenders.
On top of that, he has a nice scoring touch around the net. In 33 games with the University, Knies scored 15 goals and 18 assists, giving him 33 points and making him a point-per-game player. That's impressive, given it was his first year playing at the NCAA level. In four games at the Winter Olympics, he appeared with Team USA, scoring one goal and one assist. Then in five games at the World Junior Hockey Championship with Team USA, he did not score any goals but added three assists. While he didn't light the lamp in either game during the tournament, he was physically present every shift he took to the ice. I would be shocked if Knies didn't join the Leafs this coming Spring once his NCAA season is completed and before the NHL Stanley Cup Playoffs begin.
Topi Niemela
Top defenceman of the 2021 World Junior Hockey Championship. That has a nice ring to it, no? That's precisely what Niemela accomplished during that tournament. Selected 64th overall in the third round of the 2020 NHL Draft. Since being drafted, he has been playing in Liga (Finnish Elite League) with Karpat. Last season he appeared in 48 games where he scored ten goals and 22 assists for a total of 32 points as a 19-year-old impressive. He was also the backbone of team Finland's blueline at the last two World Junior Hockey Championships. At the 2021 World Juniors, he skated in seven games scoring two goals and six assists. He would also go on to be named the tournament's top defenceman, as I previously mentioned. Then at the 2022 World Juniors, he skated in 7 games again. Unfortunately, he did not score any goals, but he did add six assists. While he wasn't named the top defenceman at this year's tournament, he was still very noticeable whenever he was on the ice.
So, what type of defenceman is Niemela exactly? While he is smaller in stature, 5'11 and 170lbs, what he lacks in size, he makes up for in hockey IQ. He takes exceptional care of the puck whenever it's on his stick. He never panics or throws the puck away blindly. He is very composed, and his skating ability allows him to use the center of the ice while carrying the puck. When teams try to dump the puck in his corner and get in to apply pressure on him, he is excellent at quickly corralling the puck and making a smart decision before anyone has the opportunity to finish their check on him. This season Niemela is once again playing in Liga with Karpat. Ideally, it would be nice to see him join the Toronto Marlies after his season with Karpat is completed.
As I said, there are no earth-shattering superstars within the system, but they have some highly talented guys, with these three guys leading the way in particular. Stay tuned for my next article when I talk about Roni Hirvonen, Semyon Der-Arguchintsev, and Nick Abruzzese!
Appreciation in Leafs Nation – RD2 GAME 5
–
Leafs Late Night
WELCOME BACK TO LEAFS LATE NIGHT! Presented by Inside The RinkRoscoe / Fanalyst / Galaxy Biehn / Marty From Keswick- We Didn't Want Florida- Rielly Robbed- Roscoe vs. Fanalyst: What Was The Deciding Factor?- Does The Regular Season Matter?- Leafs Nation Stays *mostly* PositiveMERCH IS AVAILABLE!JOIN OUR DISCORD!Remember to follow us on Twitter @LeafsLateNight & IG @LeafsLateNightCheck out Mike, Josh, and Nathan's articles on the Leafs + many more! insidetherink.com