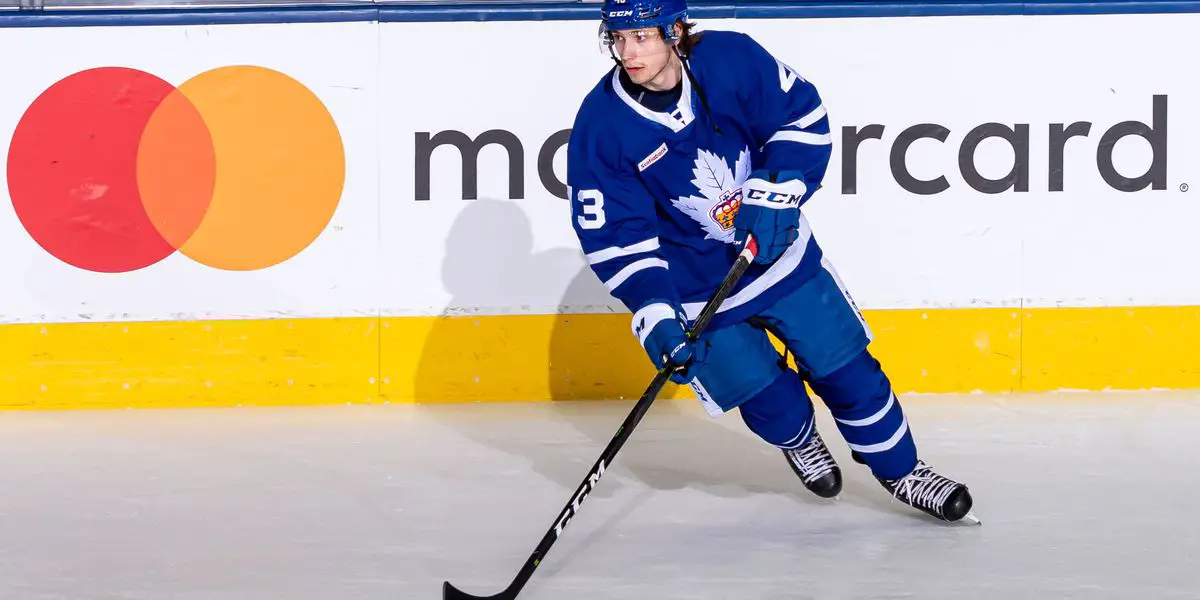 First off, I would like to take a second to apologize for not having this article out last weekend. I, unfortunately, caught Covid and had a terrible week-long battle where I was not well enough to complete this article. In my previous article, I started a deep dive into which Leaf's prospects intrigue me the most. The first three prospects I talked about were Nick Robertson, Matthew Knies, and Topi Niemela. I decided to break this up into three or four articles instead of having one gigantic article. In this article, I will discuss Roni Hirvonen, Semyon Der-Arguchintsev, and Nick Abruzzese. Let's dive into it and not waste any more time here.
First up, we have forward Roni Hirvonen
If you have followed the World Junior Hockey Championship the past couple of years, particularly Team Finland, chances are you've heard the name Roni Hirvonen a handful of times. Hirvonen was selected 59th overall in the 2nd round of the 2020 NHL Draft by the Leafs. While he is a bit on the smaller size, 5'9 and 172lbs, don't let that fool you. Hirvonen plays with an edge to his game and doesn't shy away from the dirty areas along the boards or in front of the net. Hirvonen will spend his 2022/23 season playing for HIFK Helsinki of the SM-Liga. This will be his second consecutive season with the club. During the 2021/22 season, Hirvonen appeared in 46 games where he scored nine goals and 17 assists for a total of 26 points; not bad for a 19-year-old playing against men. He is off to an excellent start this season as well. So far, he has played in 8 games and has 4 points, 1 goal, and three assists. So what exactly is so intriguing about Roni Hirvonen? His defensive game doesn't get as much attention as it should. He is fantastic at gaining body position on his opponents when engaging in puck battles. He also has great instincts. He is great at reading the play and anticipating what his opponent's next move is going to be. He does an outstanding job at disrupting passing lanes and getting into shooting lanes. While he may not be known for his offensive prowess, he is an underrated playmaker, in my opinion. When in the offensive zone, Hirvonen uses his great vision to his advantage. He is excellent at finding open teammates in high-danger scoring positions. If you can find open ice while on Hirvonen's line, chances are he will hit you with a great pass to generate a grade-A scoring opportunity. After his season in SM-Liga concludes this year, I would love to see Hirvonen in some AHL games with the Toronto Marlies.
Next up is none other than Semyon Der-Arguchintsev
Remember how I mentioned Nick Robertson scored 55 goals in 46 games in my previous article? Semyon Der-Arguchintsev played a major role in making that a reality. They played on the same line for the Peterborough Petes during the 2019/20 season. While Robertson's 55 goal and 86 point campaign was impressive, SDA had an equally impressive season. No, SDA did not score 55 goals. He did, however, have 63 assists in 55 games. He also added 12 goals, giving him 75 points on the year. The two were electric together all season. If Robertson was scoring a goal, there was an incredibly good chance SDA was the one setting him up. Once again, SDA is a bit on the smaller side. It seems to be a Dubas trend, no? He is 5'10 and weighs 172lbs. He has shown tremendous growth in his game since being drafted. His hands, as well as his vision, are second to none. Can the rest of his game reach the same level as his hands and vision?
The Leafs have an absolute stud on their hands in SDA, not to mention a steal. Der-Arguchintsev was selected 76th overall in the 3rd round of the 2018 NHL Draft. Last season, he played his first full season with the Toronto Marlies of the AHL. Appearing in 51 games and scored 32 points, 13 goals, and 19 assists. To put those numbers into perspective, in William Nylander's first full season with the Toronto Marlies, he scored 32 points in 37 games. I am in no way saying SDA is the second coming of Nylander. I am simply saying there is no denying SDA's raw talent and skill set. I am very excited to watch SDA in a more prominent role with the Marlies this year. I expect him to get top 6 minutes all season long while getting top power play minutes as well. If he can stay healthy and build off what he accomplished last year, I think he will have an outstanding 2022/23 season. If the Leafs run into any injury troubles throughout the season, I could see SDA receiving a call-up.
The last, Nick Abruzzese
It doesn't matter if you are a die-hard Leafs fan or just a casual Leafs fan, the first time any of us saw this guy's name on paper, we all had the same confused look on our faces, I'm sure of it. That confused look was because we were all wondering the same thing. How the heck do you pronounce this last name?! Some of us have just accepted the name for what it is and refer to him as Nick "Alphabet soup"; shoutout to Roscoe, host of the Leafs Late Night Podcast. The way Nick himself pronounces his last name is "Ab-ru-zee-zee." Regardless of how his last name is pronounced, we can all agree that the kid can play hockey. Selected in the 4th round, 124th overall, of the 2019 NHL Draft, Abruzzese spent his draft year playing for the Chicago Steel of the USHL. During the 2018/19 season, he served as an alternate captain for the Steel. He also appeared in 62 games, scoring a total of 80 points, 29 goals, and 51 assists. Which begs the question, why did he slip to the 4th round? You guessed it, his size. Since being drafted, he has filled out his frame quite nicely, however. While standing at 5'11, he now weighs in at 183 pounds. Not the biggest guy, but not the smallest guy anymore, either.
Nick has spent his past three seasons playing for the University of Harvard of the NCAA. Unfortunately, he did not play for several reasons during the 2020/21 season. Nick had hip surgery that year, but also Harvard did not play during that season. He would rebound from his hip surgery and would go on to be named captain of Harvard during the 2021/22 season. Throughout those two seasons, he played in 59 games, where he scored 23 goals and 54 assists, giving him a total of 77 points. He also played for Team USA at the 2022 Winter Olympics. He played in 4 games during the tournament, scoring 1 goal while adding three assists for a total of 4 points. Once his 2021/22 season concluded with Harvard, Abruzzese would go on to make the jump to the NHL with the Leafs. He appeared in 9 games towards the end of the season, where he scored just 1 goal in the last game of the season against the Boston Bruins. So, where do I see Abruzzese playing this season? I expect him to be pivotal in the Toronto Marlies top 6 in the AHL. I see him getting every opportunity to succeed with the Marlies, and I also see him being a very early option for a call-up if the Leafs need to bring someone up. I expect a handful of guys to dominate with the Marlies while also getting a cup of coffee at the NHL level with the Leafs. Those guys include SDA, Abruzzese, Alex Steeves, Pontus Holmberg, and Joey Anderson.
The 2022/23 regular season is quickly approaching, and I, for one, cannot wait! Stay tuned for my next article, where I will do a deep dive into Alex Steeves, Pontus Holmberg, and Nick Moldenhauer!
So Nice, It Ended Twice feat. Marty Zylstra
–
Leafs Late Night
WELCOME BACK TO LEAFS LATE NIGHT! Presented by Inside The RinkGalaxy Biehn / Marty Zylstra of Sports! Is FunCheck out Marty's Music- Lucky To Be Good, Good To Be Lucky- Mitch Marner Is Underrated- Joseph Woll Remembers.- Gregor's ArkNEW MERCH IS AVAILABLE!JOIN OUR DISCORD!Remember to follow us on Twitter @LeafsLateNight & IG @LeafsLateNightCheck out Mike, Josh, and Nathan's articles on the Leafs + many more! insidetherink.com