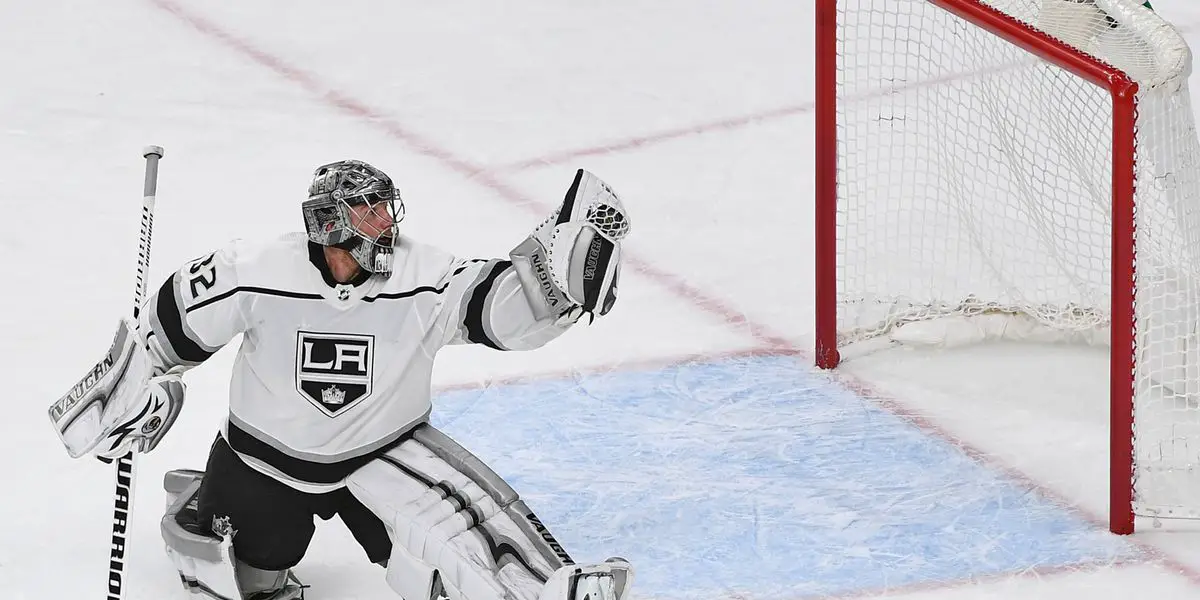 Quickie is his nickname, and he has been the leading goaltender for the Kings since he came into the league. He was drafted by the Kings in 2005. He has led the Kings to two Stanley Cups. He has also won the Jennings Trophy(for the fewest goals scored against the team). He's been to the All-Star Game in 2012 and 2016. The guy's stats are impressive, but the new guy in town, Phoenix Copley, has been getting all the love lately.
Every goalie goes through slumps, and every new guy is hot. Quick was a bench warmer for a while, and Copley was in the net for over 12 straight games. As a fan, I watched the game on New Year's Eve, and there was Copley in the net again. By this time, I was wondering if Quick would ever be in the net again. The TV cameras often scan the bench area. You see players talking, looking at those tablets, and the camera finds Quick, and in my opinion, he looked so sad sitting there.
You could see on his face that he wanted to be in the net. He finally got his chance during the Calgary Flames and LA Kings game. Thinking this is his shot to prove he's still got it. Well, that game was not great. They ended up losing 4-2, so there went his big moment. The Flames could have had the advantage, but the team just did not seem to want to defend, that's another article for another time.
Every goalie goes through some downtimes and slumps. Then the new guy then gets hot, and you feel like a lump of coal. This also happened with Cal Peterson as well before Copley came along. Before Peterson went down to The Reign (Ontario, CA, the minor league team). Now, if the Kings still had faith in their two-time Stanley Cup winning goalie, Quick would be in the net a lot more. For a while, I wanted to put up a sign, "If you've seen Johnathan Quick, please tell him to report to the net." He has, but when he's there, the game turns on a dime, and the defense just doesn't seem to be as sharp in front of him.
Then just the other night, Saturday the 21 of January, the Kings are on the road because the Grammy Awards are coming to the Crypto Arena. There they were in Nashville with a lead going into the third. Now get this, Copley was in the net, and the team tanked the lead and lost. If the new guy got a loss, suddenly it's ok, you'll get the next one, and he did because the next day, they beat Chicago Blackhawks 2-1.
We shall all see how the rest of the road trip goes from Philadelphia, then both Florida teams, then Carolina. Then comes the All-Star break, and though neither goalie got picked for the game, I do hope the rest will be good for both of them. When Quick is back in the net, his own team will defend and show him that they all do still have faith in him.
Episode 54 is here and the boys break down the Bruins adding Tyler Bertuzzi, Taylor Hall and Nick Foligno Injury updates, and Pastrnaks contract extension. Followed up with a tour around the NHL and breaking down the MOUNTAIN of trades that happened since last episode.DraftKings Sportsbook – Boston's hometown Sportsbook will be LIVE – soon – right here in Massachusetts! Bet local on all your favorite sports from the comfort of your own home with DraftKings. To celebrate, ALL new customers will receive up to TWO HUNDRED DOLLARS in BONUS bets when you sign up for DraftKings Sportsbook using code insidetherink! Soon you'll be able to bet local on money lines, spreads, props, and more with one of America's top-rated Sportsbooks – DraftKings Sportsbook!  Download the DraftKings Sportsbook app and sign up with code ITR to get up to TWO HUNDRED DOLLARS in BONUS bets to use once mobile sports betting hits Massachusetts. That's code insidetherink only at DraftKings Sportsbook.  If you or a loved one is experiencing problems with gambling, call (800) 327-5050 or visit (https://helplinema.org/) to speak with a trained specialist free and confidentially twenty four seven. 21+. Physically present in MA. Eligibility restrictions apply. Subject to regulatory licensing requirements. Eligibility and deposit restrictions apply. Opt in required. Bonus issued as free bets. Terms at draftkings.com/ma.