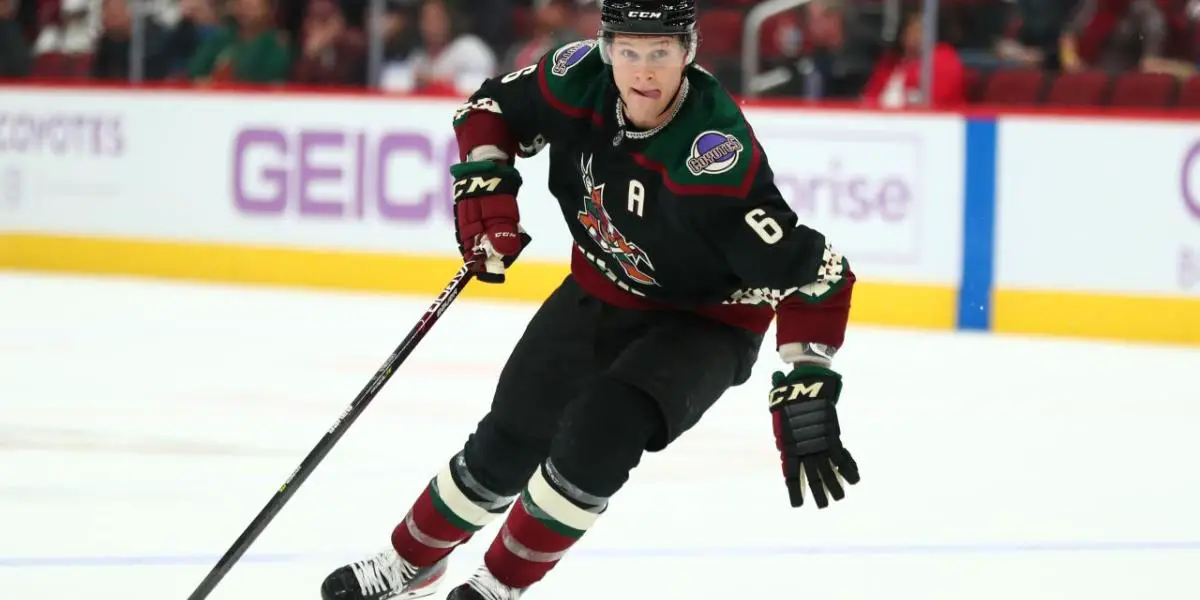 Ever since the news broke that Arizona was listening to an offer for Chychrun, the Rangers have been rumored to be interested in him. Though you can say, of course they would, all 32 teams would be interested in a top-pair defenseman. However, not all teams have the assets to make it happen. It has been reported Arizona has been looking for an "Eichel-like package. " That means a first-round pick, a top prospect, a young player, and an additional pick. This is a lot to give up, as it should be for a 24-year-old top-pair defenseman that has a great cap hit for the next three seasons at $4.6 million. It's no question that the Rangers have the assets to make this happen with a bunch of top prospects and can probably top any offer any other team can come up with. Now here's the question.
Does it make sense for the Rangers to use their assets on a defenseman?
The Ranger's top 4 consist of Lindgren, Fox, Touba, and Miller, so who comes out? The abysmal bottom pair is for another time, and we won't speak about that. Chychrun is a left-handed defenseman, and the Rangers don't put lefty's on the right side and vise versa, so it's one of Lindgren or Miller. Before you say it would be nuts to trade Miller, I thought the same thing, but then I thought about it. When his contract is up, he will be more expensive. He still has his liabilities, and he would get a fantastic return as he's a 21-year-old big fast defenseman where the sky is the limit for him.
While many people may be thinking trade Lindgren, he's a top pair defensive defenseman on a three-year contract at an extremely reasonable cap hit of $3 million. He does not have his liabilities on defense and had amazing chemistry with Norris trophy winner Fox. Also, he won't fetch a significant return. You can put him in the package for Chychrun, but I don't see why Arizona would want that. Miller is still a work in progress, and while he will be way more skilled than Lindgren, Lindgren does not have the defensive liabilities. Chychrun is a 100% upgrade, and a Chychrun-Fox pairing would be one of the most formidable defensive pairs in the league. Or you can keep that Lindgren-Fox pair and have Chychrun with Trouba. That's a Stanley Cup contending defense.
What would it take to get him?
So as we said before, a first-round pick, a top prospect, a young player, and a pick is the price. So what is that for the Rangers? They have their first-round pick this year so throw that in now. Who's the top prospect? With the logjam on the right side of the defense, there is no room for one of Schneider or Lundkvist. I believe the odd man out is Lundkvist. Choose who you want to put him in. Now, who's the young player? Chytil fits that description to a T. He's a 22-year-old center that still has potential, and with nothing but opportunity in Arizona, he has every chance to become a good player. Then you throw another pick in there, and this is the result. 
Coyotes receive:
First-round pick, Chytil, Lundkvist, and a pick
For 
Rangers receive:
Chychrun
You could use Miller and maybe Kravtsov to get the help you need in the top-six forward group. While fitting this all under the Cap would be challenging, it would be possible to also get rid of the abysmal Nemeth.
This would make the Rangers defense one of the top in the league and still have the assets you need to get help in the other places.
In this week's episode we discuss the new rumors regarding the Rangers coaching situation. Then go on to the fun stuff discussing the impact Tkachuck's play will make on the game, Rangers players and more. Thanks for listening! Please rate and review our show on your favorite listening platform. Check out our partner's website at www.insidetherink.com for all your latest hockey news.