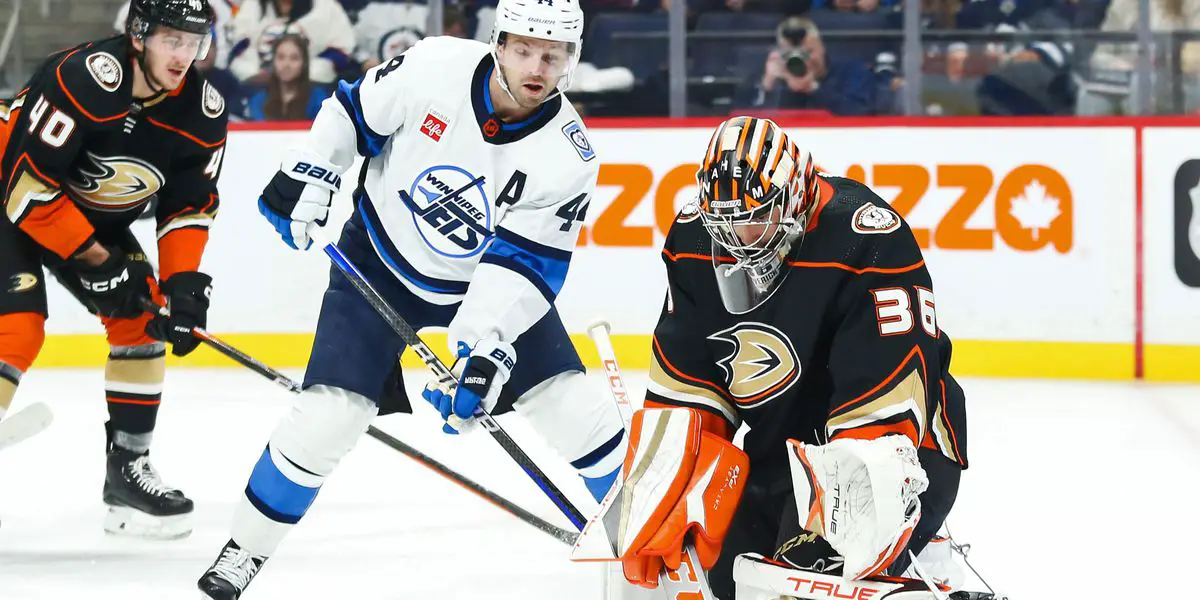 This is the view from rock bottom…
When choosing the Anaheim Ducks versus the Winnipeg Jets on your TV remote as your afternoon entertainment, you had to know that the amount of intestinal fortitude it takes to watch the worst team in the NHL play is indeed significant. This is a "saw it coming" game, and this script could have been written before it was even played. Other than who would score the goals, the rest was extremely predictable. The one surprising thing? The Ducks absolutely dominated the first period. Building an 11-7 shot differential advantage and Jacob Silfverberg giving them a very well-earned 1-0 lead after 1. Brett Leason's breakaway goal early in period 2 put them up 2 to 0 versus the Jets. 
But then fatigue and a lack of depth caught up to them. Playing the second game of back-to-backs at the end of a 4 game road trip, the Ducks just didn't have enough to win against the surprising central division power, the Winnipeg Jets. 
The Anaheim Ducks can't play with a lead. The Ducks can't play when trailing, either. Last time we talked about the rudderless ship, but this is more than floundering. With the team depleted by injuries all over the ice, they play the 11 forwards and 7 defenseman special—the Eakins lineup. After wearing down all of their top forwards, Leason, Max Jones, and Sam Carrick played heavier minutes toward the end. (Speaking of minutes, why did Pavol Regenda only get 6 minutes in this game? There could have been an unreported injury, but I am assuming he was given protected minutes) The line combinations were an utter disaster as you had 4th liners with 1st liners at multiple points of this game. This is terrible for line chemistry, as even the Ducks power play did not have the zip and dangerous feel that it had in the past contests. It was suggested that a defenseman should come up and play forward, but that was not to be. Dallas Eakins running a man down already and then shorting a forward with his 11/7 setup demonstrates how poor coaching can help lead to a loss. 
This game was over as soon as Winnipeg scored their first goal. All of the wind and energy went out of the Ducks sails. They held a 2 goal lead and a 22-10 shot differential when Urho Vaakaninen left Saku Maenalanen all alone on the back door for an easy slam dunk off of a very pretty Nate Schmidt crossing pass. The game completely flipped after that point. Looking at the shot totals from then on and the play of the team, it seemed that the Jets were always on the power play. They had possession and control for the remainder of the game, carrying a 28-7 shot advantage after that goal. Winnipeg's big front-line forwards of Mark Scheifele, Blake Wheeler, Morgan Barron, and Duck-killer Kyle Connor owned possession and siphoned whatever Anaheim had left in the tank on this final road game. The score was tied with 6 minutes left, and the collapse bordered on embarrassing, including two goals against in under a minute. In the end, the Anaheim Ducks gave up five straight goals and drop their 8th in a row to Winnipeg in their barn. The endless rinse and repeat with Anaheim having played 16 of 26 games on the road is punishing. The Ducks league-worst defense has given up four goals or more in 18 contests out of 26. 
The pundits talk about how young teams need to "learn to win." The Ducks aren't there just yet, but they will certainly be better when Comtois, Klingberg, Lundestrom, and Drysdale return. It's just a horror show while we wait.
The good:
The penalty kill again wasn't atrocious, stopping 3 of 4 opportunities. The Ducks special teams surrendered the lone power play goal against when the game was already decided. 
Brett Leason may have something after all. He was very noticeable on the ice, even with just 12:48 played. His motor was running all afternoon, with him clearly gaining confidence in his increased minutes (due to injuries) as he began to challenge the center slot areas with aplomb. He wasn't always successful, but neither was #19 when he first started trying it. Guy Hebert mentioned on the broadcast that he saw shades of Steve Rucchin in his game tonight, and that is high praise.
We finally got flashes of the TMZ line (11-37-19), and Troy Terry is very good at drawing penalties.
It was good to see Jacob Silfverberg score, especially after his muffin shot on the earlier 2 on 1 with Sam Carrick. His wrist shot was lethal from that spot for 10 years. It feels like 10 years ago. 
This part is hard to acknowledge, but Nathan Beaulieu was a positive. Giving credit where credit is due, he played fearlessly on the penalty kill and had three massive blocks along the way. This was easily the first game where he made a positive impression. He isn't an NHL defenseman, but tonight was better than expected for a PTO player. 
The Ducks have lost 6 in a row, but they get a brief two game home respite at the Honda Center. They play again on Tuesday night, Dec. 6th, against the very tough Carolina Hurricanes. 
On this week's chaotic episode of LAP, Jake, Chris, and Lou talk about the Stanley Cup Final, some coaching changes and share some thoughts on the ESPN and TNT broadcasts. They also talk at length abouth why Florida's uniforms need to change and finish things up with listener questions!Follow Late Arrivals Twitter: @latearrivalspodInstagram: @latearrivalspodFollow the hostsChris: @CJKChelConnor: @91_PlutyJake: @_JRobles71Louis: @Louiex37 Intro/ Outro done by Will Rice/ @pastorwillrice