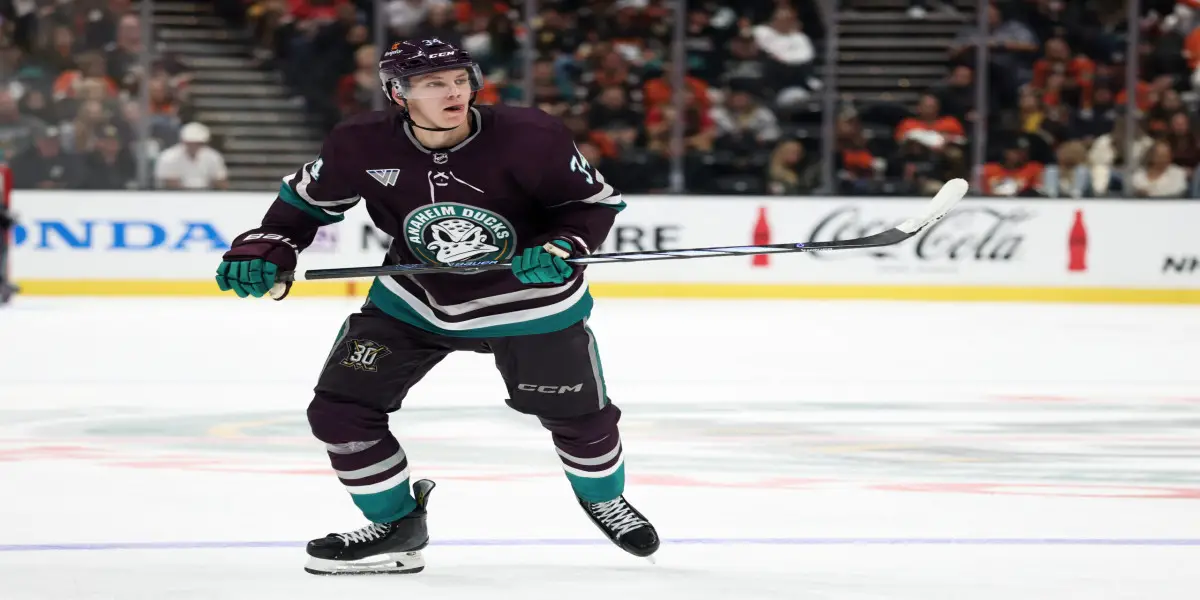 After the worst season in franchise history, the Ducks have started the 2023-2024 campaign 9-8 and are playing light-years better under new head coach Greg Cronin. One of the main contributors to this year's success has been their young core playing as good, if not better than expected.
The Ducks currently have 12 players on their roster who are under 25, and with the No. 1 ranked prospect pool in the league, the youth movement is in full effect.
Sure, the Ducks are getting contributions from their veterans; John Gibson has returned to form so far, Frank Vatrano is scoring goals like a madman, Jakob Silfverberg appears to have turned back the clock five years, and Ryan Strome looks like the Ryan Strome of his pre-Ducks self. But the most exciting part of this team is the young core.
Here is where the under-25 group stands.
Leo Carlsson, C, 18
In the time after the draft and leading up to the start of the season, the expectation was that Carlsson was most likely going to play most of the season either in the AHL or back in Sweden. Back in August, general manager Pat Verbeek said that they were going to find which league would work best for Calrsson's development, starting with the NHL and, if it did not work, then moving to the next league.
Carlsson has a solid training camp that landed him a spot on the NHL roster to start the season and lead to Verbeek coming out and saying that the plan was to keep him in the NHL all season with a load management tab that has him playing no more than two games in a week and will only play one game in a back-to-back. Even with the reduced games, Carlsson has made it clear that he is ready for the NHL.
Carlsson has six goals (five of them coming in the third period), two assists, and eight points in 11 games played, and a hat trick to his name. The point production is impressive, but what is more impressive is how proficient his hockey IQ is as an 18-year-old. The hockey IQ was the highlight that most draft experts were raving about when Carlsson was drafted, and it has come as advertised.
When you watch him play, Carlsson is constantly scanning the ice and finds himself at the right place at the right time, more often than not. Carlsson always seems one step ahead of the play, which is why he has been solid at both ends of the ice.
Carlsson's size has also played a factor in his success. His 6'3, 198-pound frame makes him hard to knock off the puck and be a strong net-front presence when he needs to be. Carlsson will not lay on big hits but can use his size to create separation and knock the opposition off the puck.
Pavel Mintyukov, D, 19
Going into training camp, Mintyukov was battling with another top defensive prospect, Olen Zellweger, for a roster spot. Mintyukov earned his spot and has run away with the opportunity, scoring a goal, nine assists, and 10 points in 17 games, which is tied for third-most points among all rookies, and oh yeah, he is a defenseman. He is also sporting a 53.4% 5v5 expected goals percentage,e according to Money Puck.
Defensively, Mintyukov excels at breaking up plays before they even happen by taking away passing lanes. Much like Carlsson, Mintyukov is 6'2 192 pounds and uses it to its full potential. He lays the body not just to hit the player but does so in a way that he is set up to pick up the loose puck right away and transitions well to set up a scoring chance at the other end of the ice.
Mintyukov's offensive success stems from his elite transition game. Being an offensive-minded defenseman, Mintyukov finds great passing lanes to spark breakouts and leads to many scoring chances. Once he is in the offensive zone, Mintyukov does a great job of using his legs, along with his offensive mind, to create offense. It is rare to see Mintyukov static at the blue line as he is constantly moving around to find the best passing lanes and shooting angles.
The 2022 10th overall pick has a lot of excitement attached to him after winning the OHL Defenseman of the Month three months in a row last year and has lived up to the hype.
Mason McTavish, C, 20
The 20-year-old center has taken a massive step forward this year, scoring seven goals, nine assists, and 16 points in 17 games while being the driving force in the Ducks' second line, which has been the best line on the team. He also has a 53.3 xG% at 5v5.
One of the most impressive things this season has been his clutch scoring. McTavish leads the NHL in third-period goals with six and is tied for the second most game-winning goals with three, along with his linemate Frank Vatrano.
McTavish came back this year stronger and has been using his newly added strength to win battles along the board. Winning these puck battles, along with his ability to be patient to find the right play, has been a big reason why his point production has taken off this year. McTavish is yet another young player with a great hockey IQ that makes him a lot of fun to watch. A great example is his assist on the Troy Terry overtime-winning goal to secure his hat trick against the Arizona Coyotes.
One thing that McTavish needs to clean up though, is his discipline. McTavish has 18 penalty minutes so far, which is not outrageous, but it is the type of penalties he is taking. Most of his penalties come in situations where there is not high amounts of pressure. Although, if this is his biggest issue, he is in good shape.
Lukáš Dostál, G, 23
Coming off his second stint in the NHL last season, Dostál has had his ups and downs. After back-to-back subpar games against the Colorado Avalanche and Philadelphia Flyers, his totals jumped to a 3.78 goals against average, an .893 save percentage, and -1.1 goals saved above expected in seven starts.
Before the Flyers and Avalanche games, Dostál was having a decent start and even won Rookie of the Month in October. Before those games, Dostál had the 10th-best SV% at .920 with a minimum of five starts and had a 2.80 goals-against average.
As the season moves along, his numbers will improve, and he has shown flashes of being able to be a solid NHL starting goaltender.
Trevor Zegras, C/LW, 22
Zegras is an interesting case this season because his one goal, one assist, and two points in 12 games are concerning, but when you look at the big picture, he has been just fine. He has the highest 5v5 xG% at 54.2%, and the thing that stands out most has been his defensive play.
Zergas struggled defensively last year, as did nearly the whole team, but this year has been a pleasant step in the right direction. After he signed his new contract in early October, Zegras went to work with head coach Greg Cronin and primarily focused on his defense, and it showed before ultimately being placed on the injured reserve this past week with a lower-body injury.
The lack of point production should not be a concern yet, he has been playing an overall good brand of hockey when in the lineup. It is just a matter of time before the scoring chances find the back of the net.
Jackson LaCombe, D, 22
After leaving a good first impression in his two-game stint last season, LaCombe had an impressive camp and solidified his spot on the roster this year. LaCombe only has three assists and a 5v5 xG% of 47.4%, but the smooth-skating defenseman has shown flashes of offensive ability while logging in 19:52 of ice time a night.
Something that is not helping LaCombe is the fact that he has spent the majority of the season on his off-hand side, slotting in at RD paired with Fowler on the left. Even though he has not been on his strong side, LaCombe has still held his own this season.
LaCombe excels at moving the puck and particularly when making stretch passes to break out the other way. An overall promising start despite the points not being there.
Benoit-Olivier Groulx, C, 23
Groulx has just an assist in 11 games played but has been great in the defensive zone. He has always been a defensive center, but now his defensive game is starting to take shape, and has done an excellent job at winning puck battles.
Groulx himself has a 5v5 xG% of 48.1% and has been playing on the third line with Max Jones and Jakob Silfverberg when he is in the lineup. Granted, he is not with the right linemates to do so, but if Groulx can start to develop his offensive game, then he can potentially develop into a fine NHL player. Until then, his defensive game will keep him in the lineup.
Brett Leason, RW, 24
Leason has been on the fourth line all season and has tallied two goals, an assist, and three points in 15 games. The points will not reflect it, but Leason is a grinder who constantly battles for pucks and is able to create some scoring chances. He has been a solid fourth line player this season.
Urho Vaakanainen, D, 24
After an injury-riddled 2022-2023 season, Vaakanainen has finally been given a chance to play every day since being traded to the Ducks at the 2022 trade deadline for Hampus Lindholm. Vaakanainen has three assists so far this season.
Although he is not known for his offensive capabilities, Vaakanainen has been solid at moving the puck and has been playing more freely, it seems. Vaakanainen has mostly been paired with veteran Radko Gudas, and together they have a 49.5 xG%. There is nothing flashy about Vaakanainen's game, but his puck-moving and his decision-making have been solid to start the year.
Jamie Drysdale, D, 21
Drysdale only played in eight games last season because of a torn labrum, and now, this year has only appeared in two games because of a lower-body injury. Drysdale does have two assists in those two games.
There really is not much to say based on two games. This is a big year for Drysdale, so it is very unfortunate to see him hurt to start the year.
Could missing most of training camp be a factor in both Zegras and Drysdale sustaining injuries at the beginning of the season? Maybe, but there is no way to certainly say.
Tristan Luneau, D, 19
Luneau surprisingly made the NHL roster after training camp and only played in two games before being sent to the AHL on a conditioning loan. He has returned from the conditioning loan but has yet to play.
Much like Drysdale, I am not going to dive too deep into two games. The two games he did play in were not good and showed maybe he is not ready for the NHL yet, which is fine because, you know, he is 19.
Isac Lundeström, C, 24
Lundeström tore his Achilles over the summer while training back home in Sweden and is expected to be out of the lineup until January. It is a shame that he will not get a full season because he played well towards the end of last season.
On this episode of LAP, Jake, Chris, and Lou talk the latest downward spiral of Ducks hockey in the last week. They cover the struggles the team is facing and how the absence of some key players is greatly affecting this young Anaheim team. They comment on the Corey Perry news and give their opinions on officiating league wide. Finally, the episode is rounded out with some listener questions!Follow Late Arrivals Twitter: @latearrivalspodInstagram: @latearrivalspodFollow the hostsChris: @CJKChelConnor: @91_PlutyJake: @_JRobles71Louis: @Louiex37 Intro/ Outro done by Will Rice/ @pastorwillrice