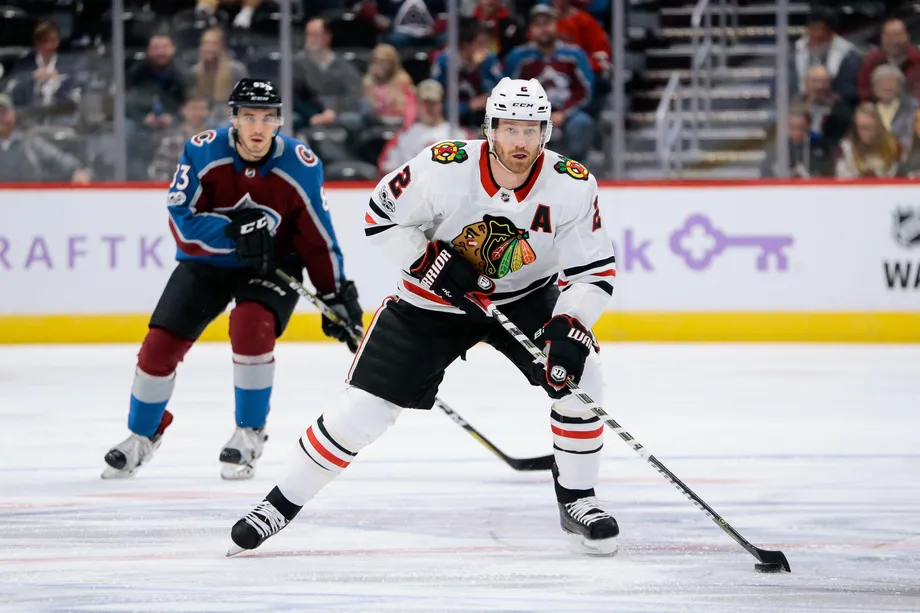 Per Pierre LeBrun, Duncan Keith has told the Edmonton Oilers he is officially retiring. The Oilers previously gave Keith a deadline of July 1st to let them know his plans, but after two deadline extensions, Keith has decided to hang them up.
He might not be the only one on the Oilers to have played his final season, as Mike Smith is reportedly going on LTIR for the whole 2022-23 season. Since both players are over 35, their contracts will be off the books for the Oilers, freeing up at least $7.7 million dollars. That could extend to $11.1, but as of now, it is unclear whether the Chicago Blackhawks will be penalized by the cap recapture of Duncan Keith's contract.
A Historical Career
While Keith struggled in his final seasons, it doesn't change how strong of a resume Keith finished with. Keith spent 16 seasons with the Chicago Blackhawks and achieved countless milestones. During his time in Chicago, Keith won three Stanley Cups, two James Norris trophies, and the Conn Smythe award (2014-15 cup run). Keith also won two Olympic gold medals (2010 and 2014 with Team Canada) and was named in the Top 100 of the greatest players of all time by the NHL.
Duncan Keith played 1192 games with the Chicago Blackhawks, tallying 625 points and 105 goals. Keith also played 135 playoff games with the Hawks, earning 18 goals, and 86 points. His time in Chicago would end when the Edmonton Oilers would send a young defenseman Caleb Jones, and a conditional 2022 2nd round pick (which turned into a 2022 3rd) for the veteran D man. It was a very controversial move, considering Keith's cap hit was not retained, and he slowed down in a big way in the previous season.
During his short time in Edmonton, Keith would play 64 regular-season games with the Oilers, scoring one goal and tallying 21 points. Though it wasn't a strong showing, Keith would help the team make the Western Conference Finals, beating the LA Kings and Calgary Flames. Unfortunately for Keith and co., the Oilers would get swept by the hands of the Colorado Avalanche, who would go on to win the Stanley Cup. Through the 16 playoff games Keith played in Edmonton, he would score one goal and finish with five points.
Freeing Up Space
With Keith retiring, the Chicago Blackhawks will take on his 5.5 million contract for the 2022-23 season and will hold onto $1.9 million for the following season. Although Chicago freed up $6.4 million yesterday, done in the blockbuster deal yesterday afternoon, which saw the Ottawa Senators acquire Alex Debrincat, that money is essentially a wash with the $5.5 coming back.
This is also great news for the Oilers, as they get much-needed cap space. The Oilers now have free agents in the names of Evander Kane, Kailer Yamamoto, Jesse Puljujarvi, Brett Kulak, and Ryan McLeod. With Mike Smith and Oscar Klefbom going on LTIR, Keith retiring, and Kassian being traded, the Oilers will have $22.1 million freed up. Something to keep in mind is about $3.6 million is going to be given to Darnell Nurse as his $9.25 million dollar extension kicks in come July 13th. Still, the Oilers will have more than enough money to be buyers on the market and make some sizeable adds to their roster.
The Oilers will need goaltending, as both Smith and Koskinen are done in Edmonton. One thing that is certain to happen is Stuart Skinner stepping into a full-time role for the Oilers. During the previous season, Skinner played 13 games, boasting a .913 save percentage, a 2.62 GAA, and a record of 6-6-0 (he stepped in for Smith in one game, which didn't count against his W-L-OTL record).
All In All
I wish Duncan Keith the best in retirement and congratulate him on a solid NHL career. With a long list of milestones and achievements, it was quite the career for Keith. Following Keith's retirement, the Oilers will now be in the market for a new left defenseman to fill the role of Duncan Keith. Could they look internally to Philip Broberg? There is lots of time for speculation about opening night rosters, but not much for free agency, as we are five days away from it. It'll be interesting to see what happens this weekend; it should make for some exciting NHL news.
The boys are back after a long break but have plenty to talk about as the playoffs are in full swing. We go series by series, looking at how teams have fared so far and who will come out on top. Thanks for listening! Please rate and review our show on your favorite listening platform. Check out our partner's website at www.insidetherink.com for all your latest hockey news.