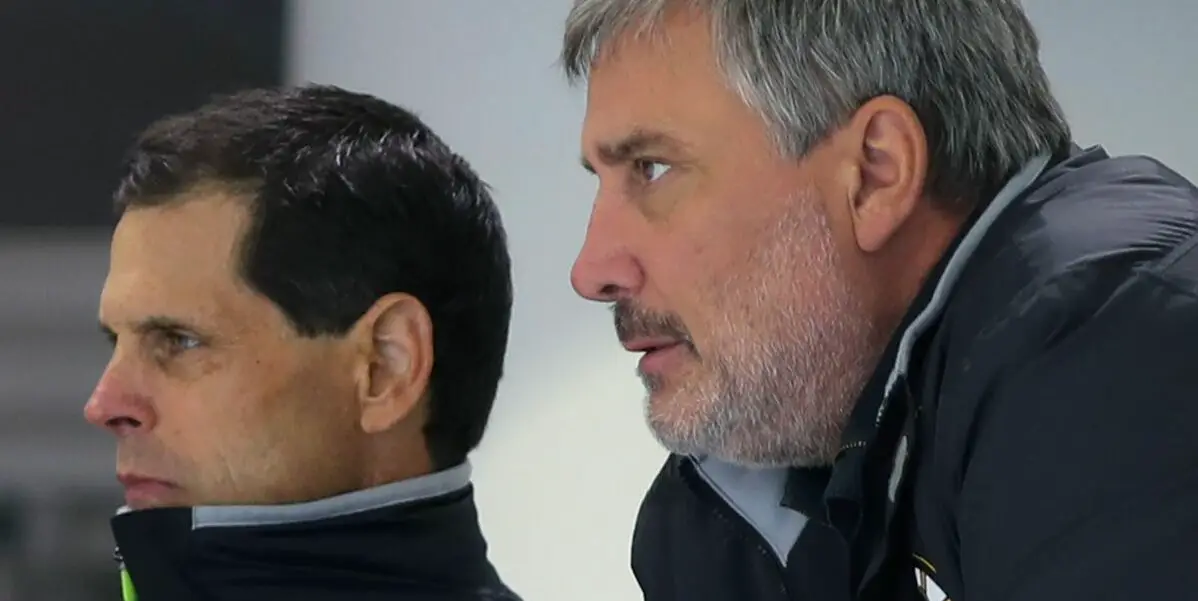 After another disappointing season that saw the Bruins fall short in the Stanley Cup playoffs, this time in the first round, the off-season has kicked off with major dysfunction. Well, it was known the return of Patrice Bergeron was always going to be up in the air due to his contract being up, but it's everything else that has followed that has been a whirlwind. The Bruins were already at crossroads with whether they needed a rebuild or a retooling, and with a strapped salary cap, it has made it even more impossible to sign quality-free agents. Next came the announcements of all the injuries that core players had sustained and required surgery, leaving the Bruins in a tough spot to start next season. The icing on the cake came with the recent firing of head coach Bruce Cassidy which came as a surprise to fans and even the coach himself.
The firing of Bruce Cassidy was undoubtedly out of left field as many believed his job was safe, and it was Don Sweeney who was on the hot seat. Over this past week, we learned that wasn't the case as Sweeney announced the Bruins were taking a different direction on moving on from the success Cassidy had sustained over his tenure. In the following days, we have learned that Sweeney and Cam Neely had lied to Cassidy about the security of his job, leaving many to wonder how stable is the front office.
The front office said he would finish out the final year of the contract with the team in the 2022-23 season, then went behind his back and fired him instead, and to make matters worse; they did it in his own home. Neely and Sweeney butchered the whole situation and have left a bad taste in Bruins fans' mouths. It is evident that they were looking for a scapegoat, and with Sweeney being Neely's yes man, he is safe at the moment.
Another interesting part of this off-season is that it has been reported that Sweeney will receive a new contract, but at the moment, no contract has become official. This leaves even more uncertainty as Neely has left the door open to potentially still get rid of Sweeney and the clear house completely. While Sweeney has definitely been a contributing factor to the Bruins' woes as he's the one that is responsible for building the roster, how much blame should be put on Neely? Everyone looks to blame Sweeney for the lack of drafting high-end talent, but it has been noted that Neely is a big part of the draft process and is the one making the decisions in the draft room. These coming weeks will be important for the organization's future as they look to find their new coach moving forward, and the fate of Don Sweeney will be closely monitored.
Episode 51: Interview w/Jack Ahcan Episode 51 is back in action talking about the New York Paingers ITR bet, Can Buffalo Sabres make the playoffs? Is Vancouver in the wrong on the Boudreau treatment? Is Tocchet the right guy? Is Daryl Sutter the last Dinosaur in the NHL?YouTube: https://www.youtube.com/@insidetherinkTwitter: https://twitter.com/CueTheDuckBoatzFacebook: https://www.facebook.com/Cuetheduckboats/Thanks for listening! Please rate and review our show on your favorite listening platform. Check out our partner's website at www.insidetherink.com for all your latest hockey news. Also, catch all of the games in this year's NHL season by signing up for ESPN+ at Insidetherink.com/ESPN