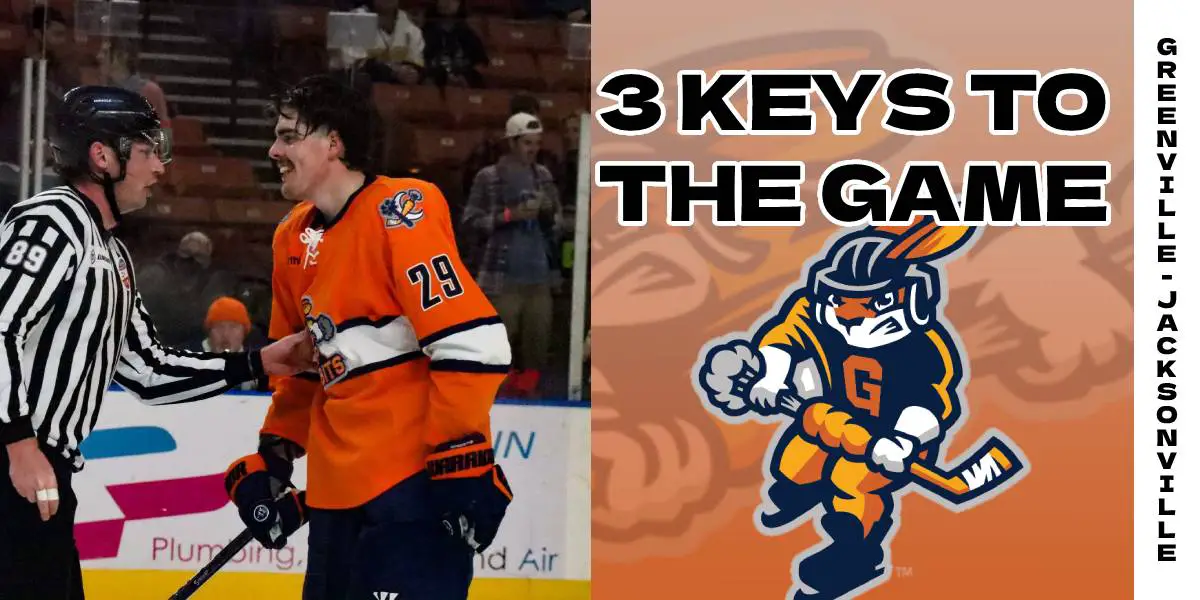 Date: April 28, 2023 l Time: 7:05 pm EST l Where: Bon Secours Wellness Arena
The Swamp Rabbits lost to the Icemen in Game Three, 7-4, which happened to be the highest-scoring game of the series. The Icemen dominated the first two periods of the game, knocking Ryan Bednard out of the game after the netminder allowed four goals. Greenville will look to continue their play from the third period in Game Three, scoring three goals, hoping they can even the series at two games apiece. Here are tonight's three keys to the game.
One: Physical Play
There were moments in Game Three when Greenville started to bend the line without breaking it when it came to how physical they played and what they could get away with. This was especially noticeable after Jacksonville scored their fourth goal of the night. Dallas Gerads started flying around, hitting anyone he could find. This led to Jacksonville making some dumb mistakes leading to Greenville powerplay opportunities. This is the kind of thing I will look for at the start of Game Four. Greenville will need the likes of Dallas Gerads, Tanner Eberle, Evan Wardley, and Justin Nachbaur to turn up tonight and get under the skin of the Icemen.
Two: Bednard or Richardson
Ryan Bednard or Luke Richardson is the question going into game four. Bednard had played incredibly in games one and two but gave up four goals in game three. The fourth came at the 3:02 mark in the second period. Richardson came in and stopped 12 of the 13 shots he faced. (Richardson was credited with two goals against, however, he was clearly off the ice when the final goal was scored). I would like to see Bednard get another opportunity to start, with the idea that he will return to his form from the first two games. With that being said, if things go wrong early, pull the trigger just like Coach Lord did in Game Three and go to Richardson.
Three: Penalty Kill
In Game Two of the series, the Swamp Rabbit penalty kill unit was perfect, going 10 for 10. However, in Game Three, things didn't go as well, giving up three goals out of eight chances for the Icemen. Greenville will need this unit to get back to the Game Two forms to help take some of the pressure off the goalie. Also, if both goalies are back to the form they had in the first two games, goals are going to be very hard to find. Any opportunity with a man-up is going to have a huge potential to swing the game in either direction.