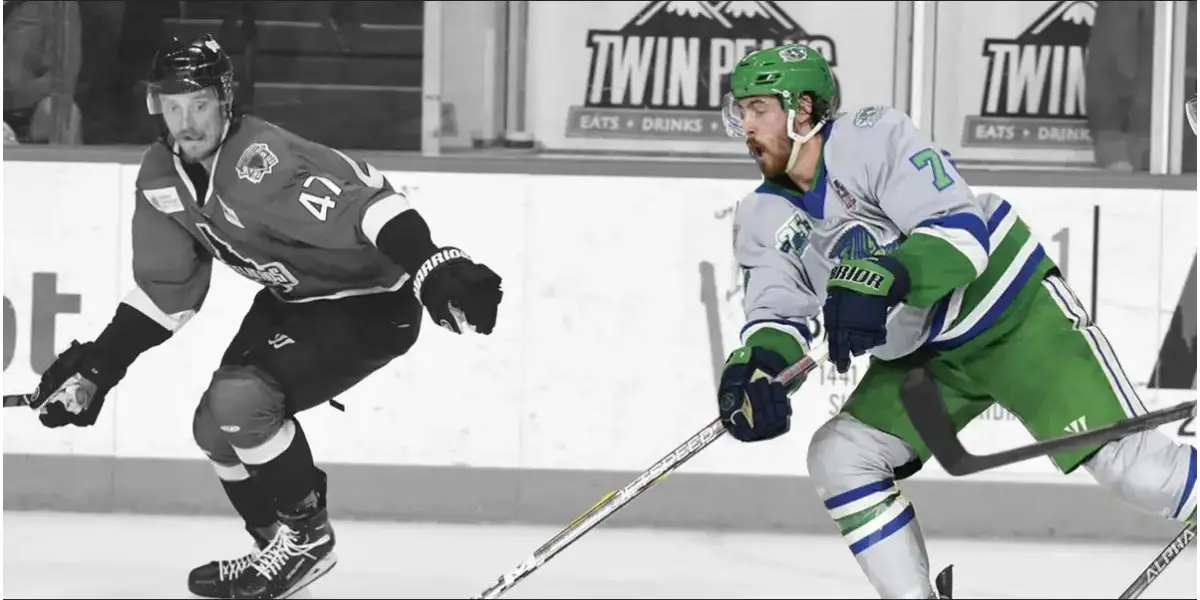 First Period:
Just when you think that the Everblades could up their game a bit, they do just that flawlessly. After Florida's incredible win, it's no surprise at all that Game 2 would bring in a lot of physical tension and aggression. Not even thirty seconds into tonight's game, the two teams had themselves a bit of a scuffle on the ice. It's fair to say there's no love lost between these two teams. Just like they did last night, the Steelheads got the game's first goal tonight. This was a rocket shot from the point taken by Matt Register with 8:11 remaining in the period, allowing him to put up his 111th Kelly Cup Playoff point of his career. A bit later, at 13:17 left in the period, Idaho's Jack Becker and Florida's Zach Uens got into what seemed to be a professional wrestling match. Within about 20 seconds, Cam Johnson made a couple of incredible saves. Ashton Calder got the Everblades on the board with 20 seconds left on assists from Sean Josling and Logan Lambdin. 
Second Period:
One thing that really goes to show how strong Florida's defense can be is that in the second period, Idaho had the only two power plays and didn't score a single goal in the second set of 20 minutes. However, Florida managed to score twice. Joe Pendenza hit Logan Lambdin with a great setup for a goal that would give them the 2-1 lead at 50 seconds in the middle period. On the opposite end of the period, Lambdin got his second goal and eighth of the Kelly Cup Playoffs with 5.8 seconds remaining. That's now three goals in the past two games for Lambdin.
Third Period:
The game ended with a third period full of action. Cam Johnson made a ton of huge saves like he had been doing all night. At 13:42, Levko Koper scored the first goal of the period, which Sean Josling and Will Calverley assisted. Next, with Stefan Leblanc in the box, the Steelheads seized the opportunity to get a nice power-play goal, which was scored by Justin Misiak, thanks to the help of Matt Register. Approximately 21 seconds passed, and Ty Pelton-Byce hit the back of the net with the use of Willie Knierim. When people thought this game could go to overtime for the second night in a row, Florida captain Ben Masella said no as he scored an empty net goal with 29 seconds to go.
Looking Forward to Game 3:
Tonight's game consisted of a sold-out crowd with 5,101 tickets sold, which had all been purchased in almost a perfect time span of two hours. It is very likely that the same will go for the next three games in Estero, Florida. 
The Everblades will next face the Steelheads at home on Wednesday at 7:30 EST.
Then, they will play Game 4 Friday at home again at 7:30 EST.