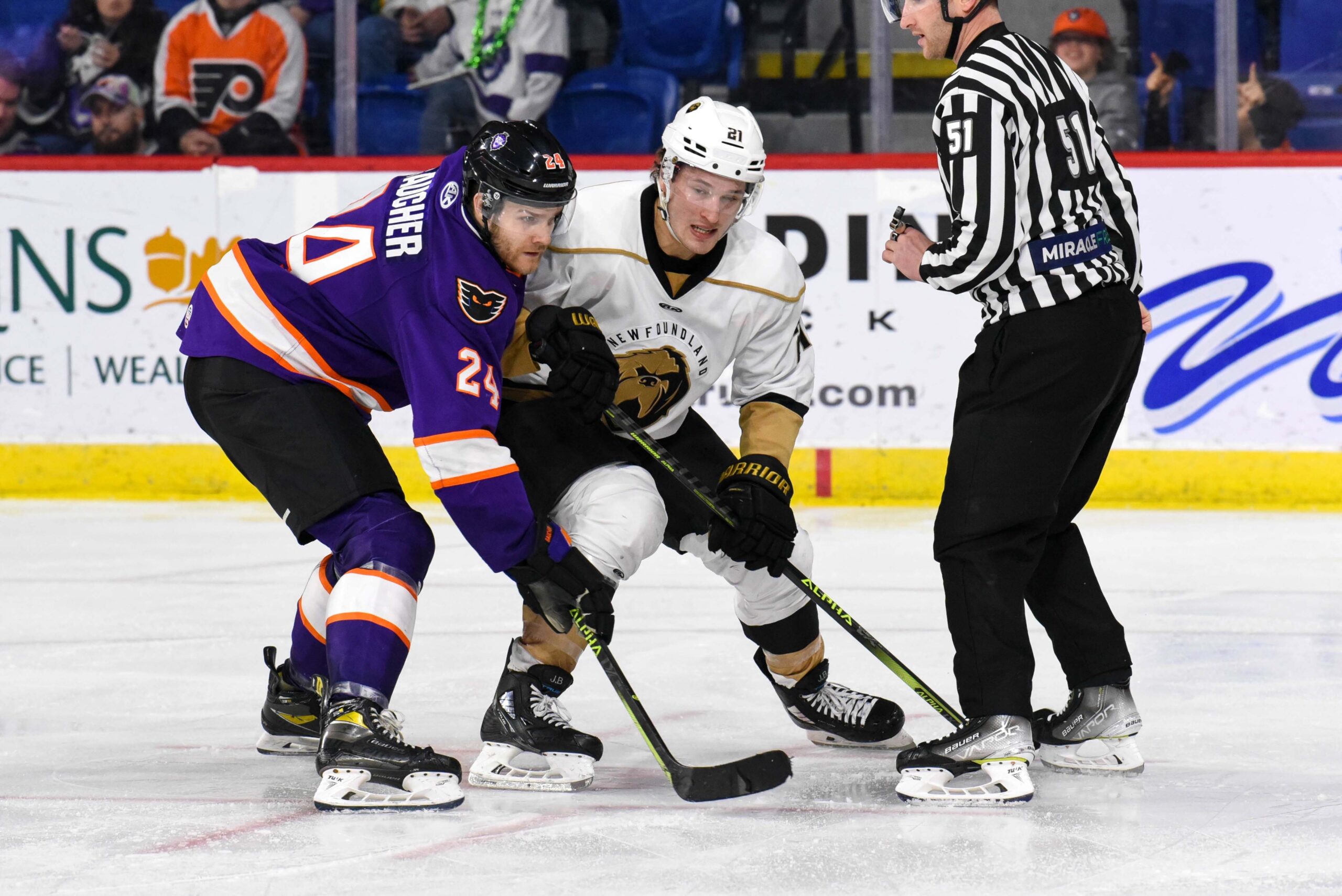 The Newfoundland Growlers faced a tough loss on home ice in game 56 with a 6:1 end in the series opener to the Reading Royals. The final goal in the third, a highlight-reel wrap-around scored by Alec Butcher, ticked Growler Dryden McKay off so much the flustered goalie gave the net a few hearty smacks with his stick. McKay made 24 saves, but overall it was not his best showing.
The loss hurt, especially considering the game's first goal was high. Scored by Brandon Kruse with an assist by Pavel Gogolev, the team's triumphant return home following almost a month on the road was short-lived as the Royals proved it would not be all celebration for Growlers' fans.  
It was a different story for Royals' fans as six different goal scorers found the back of the Growler's net. Forward Sam Hu scored his third since joining the team, and a short-handed goal by #24 Jacob Gaucher – on his birthday no less  – were but two of the away team's highlights.
As the saying goes, the Growlers didn't appear to be in it to win it. Their passes weren't as crisp, the power plays fell flat, and the defensive effort seemed to lack that get-up-and-go the Growlers are known for. Even League top-scorer Zach O'Brien didn't appear to play like himself. 
A lot is going on around the team – both highs and lows. While the game marked the return of Gogolev to the lineup, finding his way back after he was dealt in a trade to the Chicago Blackhawks organization,  in other unexpected roster news, Nathan Noel is no longer a Growler as it was announced that the 25-year-old forward had been released from his contract earlier that day. There was no explanation for why the Newfoundlander would no longer be part of the team. While Jordan Escott returned to the ice after a lengthy stint of nursing an undisclosed injury, Orrin Centazzo and Zach Solow are still with the Marlies, making the on-ice dynamics slightly different. 
While the Mary Brown's Centre wasn't packed, it was a night that filled fans with 'the feels.' It was the team's Pride Night celebration, and the Growlers' organization marked the occasion with a special pre-game ceremonial puck drop along with a video presentation that earned a standing ovation from some in the stands.  
The Growlers get a rematch tonight with the Royals. Puck drop is at 7 p.m. local time.