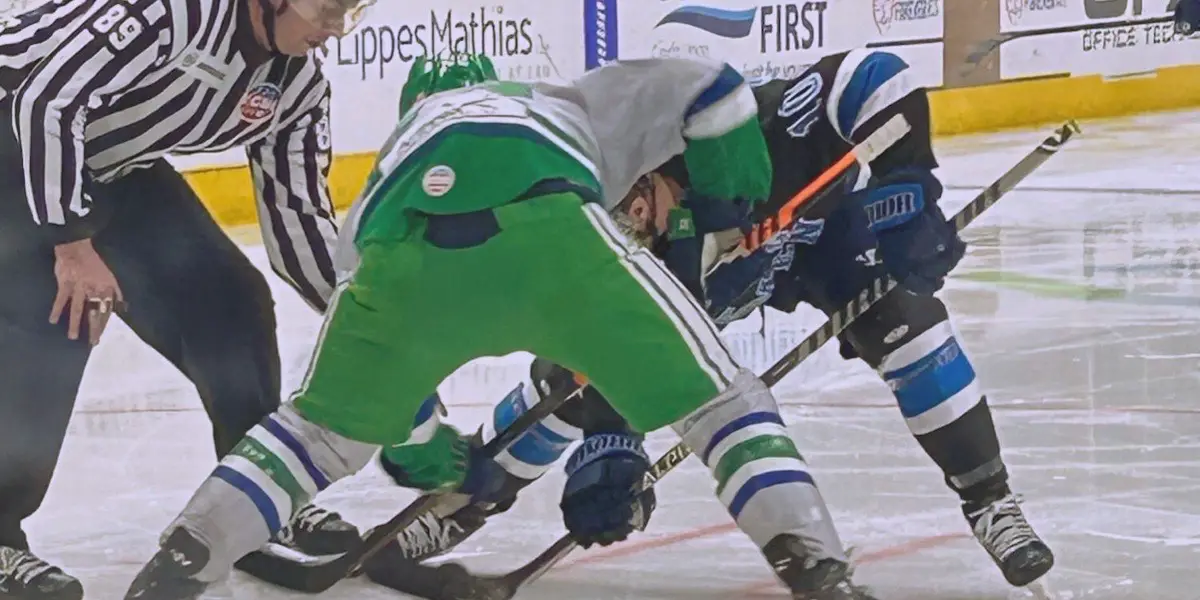 Playoff hockey is dramatic. It's edge of your seat, forget to breathe, Apple Watch, heart rate alert, inducing dramatic. The emotions are raw, the intensity is cranked up to 11, and both the highs and lows have the ability to be all-encompassing. Through eleven games so far this postseason, there have been many playoff feelings for the Jacksonville Icemen. After losing the first two games in the South Division Finals on home ice, the Icemen headed to Everblades' home turf in Estero for games three, four, and five of the round two series. Beginning the road trip with a loss in game three had many already considering the Icemen a playoff afterthought. With their backs to the ropes in game four, the Icemen were looking to put a dent in a 0-3 series deficit or return home eliminated from playoff contention. A three-game hole is a tough spot to climb out of, but the Icemen proved they wouldn't go away that easy in games four and five.
Game Three: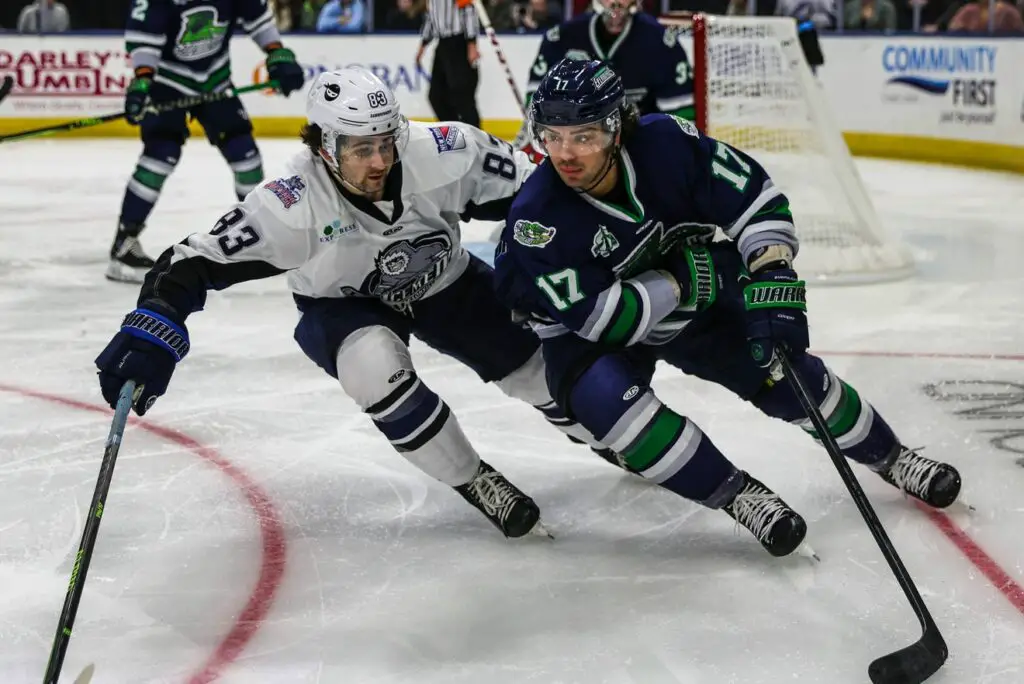 The first game in Estero went much differently than the Icemen would have liked. Posting a pair of goals in the middle frame, the Everblades shut out the Icemen 2-0 in game three. Everblades' goal scorers Sean Josling and Tyler Irvine would get on the board at 6:37 and 12:20, respectively. Icemen goaltender Charles Williams stopped 20 of 22 shots Wednesday evening. Jacksonville did outshoot the Everblades during the third matchup of the series, putting 26 shots on goal to the Everblades' 22. The Icemen's powerplay, with limited opportunities to work, was lifeless, going 0-2 with the man advantage. The penalty kill held the Everblades to just one powerplay goal on their three chances for the night.
Game Four:
Getting a goal in every period plus overtime is how the Icemen would pull off a win in game four. In a critical win-or-go-home matchup, the Icemen got help from netminder Parker Gahagen who stopped 27 of the 30 shots he faced Friday evening. Icemen forwards Craig Martin, Ben Tardif, and Christopher Brown would score the three goals that came in regulation. Brendan Harris got the overtime game-winning goal at the eight-minute mark of OT. Harris' game-winning goal was assisted by forward Ara Nazarian. Special teams showed up in a big way in the vital game-four victory. The powerplay had six chances to work Friday night, finding the back of the net on four of them. The Everblades would get three opportunities on the man advantage but were held scoreless.
Game Five:
Saturday's third and final game of the series in Estero saw an Icemen team with a lot to prove firing on all cylinders. The Icemen's offense may have been outshot 35 to 22, but it was a matter of quantity, not quality, in game five. Craig Martin would get assistance from Travis Howe just eleven seconds into the game to put the Icemen up 1-0. The Everblades responded with a goal of their own in the first period, but Derek Lodermeier gave the Icemen a 2-1 lead going into the second. Brendan Harris scored the only Icemen goal of the second period but would ensure the lead remained in Icemen's hands to start the final frame of play. Forward Derek Lodermeier would be joined by Captain Christopher Brown with a pair of goals in the third period to secure the 6-3 win. Both Lodermeier and Brown finished the evening with a pair of goals each. Icemen goaltender Parker Gahagen shut down 32 of 35 Everblades shots during Saturday's game. Icemen special teams went one for two on the powerplay and two for four on the penalty kill.
Scoring Leaders:
Through eleven postseason games, three Icemen forwards have over ten points. Craig Martin leads the pack, who has six goals and six assists for 12 points through his 11 games played. Ara Nazarian joins him with 12 points, tallying three goals and nine assists. Rounding out the Icemen's offensive top three is Captain Christopher Brown. The Captain has 11 points in 11 games, including five goals and six assists.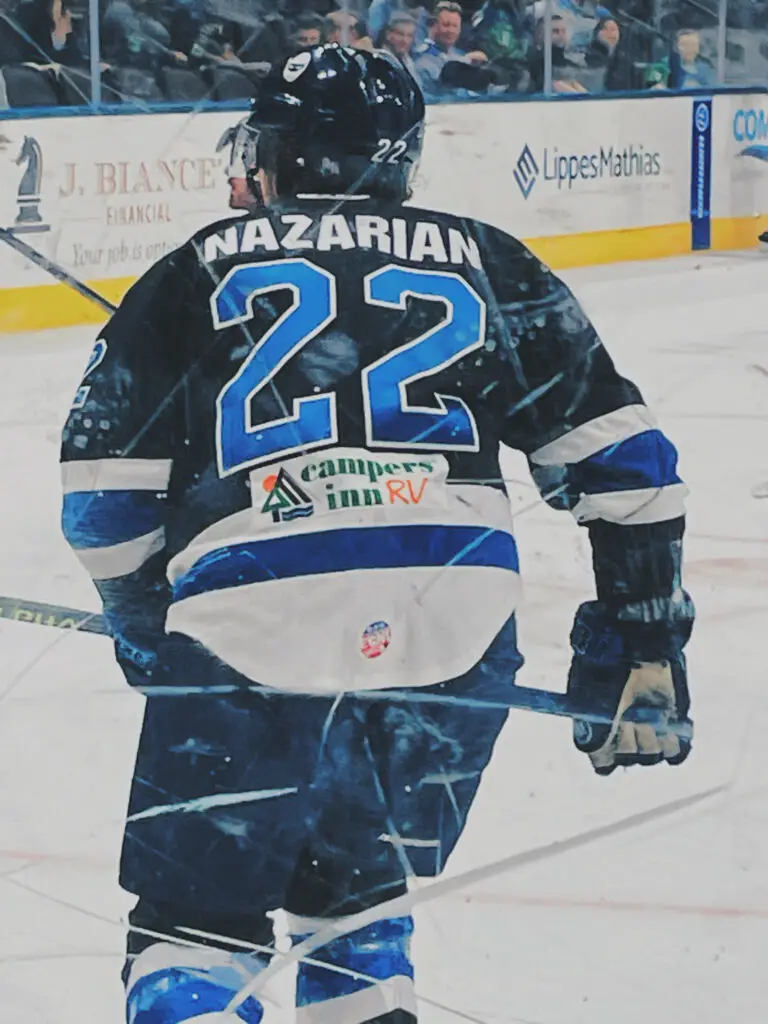 Tim Theocharidis and Jacob Friend continue to lead the points column on defense. Theocharidis has five assists for five points through 11 games. Jacob Friend is second in defensive scoring and has contributed four assists to the Icemen's scoring efforts. Meanwhile, Brandon Fortunato has three points through 11 games, including one goal and a pair of assists.
Between The Pipes:
Charles Williams, Olof Lindbom, and Parker Gahagen have all seen time in net this postseason. Charles Williams has gotten more nods than the other netminders, starting six times in net thus far. Through those six games, Williams has two wins and three losses. He's taken on 156 shot attempts allowing 15 goals for a .904 save percentage. He has a 2.74 goals against average, the best of any Icemen goaltender so far these playoffs.
Olof Lindbom and Parker Gahagen have both seen playing time in three games each. Both goalies sport a 2-1 win/loss record. Lindbom's faced 78 shot attempts and has allowed nine goals. His save percentage is .885, while his goals-against average sits at 3.15. Gahagen has let in ten of the 93 shots he's faced in goal. While only marginally behind Lindbom with a 3.22 goals-against average, he does have the better save percentage of the two netminders at .892.
Series Recap:
Game One @ Jacksonville: Everblades 5 – Icemen 2 [0-1 Everblades series lead]
Game Two @ Jacksonville: Everblades 4 -Icemen 3 [0-2 Everblades series lead]
Game Three @ Florida: Icemen 0 – Everblades 2 [0-3 Everblades series lead]
Game Four @ Florida: Icemen 4 – Everblades 3 (OT) [3-1 Everblades series lead]
Game Five @ Florida: Icemen 6 – Everblades 3 [3-2 Everblades series lead]

Game six is scheduled for a 7:00 pm ET start at VyStar Veterans Memorial Arena in Jacksonville on Monday, May 15th. If the Icemen come away victorious in game six, a final game seven will be played Tuesday, May 16th, in Jacksonville at 7:00 pm ET.