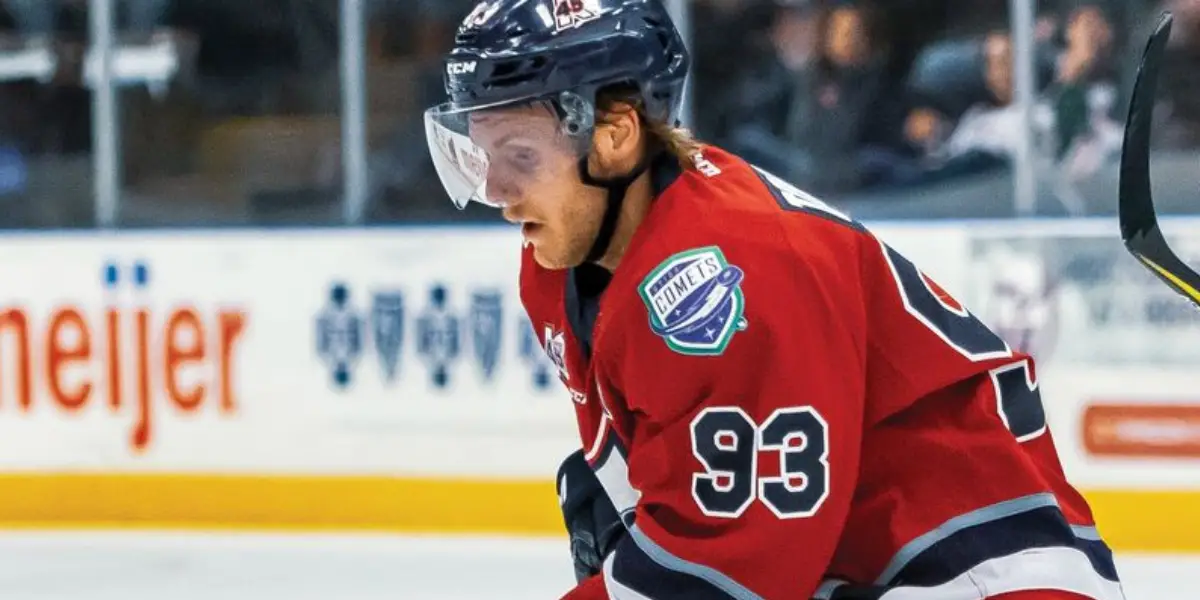 Justin Taylor is back! The Kalamazoo Wings announced today they have signed Taylor, 34, to a Standard Player Contract for the 23-24 season. Justin, a Mindemoya, ON native, is the club's current games played, goals scored, and total points leader. In his 13 seasons of pro hockey, he has spent 12 of them in a K-Wings uniform. During his tenure, he has skated in 685 games, scored 257 goals, and earned 241 assists. Last season, he led the team in goals and was third in assists. He tied for seventh place in the ECHL for power-play goals scored.
Drafted in 2007 by the Washington Capitols, the 5-foot 11-inch center began his pro career in the AHL with the Bridgeport Sound Tigers in the 10-11 season, playing 15 games with the club before he joined the Kalamazoo Wings. He has also played with the Utica Comets in 17-18 and 19-20 seasons, as well as the San Antonio Rampage in 18-19. The only season he has not played for the K-Wings was in 20-21, when he suited up for the Tulsa Oilers, playing 62 games and scoring nine goals with 12 assists. He currently ranks third in the ECHL history with 795 career games played.
Justin Taylor lives and breathes Kalamazoo. He helps in the community and is always eager to give back. He will talk to any fan who recognizes him, even if he is at an auto parts store trying to fix his car for a weekend trip with his family. The K-Wings will always be better when Taylor takes the ice wearing the K.
Two Rookies Join the Team
The K-Wings have signed Drake Pilon and Aidan Spellacy to Standard Player contracts for the 23-24 season. Pilon, 24, hails from Sault Ste. Marie, ON, He played seven games for the K-Wings last season in his professional debut. Before joining the Kalamazoo Wings, he played collegiately for the University of Prince Edward Island. From 2019 to 2023, he suited up for 63 games for the UPEI club, helping lead them to three championship runs. The 5-foot 10-inch 187-pound forward scored 19 goals, 14 assists, and tallied 147 penalty minutes during the regular seasons. During playoffs, he scored two goals, two assists, and sat for 18 minutes.
Spellacy, 25, is a Lakewood, OH native returning to Kalamazoo after also making his pro career debut last year with the club. Last season, this six-foot, 195-pound forward played in six games for Kalamazoo, scoring two goals. Prior to the K-Wings, he played in the NCAA for Robert Morris University and St. Cloud State University. With Robert Morris, he played 91 games, scoring 16 goals, 14 assists, and 53 penalty minutes. With St. Cloud, he played 54 games, scored four goals, earned nine assists, and sat for 15 penalty minutes.
The Kalamazoo Wings play their home opener on October 21, 2023, at Wings Event Center. This season is shaping up to be a great one as Coach Joel Martin continues to bring in great veterans with promising young rookie talent as well!