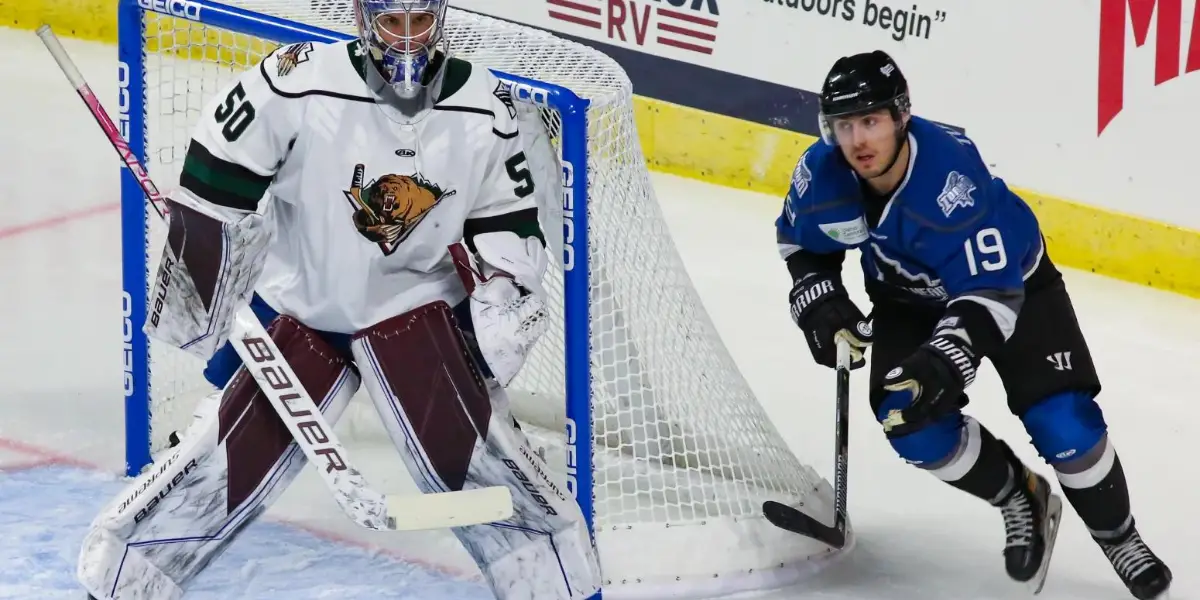 Here is what the schedule looks like.
#1 Idaho Steelheads (58-11-3) vs. #4 Utah Grizzlies (35-33-4)
Game 1 – Wednesday, April 19 at 7:10 p.m. MT at Idaho
Game 2 – Friday, April 21 at 7:10 p.m. MT at Idaho
Game 3 – Wednesday, April 26 at 7:10 p.m. MT at Utah
Game 4 – Friday, April 28 at 7:10 p.m. MT at Utah
Game 5 – Saturday, April 29 at 7:10 p.m. MT at Utah (If Necessary)
Game 6 – Monday, May 1 at 7:10 p.m. MT at Idaho (If Necessary)
Game 7 – Tuesday, May 2 at 7:10 p.m. MT at Idaho (If Necessary)
The Utah Grizzlies will face their longtime rivals, the Idaho Steelheads, in the first round of the 2023 Kelly Cup Playoffs.
The Idaho Steelheads had a record-breaking regular season. They set a league record with 58 wins and 119 points for the regular season. Defenseman Cody Haiskanen and Matt Register tied for the league lead with a +53 rating. The +53 rating is tied for the second-highest in a season in ECHL league history. Register, and his linemate, defenseman Owen Headrick were named first-team all-ECHL. Headrick was second on the Steelheads with 54 points. Ryan Dmowski led Idaho with 30 goals and 67 points. Register led the Steelheads with 43 helpers. Idaho's team save percentage this season was .927. They were led by 2nd team all ECHL goaltender Adam Scheel, who had a 1.97 goals against average and a .932 save percentage. Idaho led the league in goals per game at 4.03 and also led the league in fewest goals per game allowed at 2.13. Idaho broke a league record for home wins in a season with 32. Three of Idaho's four losses at home came to the hands of the Grizzlies.
 
Cameron Wright led Utah and was fourth among ECHL rookies, with 29 goals in the regular season. Wright also led the Grizzlies with 63 points this season.
 
Idaho went 14-4-0 during the regular-season series, with Utah going 4-13-1. Jordan Kawaguchi scored a team-best nine goals for the Steelheads, with Dmowski leading the way with 15 points.. Jordan Martel led the way for the Grizzlies with six goals and eight points.
Suppose there is anything to take from last weekend's regular series between these two teams. The series will be closer than the records might indicate. The Grizzlies were swept in the weekend series, but all three games were one-goal games. All the games were close and competitive.
Utah swept Tulsa in a three-game series to secure the four seed in the Mountain Division. Utah won 5-0 in the regular season finale on April 15th as Starting Goalie Trent Miner earned his 3rd shutout. Utah's power play looked good in the three-game series. They were 8 for 15 on the man advantage. If they can keep this up, they will be a strong opponent for the Steelheads. This series will be close.