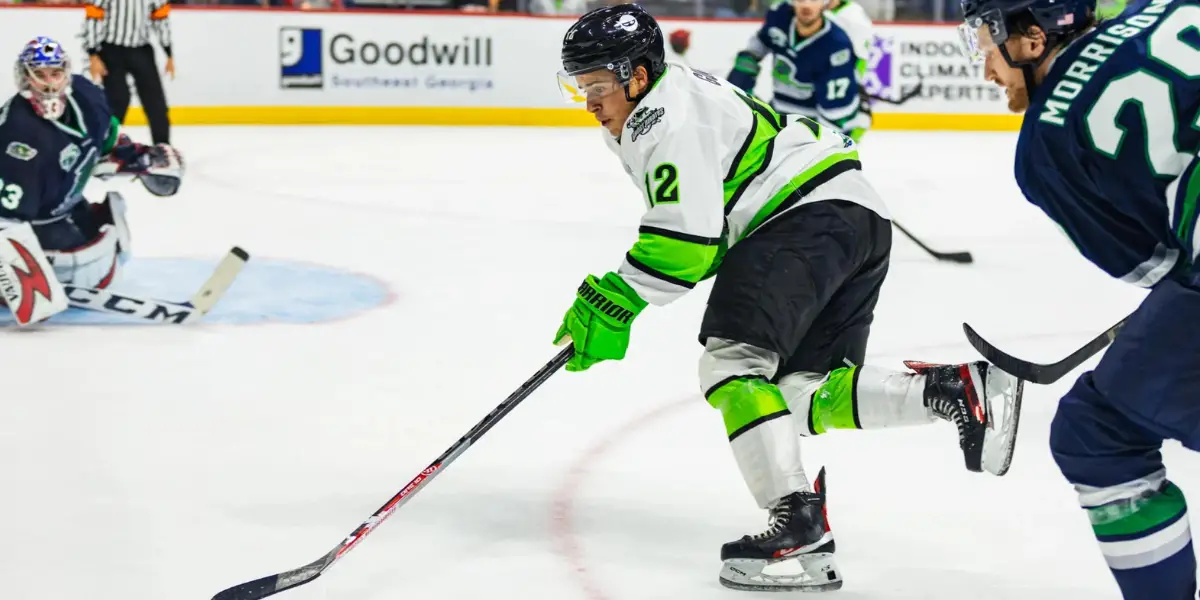 Who is Pat Guay? 
Patrick (Pat) Guay is a 20-year-old center who is contracted with the AHL's Henderson Silver Knights but is currently playing for their ECHL affiliate – the Savannah Ghost Pirates. He was born on April 29, 2002, and raised in Magog, Quebec, Canada. He stands at 5'9″, weighs 179 lbs, and shoots left-handed. Patrick is the son of Francois Guay, who was also a hockey player. In his 18-season career ranging from 1984-2001, he played one game for the Buffalo Sabres during the 1989-90 season. Pat has followed in his father's footsteps as he continues in a professional hockey career that he's worked very hard for since he was younger. This season, he's played back and forth between the HSK and the SGP. 
Pat Guay is the youngest on the Savannah Ghost Pirates, as he is 20 years old. The other younger players include Daniel D'Amato, Marcus Kallionkieli, Alex Swetlikoff, Mason Primeau (all are 21) and Connor Corcoran, and Lynden McCallum (both are 22). 
While younger players use their stick-handling skills to psyche out other players and goalies, like in Daniel D'Amato's case, Pat Guay doesn't do that as much. D'Amato, especially in shootouts, will move his stick and the puck from one side to the other until all players in his path are out of the way. What Guay does is he just places the puck in smart positions without using too much movement unless necessary. Most of his goals look like very simple shots, but he's just so good at stick-handling, puck placement, and explosiveness that he makes it look effortless. 
Sherbrooke Phoenix: 
   From 2018 – 2021, Guay played on the Quebec Major Junior Hockey League's (QMJHL) Sherbrooke Phoenix team. When he started playing with them, he was 16, and he ended his time with them when he was 19. In his 114 games played with them, he scored 80 points: 40 goals and 40 assists evenly. He also got 62 penalty minutes. During his 2020-21 season with Sherbrooke, he moved to the Charlottetown Islanders, who are also in the QMJHL, playing a total of 23 games with them. 
Charlottetown Islanders: 
In his first 23 games with the Islanders, he managed to get an even amount of points as he got 11 goals and 11 assists. He continued playing with the Islanders for the 2021-22 season, playing in 68 of their games. He scored his highest number of points with 104 that season: 55 goals and 49 assists. 
During his time with the Islanders, he played alongside future AHL teammate Lukas Cormier. Before Guay came to the team, Cormier started with Charlottetown during the 2019-20 season. They both finished their time with the team at the end of the 2021-22 season, and over the summer, they both became contracted with Henderson.
In both seasons with the Islanders, Guay helped the team make it to the playoffs. During the 2020-21 playoffs, he was in for eight games as he scored two goals and assisted 4. In the 2021-22 playoffs, he played much more as he played in 15 playoff games earning himself 13 goals and 15 assists.
2022-23 season in Henderson and Savannah: 
This season, Pat has played 54 games: 12 with the Henderson Silver Knights and 42 with the Savannah Ghost Pirates. He started the season in Savannah and has been recalled to Henderson approximately three times sporadically. He's frequently been moved up with teammates Daniel D'Amato and Peter diliberatore. He was named the Savannah Ghost Pirates' first franchise All-Star, but he couldn't attend the Classic because he was pulled up to Henderson the day of the All-Star game. 
In his 42 games playing for the SGP, Pat Guay's face has been seen all over the team's leaderboards as he frequently scores or assists goals. As of March 16, he leads the team in overall points with 47. He's also leading the team in assists by five with 33, and he's 4th on the team for goals, as he currently has 14 this season. Pat got four points in his 12 games playing for Henderson: two goals and two assists. 
During his brief time with the HSK, he received 13 penalty minutes, and with the SGP, he got 16 in 42 games. This is most likely because he went from being one of the most played and best players on the team to being one of the newest, less-played players. 
Recent News:
Last weekend, not only did Pat help the Ghost Pirates rack up two wins and scored in two shootouts that were less than 24 hours apart. They had games Friday against Greenville, Saturday against Jacksonville, and Sunday against Greenville. While they lost to Greenville on Friday, Pat Guay received the 3rd star of the game as he got assists on two of their four goals. On Saturday, he was the first in Savannah's triple-shootout lineup. Pat Guay and Ross Armour were the only two to score, while the Icemen only had one to score, giving the Ghost Pirates a shootout-shutout. Sunday, Pat was the first star as he scored in the third period tying up the score to keep them in the game and scoring in the shootout. He did so along with Daniel D'Amato, the only other shooter for the night.