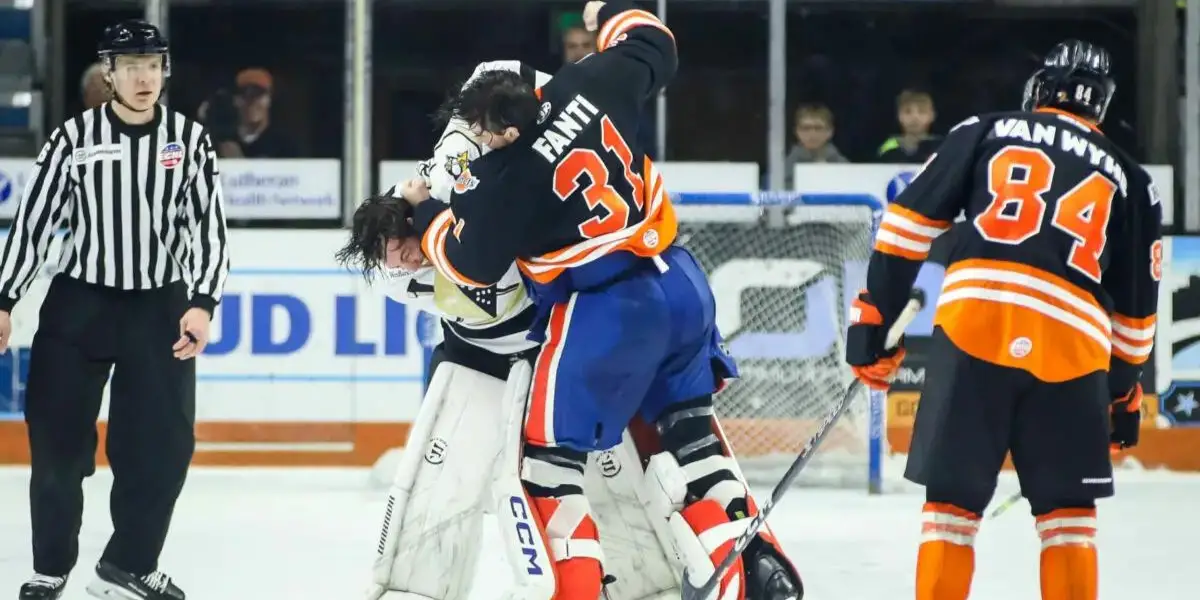 Goalie Fights.. two words that can change the entire experience of a hockey game for everyone involved, including players, coaches, officials, and of course, fans, but that's just talking about the people that were in attendance. This particular goalie fight connected with the social media world at a whole other level. I'm not here to break down the fight any more than it already has been done, but I do want to showcase to you all a little more about the man behind this fight and the mask. The best way to start is by getting the obvious out of the way and reliving the fight that occurred exactly one week ago today with a great video created by the Fort Wayne Komet's social media team.
As you can see, that are multiple reasons this sequence of events exploded on social media, including the number one item of a freaking goalie fight, a one-sided goalie fight, the reaction from all of the Komet players in itself is amazing, and finally the broadcast call by one of the greats Shane Albahrani. I spoke with Ryan Fanti about this situation, and here is what he had to say: "The game was chippy all the way around, and we have had some battles with Wheeling throughout the year, and Friday was no different." Matt Alvaro scored an empty net goal but was tripped in the process, which is what started this final phase of fights last Friday, "I saw the other goalie at the redline, and he was kinda challenging me, and one thing led to another." When asked about how it was waking up Saturday morning and seeing how things went viral on social media, Fanti agreed it was cool but immediately focused on bigger things. "It was pretty cool seeing all the different places it was on and people that saw it, but we have a big weekend ahead, so we got to go past that and get a couple of wins."
So exactly who is Ryan Fanti, you may be asking yourself, well, he is a 23-year-old goalie from Thunder Bay, Ontario, who stands 6 feet and 3 inches tall. Fanti signed a two-year contract with the Edmonton Oilers on March 28th, 2022, after finishing his career at Minnesota-Deluth. During the 2021 season, he played in 20 games, allowing 2.36 goals against, and had a saving percentage of .907. In 2022 he played in 37 games and allowed 1.83 goals against, and had a saving percentage of .929. He was also named to the NCAA West Second All-American Team and the NCHC 1st team All-Star Team. Social media fame is nothing new to Fanti as he drew national attention back in 2021 when Sportsnet insider Elliotte Friedman wrote a piece on Ryan regarding his sportsmanship after winning a five-overtime thriller where he skated away from celebrating and consoled North Dakota's goalie after a tough loss.
This season has had its fair share of ups and downs, with player transactions in the ECHL always keeping players on their toes with new guys coming in and guys leaving. Ryan has found a way to make the best of it by playing in 26 games and winning 11 with a goal against average of 3.51 and save percentage of .891. Fanti, for a while, was considered to be a workhorse as he was playing a lot of minutes as teammate Rylan Parenteau was loaned out to Abbotsville, and the Komets were experiencing a few different backup goalies.
Shifting things forward, I asked Fanti how he and the team can take the excitement from last weekend and use that as momentum moving forward to close out the season and, hopefully, a deep playoff run.
"We got four of six last weekend, which is our goal, like coach always says the goal is always to win the week, and this weekend we are looking to do the same thing, 3 road games in 3 different spots." Lastly, I asked him what it was like playing in Fort Wayne, and to no surprise playing in front of the fanbase was where he immediately went, "We are super grateful for playing in front of a great crowd, it's something all the guys definitely get up for, and definitely the best part of playing in Fort Wayne."
The Komets hit the road this weekend for three games in three nights, all taking place in three different Central Division locations starting with Kalamazoo, then Indy, and wrapping things up in Cincinnati before coming home next weekend for three straight home games.