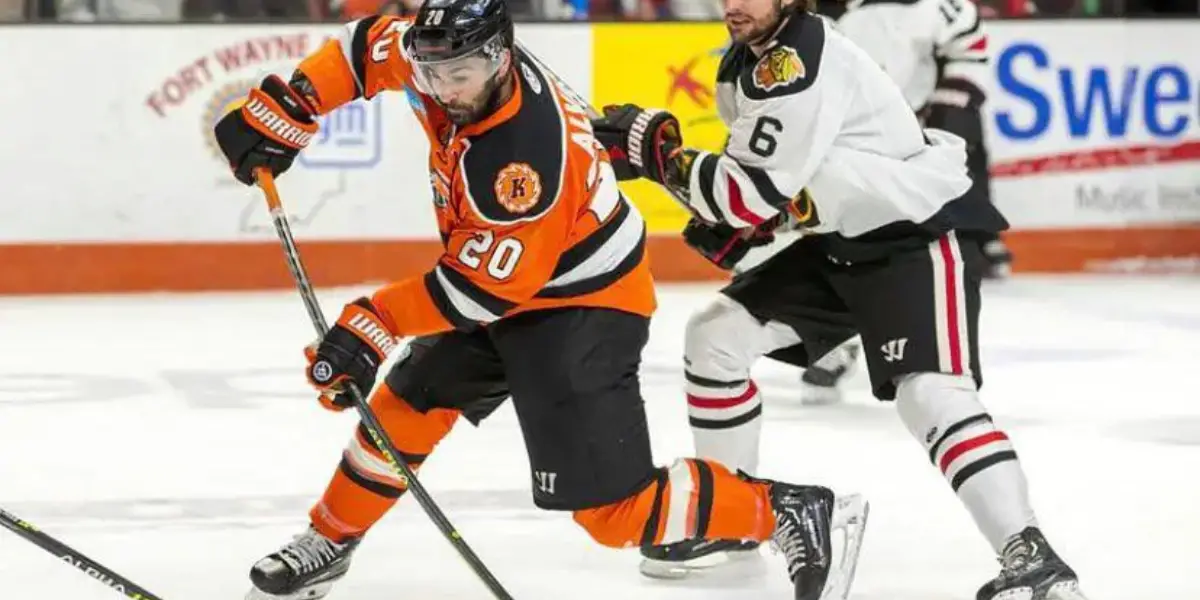 After a wild 3-game weekend overshadowed by Friday night's goalie fights and Sunday's five misconducts, it's fair to say that Matt Alvaro's excellent week of play might have taken a backseat. This week ECHL named Alvaro the Player of the Week after tallying eight points off of two goals and six assists in the Komets 2-1 weekend.
Alvaro, the 26-year-old from Toronto, Canada, continues to find himself making positive plays for the K's down the stretch; in his second year with the Komets, he has 33 points off of 12 goals and 21 assists and is on the positive side of plus-minus at +4 for the year.
Matt and I discussed how tough of a weekend last week was with the types of games played and having to travel after each game, but he was happy with the results of two of those games. "Proud of how the guys battle through it, winning two of three, and we will build off the winning week." Building on the week prior will be key with this weekend's road trip playing against two teams that the K's are currently looking up at in the standings; I asked Matt what it's like having a week like he just had and how he can use that momentum with this weekend with three big road games coming up: "I think we played good hockey, we aren't having the best starts, and that's something we gotta clean up, we are a resilient group, and no matter what the hole is we feel like we can come back in a game." Matt did indicate the goal moving forward is focused on the defensive end "We gotta clean up our defensive end, I think we can score with anyone in the league, but right now, it's cleaning things up on the defensive end." Finally, I did ask Matt what it's like playing in Fort Wayne and this fanbase. "In my opinion, it's the best place to play in the league, best fan base," The biggest thing is playing in front of the fans at the Coliseum; it's unbelievable."
As mentioned, the Komets will take to the road starting on Friday, traveling to Kalamazoo, then Saturday at Indy, and wrapping up the weekend on Sunday at Cincinnati. Komets are currently sitting in the fourth and final playoff spot in the Central Division, 11 points ahead of Wheeling and ten points behind the Fuel, but the K's do have three more games remaining against Indy and also have played two fewer games than the Fuel this year.