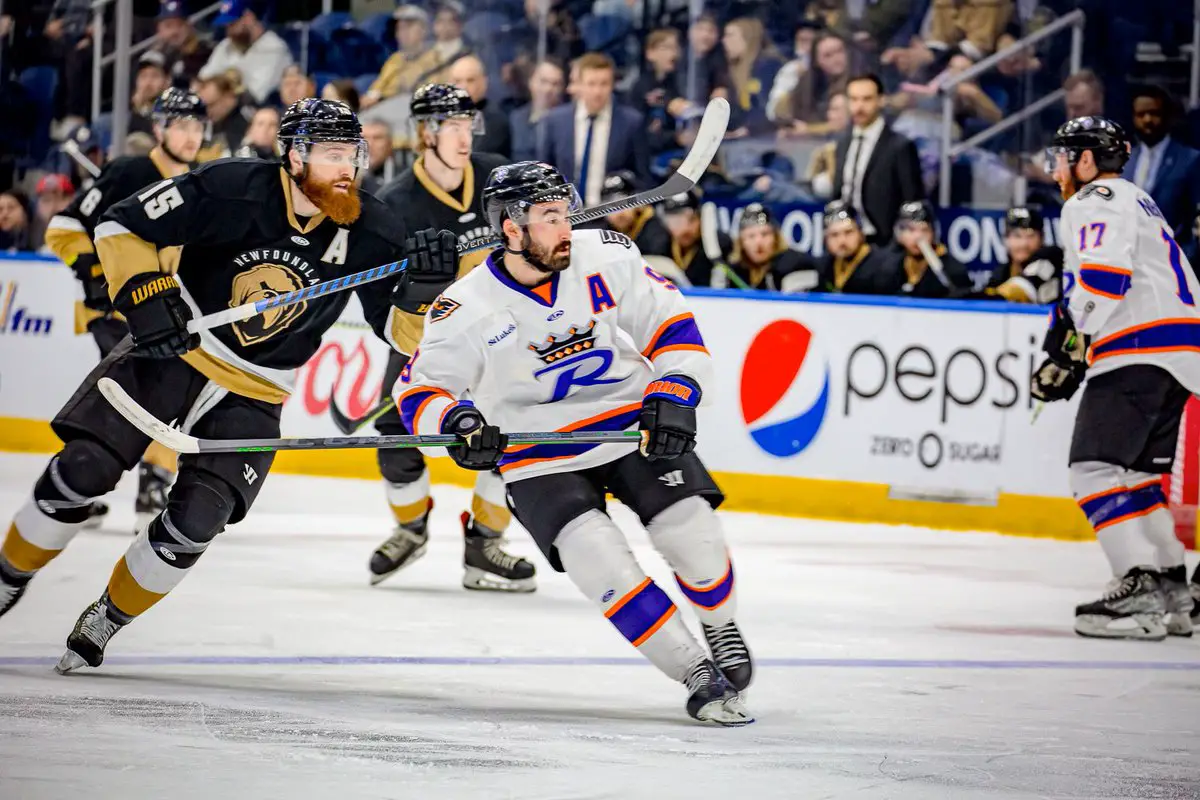 A loss was not what fans of the Newfoundland Growlers were expecting to see – especially on home ice. 
Game 4 followed three away wins for the Growlers against the Reading Royals. So what happened? Perhaps that momentum just couldn't be maintained, or the Royals were hungry for a win. 
In truth, Game 4 was over almost in the first few minutes as Reading proved they would not be an easy target following three solid losses. By the time the first period was over, Reading had scored 4 to the Growlers' 0.
Alec Butcher was the first on the board, just a minute and nine seconds into the first. Before three minutes of play was up, Jacob Gaucher made it a pair, then scored again, putting another past Dryden McKay. 
Will MacKinnon landed another, and the score was set 4-0 Royals.
But Growler fans didn't give in. The level of play in the second period felt totally different, and the Growlers outshot the Royals. While the plays were energetic, they just didn't go where they needed to – in the back of the net. Some great performances by Orrin Centazzo and Pavel Gogolev just were not enough, and the fighting on the ice led to penalties for both sides, which seemed to really slow the play. The fans were in for it all, and the cheering – and the jeering of many ref calls – could be heard down on George Street in St. John's from the stands at the Mary Brown's Centre.
Tyler Bowland got the Growlers on the board in the second period with a powerplay goal, and the presentation of Luke Cavallin in goal replacing McKay seemed to be just the boost the team needed. Not that McKay had been a slouch. Despite having shutouts this season, including during the playoffs, it was clear that McKay was off, and this wasn't his night. Cavallin made some epic saves while in net, which helped keep the score what it was.
Gogolev finally helped tip the scales when he put one in past Pat Nagle, making it two on the board for the Growlers vs. Reading's 4. 
There's no doubt that Nagle had a hot night in net besides the two he let in. Some pucks he fought off were nothing short of miracle saves, though Brennan Kapcheck managed to get one through in the third. An empty net goal against Newfoundland in the final minutes of the game ended the night with 6-3 Reading. 
There was a lot of pent-up energy on the ice last night, and Tommy Miller was in on it, but so was Centazzo and Keenan Suthers, Bowland, Todd Skirving, and a very entertaining Zach Solow. 
Game 5 happens Saturday night at the Mary Brown's Centre in St. John's.