The Reading Royals and the Maine Mariners faced off for the first game of their series Friday night with ferocity right off the puck drop.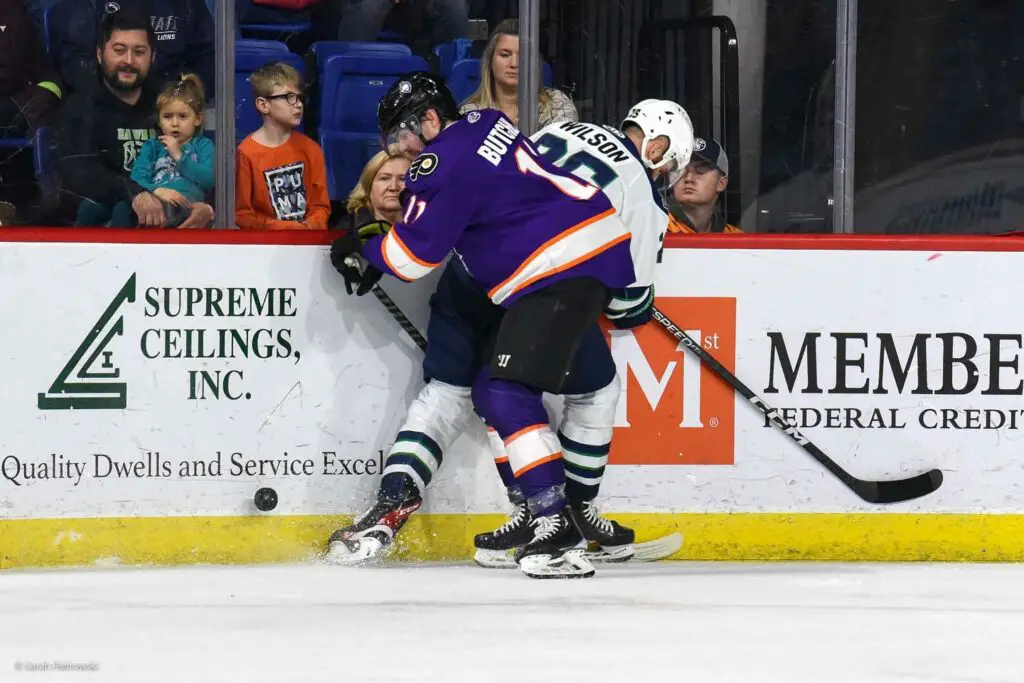 The Reading Royals and the Maine Mariners packed some heat for their first game of the series, with bodies hitting bodies for much of the first period. No one seemed to be holding back as the stats were reset and the postseason brutality could begin. The first period alone saw almost equal shots on goal, with Reading having eight and the Mariners nine, and an onset of five total penalties. Three of the five were on Maine, Marc-Olivier Duquette for Cross-Checking, Tim Doherty for Slashing, and Alex Kile for Interference. The Royals' two penalties in the first period consisted of two separate Tripping calls, one on Jacob Gaucher and the other on Ryan Cook. No goals were scored during the period.
The second period, though not seeing any penalties or goals, was still strong in favor of Reading as they put up 17 shots on goal, with the Mariners only putting up five. The intensity seemed to die down in the second period as the teams struggled to put one on the board.
Just 21 seconds into the third period, the Royals took the first lead of the game as Solag Bakich scored the first playoff goal of the series, assisted by regular season points leader Charlie Gerard. The Mariners fought back at 13:15 seconds, with Curtis Hall putting Maine on the board, assisted by Fedor Gordeev and Reid Stefanson. However, the Royals were not finished yet as Charlie Gerard scored his first of the postseason, assisted by Royals captain Garrett McFadden and Solag Bakich. The tides took a slight shift as the Mariners dominated on shots on goal for the period ending the period with 12 shots while the Royals ended with eight. Three more penalties ensued this period, two for Maine and one for Reading. Reading's penalty fell on Devon Paliani for Slashing while Maine's two penalties consisted of a Bench Minor for too many men served after some time by Marc-Olivier Duquette and Cross-Checking on Alex-Olivier Voyer. All eight penalties remained scoreless, with the final shots on goal being 26 for Maine and 33 for Reading, with the Royals taking Game One with a 2-1 victory. The three stars of the game all came from the Royals, with the third star being Royal's goaltender, Pat Nagle, the second star going to Solag Bakich for his one goal and one assist, and the number one star with the game-winning goal awarded to Charlie Gerard.