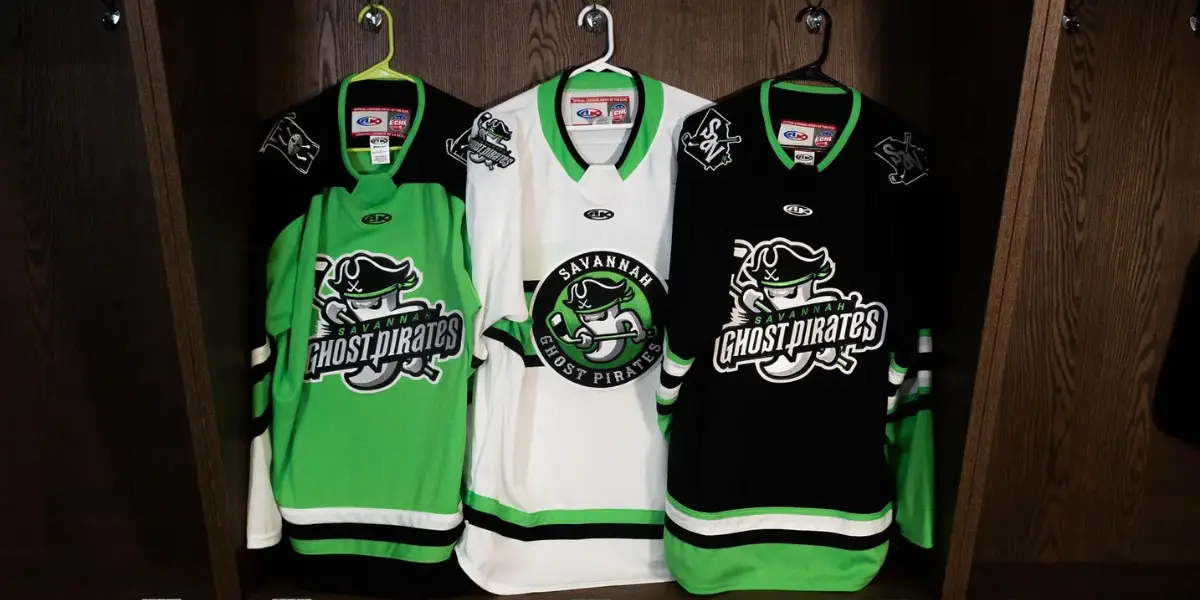 Closing out the 2022-2023 season
As the end of the 2022-2023 season is rapidly approaching, the Savannah Ghost Pirates have been playing a lot more aggressively in order to leave this season, knowing they fought well and hard. This weekend, they had three consecutive games, with only one being at home in Enmarket Arena. On Friday, they played the Swamp Rabbits in Greenville. Saturday, they played the Icemen in Jacksonville, and tonight they played at home against the Swamp Rabbits. Savannah lost to Greenville 4-6 on Friday, won 1-0 against Jacksonville on Saturday in a shootout and won 5-4 against Greenville this afternoon in another shootout. 
Freaky Friday Fall
The Savannah Ghost Pirates started the weekend off well as they finished the first period with a tie of 2-2 and led with 10-8 shots on goal. Savannah's two first period goals were scored by Alex Swetlikoff on assists from Pat Guay and Nick Tuzzolino and Dylan Sadowy on assists from Pat Guay and Daniel D'Amato. They dominated the second period, with the only goal of the period being scored by Jack Jeffers on assists from Aaron Aragon and Connor Graham. Friday night was the first game for Jeffers wearing Savannah's colors. The third period ended with a final score favoring Greenville 6-4, with Savannah's last goal being scored by Brandon Estes with help from Ross Armour. Savannah finished with 22 shots to Greenville's 28. Pat Guay was the only Ghost Pirate to get a star, as he got the third star of the evening. 
Spooky Saturday Shootout Shutout
The Jacksonville Icemen, the first-placed team in the Southern Division, against the Savannah Ghost Pirates, 7th in the Southern Division. Savannah prevailed 1-0, ending the game in a triple shootout. The shootout ended with both goalies having to face nine different shooters one-on-one. Savannah's shooters were (in order from first to last): Pat Guay, Daniel D'Amato, Alex Swetlikoff, Logan Drevitch, Nolan Valleau, Spencer Naas, Connor Corcoran, Jack Jeffers, and Ross Armor. Guay and Armor were the only 2 of the 9 to score in the shootout, while Jacksonville only had one of their nine shooters score. The game ended with shots on goal favoring the Icemen 38-24. 
Sunday Scaries: Second Shootout Sweep
The Ghost Pirates faced Greenville again in a Sunday match-up at home. They finished their full weekend prevailing in a shootout thanks to Pat Guay and Daniel D'Amato for their amazing stick handling and puck placement. The Ghost Pirates only needed two shooters, as the Swamp Rabbit shooters were 1 for 3. The Ghost Pirates were down 0-2 at the end of the first period. Three Ghost Pirates goals were scored in the middle period keeping them behind by just one goal. Logan Drevitch scored 2:46 into the period on a Power Play with assists from Connor Corcoran and Brandon Estes. Corcoran added another goal not even a full minute later with help from Alex Swetlikoff and Nolan Valleau. Max Kaufman scored the last one of the period off of a feed from Tristan Thompson. Pat Guay finished regulation with an unassisted goal with about a minute and a half left when the team pulled their goalie. Neither team scored in overtime, but the Ghost Pirates snagged the win in the shootout, making it their second shootout win in less than 24 hours. 
Post-Game Graveyard Gossip
The current Savannah leaders in points are Pat Guay (47), Alex Swetlikoff (42), Vincent Marleau (37), Brent Pederson, and Tristan Thompson (36). Even though Pederson is no longer with the Ghost Pirates, he's still one of their leaders in points and goals. Pat Guay is now leading the team in assists as he has 33, which is an amazing feat considering he has spent half of the season with the Henderson Silver Knights. Of the players that are still on the roster, Vincent Marleau leads in goals with 18, and Alex Swetlikoff is second with 17. There are 12 remaining games left in Savannah's inaugural season, with 3 of those being at home: March 31st, April 2nd, and April 15th. Despite being in 7th place, they still are in the playoff hunt. They would need some help to make that happen and would need to run the table, but there may be some luck of the ghouls in America's most haunted city.