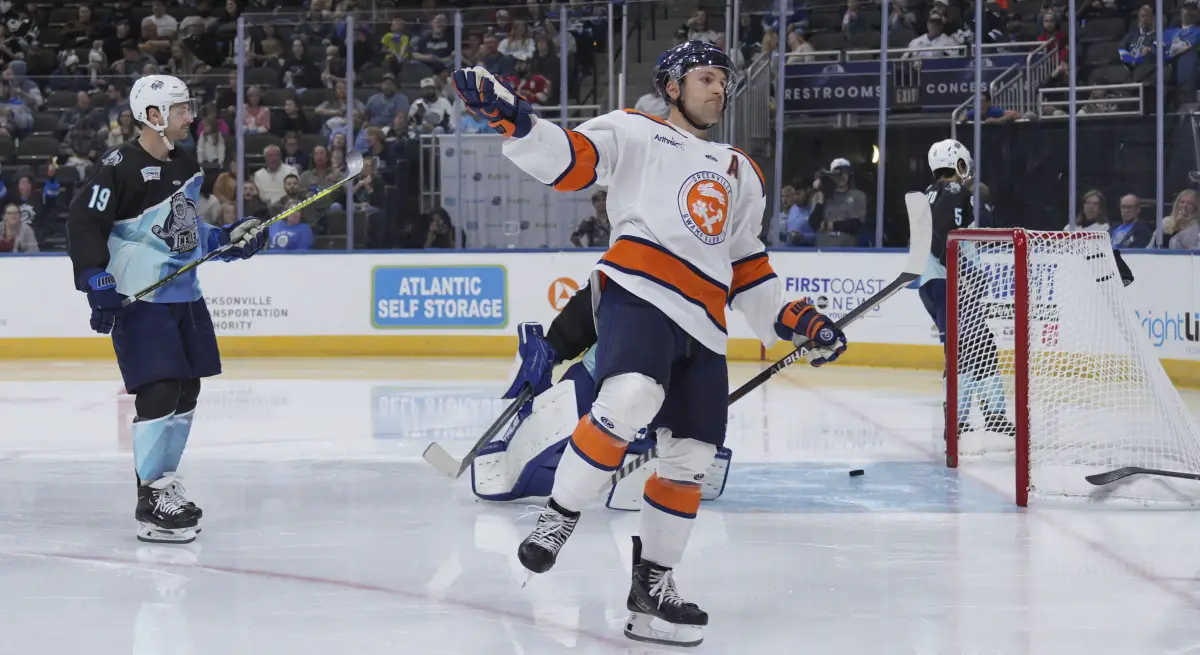 After the disappointing loss on Sunday, November 12th at home ice, the Swamp Rabbits hit the road for their two-week gap from playing on home turf as they began to take on the Gladiators in Atlanta on Tuesday, Nov. 14. The two-week road trip would begin at Atlanta, then Savannah on Thursday and then two consecutive games at Jacksonville on Friday-Saturday. The first week would display what the Rabbits' had in store with their strong roster as they were to take on their division rivals, one of them being red hot in the south division and eastern conference: The Atlanta Gladiators.
Recap of Game One at Atlanta—Tuesday morning, Nov. 14
Despite the loss to the Everblades and ending their win streak at home, the Rabbits' were hungry to win the early morning game against the Gladiators. The first period would start strong for the Gladiators, however, as they would open up scoring just 38 seconds into the period by Jacob Graves. After the Glads goal, however, the Rabbits upped the pressure and shot 10 times on netminder Tyler Harmon before eventually scoring at 13:04 by Josh McKechney. The score would remain at a tie after 20 minutes and back-and-forth shots on each team's respective goalies. Starting the 2nd period, both teams would trade off offensive pressure for several minutes until Carter Souch would rush down to the Gladiators zone to fire a tie-breaking snapshot at 9:14. After Souch's goal, the Gladiators would have the most shots on Ingham, but wouldn't be able to score. For the final 20 minutes, both teams would trade off offensive pressure, with Atlanta shooting 12 and Greenville shooting 10 shots on goal respectively. Despite the teams' endless back-and-forth pressure and tenacity, they couldn't score or tie things up. Greenville's penalty-killing unit has been venomous lately, as they have an 89% success rate, making it one of the best in the ECHL. Let's not get started with goaltending for the Rabbits, as Ingham made 26 saves and had a 94% save percentage; he has been excellent as of recently, really making a name for himself as an Ontario Reign contracted netminder. The final score was 2-1 to Greenville.
The Next Game at Savannah—Thursday, Nov. 16
Starting with the next game at Savannah against the Ghost Pirates, the Rabbits would look for their fourth consecutive win against Savannah, as they've been able to manifest a winning streak against them. The first period would look great for Savannah as they shot 13 times on Ingham, while Greenville only shot five times on Bullion. However, neither team would be able to open up the scoring, so the first would conclude in a tie of 0. The first ten minutes of the 2nd started strong for Savannah, as they would have plenty of chances to open up scoring at Enmarket Arena; the Rabbits would, too, have plenty of chances to score by putting up heavy shots on Bullion. Jake Smith would look solid as the scoring forward he is, and so would Nikita Pavlychev, who recently was sent down to GVL from AHL Ontario. At 11:58, L.A. Grissom would score his first of the season for the Rabbits and open up scoring from an offensive zone rush and rebound from Pavlychev. It would take until 17: 27 for the Ghost Pirates to retaliate and generate a tie goal, as Alex Gilmour netted a goal from a pass by Boudens. Into the 3rd, the first 3 minutes were in Greenville's favor, as they shot 4 times on Bullion. However, that would be short-lived at 3:58 when Alex Boudens netted his second of the night to make it 2-1 Savannah. The goal by Boudens would muster up confidence and offensive pressure for the Ghost Pirates. That was until around 16:58 when Anthony Beauchamp would tie the game from a pass by Martin. After Beauchamps' goal, neither team could produce to break the tie before the horn, and so the game would continue into 3v3 overtime. Overtime was intense for the Ghost Pirates; desperate to win against the team that has beaten them for every meeting this season. Unfortunately, 5 minutes wouldn't be enough to generate an outcome; so it went to a shootout. Jacob Ingham stopped only one of 3 shots on goal by the Ghost Pirates' SO unit, while Bullion stopped neither 3 shots from Greenville's unit. The Swamp Rabbits shootout shooters were, as follows: Jake Smith, Carter Souch, and Brannon McManus. Carter Souch, during last season, was an excellent shooter choice for the shootout, as his shooting capabilities could render much-needed goals. Greenville took a 3-2 SO victory.
Third Game at Jacksonville—Friday, Nov. 17
The first period looked swell for the Rabbits', as they shot 11 times before scoring at 16:17 by Jake Smith, and throughout the whole 20, they managed to defend their zone from the Icemen. Rolling into the second period, the Rabbits' were quick to score their second goal of the game to make it 2-0 by defenseman Max Martin at 2:41. Until 9:25, the Rabbits were able to hold their 2-0 lead by killing off a penalty and tossing in a few shots on Vernon. At 9:25, however, Brendan Harris would convert on the power play to make it 1-2 JAX, giving Jacksonville some motivation to bring upon a tie. There was a great effort from Jacksonville after the Harris goal, as they pressured Bernard's net before drawing a penalty. At 13:56, a minute into the power play, Josh McKechney would score to make it 3-1 from an assist by Brannon McManus. But the scoring wasn't over yet for both teams. At 15:52, Matheson Lacopelli scored from a pass by Garret Cockerill to make it 2-3 JAX. However, the Bits would resurrect their 2-goal lead before the buzzer, as Ontario Reign defenseman Wyatte Wylie scored his first goal as a Swamp Rabbit. For the final 20 minutes, both teams would trade off back-and-forth offensive pressure, looking for more scoring chances, but none would come until around 18:53 when Chris Grando scored. Greenville was desperate to maintain that single-goal lead before the horn, as Pavlychev would go to the penalty box and put his team on the PK; the Icemen also pulled Matt Vernon for the extra attacker. After what seemed like a hard battle and spike of motivation, the Rabbits prevented Jacksonville from scoring and instead gave themselves a goal as Ethan Somoza scored from an odd-man rush. The Swamp Rabbits would win their third consecutive game on the road at Jacksonville with a score of 5-3.
Fourth Game at Jacksonville—Saturday, Nov. 18
Now it's time for the final game of the week's road trip in Jacksonville. Greenville would open up scoring at 5:10 into the first period by AHL player Nikita Pavlychev. After Pavlychev's goal, both teams pressured the respective opponents' zones, but nothing would come from it. Entering into the 2nd period, the Rabbits would once again open up the scoring, as Anthony Beauchamp would fire a rocket from a slick backdoor pass by J.D Greenway just 11 seconds into the 2nd. Greenville would score again to make it 3-0 at 12:42 as Max Martin netted a top-shelf goal on Houser. The Icemen were struggling to even score in the 2nd period, as both Ingham and the Bits defense were stopping any attempt. 9 seconds into the 3rd period, the Rabbits' would go on the penalty kill. Jacksonville would, however, score on the powerplay at 0:38 by Lacopelli. But, the Rabbits didn't waste any time to score again, as Jake Smith would one time the puck past Houser at 3:04 to make it 4-1. But then Brendan Harris would score for Jacksonville at 5:45. And then they would score again at 10:44 on the powerplay by Garrett Van Wyhe. The Rabbits would have a one-goal lead with less than 10 minutes of hockey left. But after some attempts, they would score to increase their lead by two goals, as J.D Greenway would feed a pass to Josh McKechney for him to tip the puck past Houser. After the goal, it would be all Greenville, as they found their motivation to maintain that score and win their fourth consecutive game of this week's road trip. The Rabbits would beat the Icemen with the same score of 5-3.