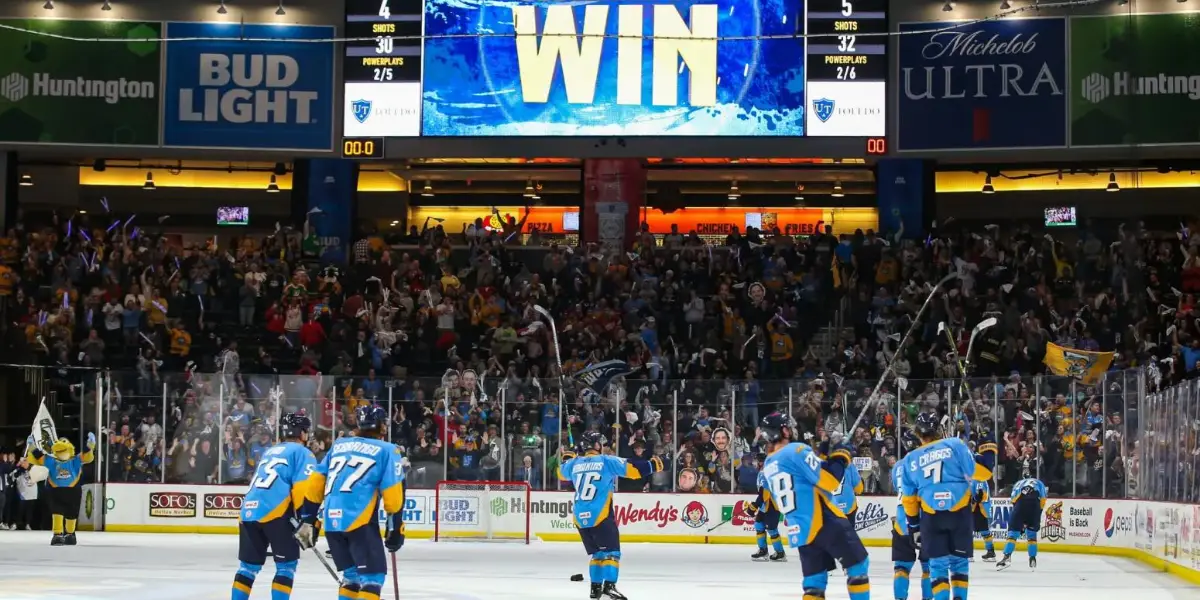 In front of a sell-out crowd of 8,300 fans at the Huntington Center, the Toledo Walleye were able to slash a two-game drought to win their first game of the Western Conference Finals series in miraculous comeback fashion. In the net for Toledo was Sebastian Cossa, and for Idaho, Adam Scheel. 
Toledo came out with a vengeance in Period 1, with Brett McKenzie scoring a quick goal to take an early lead, assisted by TJ Hensick and Thomas Ebbing at 3:26 of the opening frame. Toledo was able to keep up the momentum, and the lead, for most of the period. However, Idaho's Ryan Dmowski scored at 15:55 to tie the game. Shortly after, at 18:21, Idaho's Willie Knierim found the back of the net. The period ended with Idaho up 2-1. All three goals scored were at equal strength.
Early in the second, Toledo found themselves having to fight off a power play when McKenzie was sent to the penalty box for kneeing. Idaho's Pelton-Byce took advantage and scored a fast goal at 1:14. Not long after, Idaho was back on the power play, and Pelton-Byce, again, took advantage and found the back of the net for his second goal of the night at the 8:02 mark of the middle frame. A minute later, it was Toledo's turn for a power play. Gordie Green started a miraculous comeback when he scored at 9:12; Green's goal put the Walleye back within two goals.
A late penalty in Period 2 by Idaho's Knierim for slashing sent Toledo to start Period 3 on a power play. They could not convert, but it was not long after that Drew Worrad was able to put the Walleye within one goal at 4:57. Toledo went back on the power play. This time, Tyutyayev could find the back of the net at 12:13. Green and Hawkins assisted his goal. All 8,300 fans were back on their feet, screaming and chanting, "Our Fish! Our Fight!" as the Walleye tied it up. Hawkins had the game-winning goal assisted by Barton and McCourt at the 17:29 mark of the third. Idaho pulled their goalie to give it one final push to tie the game but were unsuccessful. Toledo and Cossa stood strong to get the comeback win. Sebastian Cossa made 26 saves in the win, and Adam Scheel had 27 total saves in the loss for Idaho.
The Idaho Steelheads lead the series 2-1. They will collide again for Game 4 at the Huntington Center on Friday for a 7:15 p.m. puck drop.