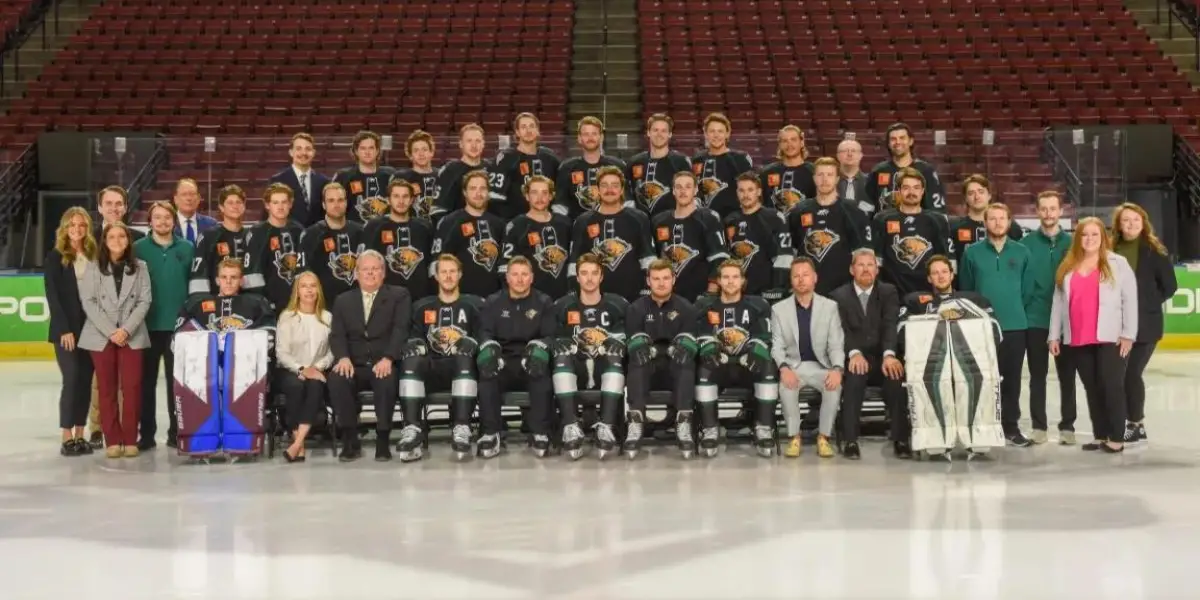 The Utah Grizzlies went 16-9-2 in the final 27 games of the regular season to clinch a playoff spot for the fourth straight season. The 2022-2023 campaign came to an end after losing four straight overtime games to the Idaho Steelheads in the Mountain Division Semifinals.
Goaltender Trent Miner was awarded the Grizzlies 2022-2023 team MVP award. Miner had three shutouts this season and he holds the Grizzlies franchise record with 10 shutouts over a two-year stretch. Miner went 17-15-3 with a 3.04 goals against average and a .910 save percentage. Salt Lake City native Garrett Metcalf had a solid 7-4-1 record with Utah. Metcalf also appeared in AHL games with San Diego. Lukas Parik became a fan favorite this season as he displayed his fun personality. Parik earned a 31 save shutout vs Kansas City on December 18, 2022.
Forward Cameron Wright had an outstanding first season as a professional. He led the Grizzlies with 29 goals and 63 points in the regular season. Wright had a great playoff series, where he led Utah with seven points in six games. Wright was a clutch performer all season as he tied for the league lead with nine game winning goals. He led all rookies with 281 shots on goal.
Tarun Fizer scored 27 goals and 23 assists in his rookie season. Fizer led the Grizzlies with 12 power play goals. When he was healthy, Zach Tsekos was a terrific all-around performer for the Grizzlies. Tsekos had 25 points in 30 games.
Second year Head Coach Ryan Kinasewich led the Grizzlies to a regular season record of 35-33-4. For the second straight season Kinasewich brough in some key additions late in the regular season to give Utah a boost headed to the playoffs. Defenseman Kyle Mayhew gave Utah a spark in the final two weeks of the regular season, scoring a goal and two assists in five games. In the playoffs Mayhew led all Grizzlies defenseman with a +4 rating and had three points. Forward Nolan Ritchie arrived in Utah after completing a successful junior hockey career with the WHL's Brandon Wheat Kings. Ritchie scored his first pro goal on April 12, 2023 vs Tulsa. Mick Messner appeared in six games at the end of the regular season after completing a college career at Merrimack. Jacob Semik came from Arizona State University late in the season and appeared in 13 games while putting up three assists.
There were 12 Grizzlies players who appeared in AHL games this season. Forward Kyle Betts played for Utah in the first week of the regular season and then was loaned to the AHL's Belleville Senators, where he appeared in 40 games. Betts returned to the Grizzlies on April 11th and he ended the season strong. In five games with Utah he had six assists. In the 6 game playoff series Betts was one of Utah's best forwards, putting up six points. Defenseman Luke Martin returned to the Grizzlies towards the end of the regular season. Martin had six points in six regular season games with Utah.
Brandon Cutler spent time with three different AHL clubs this season. On January 27, 2023 Cutler had a night for the ages as he scored four goals along with two assists for the Grizzlies in a 6-4 victory over Rapid City. In 32 regular season games Cutler had 15 goals and 15 assists. Defenseman Andrew Nielsen also scored six points in a game as he registered 6 assists at Kansas City on November 5, 2022 in a 7-3 Utah win. Nielsen was selected to the 2023 All-Star Game. He led all Grizzlies defenseman with 41 points. He was traded to Cincinnati in March. 
The Grizzlies had a strong collection of blue collar forwards who had successful season. Dylan Fitze and Tyler Penner appeared in all 72 regular season and six playoff games for the Grizz. Penner has appeared in every game for Utah since the start of the 2021-2022 regular season. Fitze finished 5th on the club with 38 points and was fourth with 17 goals. Keaton Jameson won a bunch of key face-offs for Utah this season. Jameson had 15 goals and 22 assists in 71 games. Jameson shined in the playoffs as he led all Utah forwards with a +4 rating and was 3rd on the team with four points. Dakota Raabe provided speed and playmaking ability to the Grizzlies attack. Raabe had 36 points in 55 games. Johnny Walker had 12 goals and six assists in 33 games as he became a fan favorite in his first full season as a pro. Speedy forward Cam Strong scored 10 goals and 10 assists this season.
The Grizzlies acquired forward Jordan Martel on December 15, 2022 in a trade with the Fort Wayne Komets. "The Rooster" emerged as a key contributor late in the regular season. Martel ended the regular season with a 10 game point streak. In the final week of the regular season Martel had eight points in a three game series against Tulsa to lead the Grizzlies to the playoffs. The Rooster averaged about a point per game in a Grizzlies uniform as he scored 44 points in 45 games. Martel had a Grizzlies leading +12 rating.
The defensive unit was led by captain Connor McDonald, who lead Grizzlies defenseman with a +11 rating. McDonald had five goals and 12 assists this season. McDonald scored the game winning goal in overtime at Allen on November 9, 2022. James Shearer was a strong, steady defenseman, who always was in the right place at the right time. Aaron Thow had five goals and five assists and was a +10 in 5 games vs Wichita this season. Thow was a +16 in his last 28 games. Brycen Martin had two goals and 11 assists in 53 games. Victor Bartley brought leadership and experience to the club. Kyle Pouncy was a key role player this season, acting as both a defenseman and forward. Pouncy scored three goals and 7 assists this season. Cory Thomas was a physical presence on the blue line at 6'5" and around 215 pounds.
The Stanley Cup was at Maverik Center on March 11th and it was a memorable night as the Grizzlies won 5-4 in the 8th round of the shootout against Kansas City. Dakota Raabe scored the game winner that night and Trent Miner stopped all eight shots in the shootout. That victory was part of the turning point of the season as Utah won the first five games in the month of March to climb back into the playoff race.
It was a battle throughout the regular season, but the Grizzlies came through late in the year to go 6-2-1 in their last nine games to clinch a playoff spot on the final day of the season as Utah defeated Tulsa 5-0 in front of a crowd of 9,693. The Grizzlies will return to action in October as they will look to make a run at the 2024 Kelly Cup.
Ryan Kinasewich finished his second season as Grizzlies Head Coach/General Manager. Kinasewich has a record of 77-60-7 in two years. Kinasewich led the Grizzlies to the 2022 Mountain Division championship. Ryan is the Grizzlies All-time leader in goals, assists and points. Jared Pike was in his first season as Grizzlies assistant coach. The Sandy, Utah native was a player with Utah in the 2020-2021 season. Broadcaster Tyson Whiting finished his fifth campaign as the "Voice of the Grizzlies" and he was joined on the broadcasts this season by Guy Chiarenza.
Players Who Appeared in 1 or More AHL Games in the 2022-2023 Season (12)
Kyle Betts, Nate Clurman, Brandon Cutler, Tarun Fizer, Luke Martin, Kyle Mayhew, Garrett Metcalf, Trent Miner, Andrew Nielsen, Ben Tardif, Zach Tsekos, Cameron Wright.
2022-2023 Utah Grizzlies Regular Season Totals
Overall record: 35-33-4
Home record: 19-17
Road record: 16-16-4
Win percentage: .514
Streak: Won 3
Standings Points: 74
Last 10: 6-3-1
Goals per game: 3.19 (15th)  Goals for: 230
Goals against per game: 3.59 (21st) Goals Against: 259
Shots per game: 32.04 (11th)
Shots against per game: 34.53 (24th)
Power Play: 64 for 336 – 18.4 % (19th) 
Penalty Kill: 244 for 306 – 79.6 % (17th)
Penalty Minutes: 1316. 18.28 per game. (2nd most in the league)
Shorthanded Goals: 5.
Shorthanded Goals Allowed: 14. 
Record When Scoring First: 24-7-1.
Opposition Scores First: 11-26-3.  
Record in One Goal Games: 13-6-4.
SCORING          1ST       2ND               3RD               OT/Shootout       TOTAL                     
Utah Grizzlies     72         87                   66                   5                               230     
Opposition           84         87                   84                   4                               259
Team Leaders (2022-23 Regular season)
Goals: Cameron Wright (29). 
Assists: Wright (34). 
Points: Wright (63).
Plus/Minus: Jordan Martel (+12)
PIM: Johnny Walker (171)
Power Play Points: Nielsen (26)
Power Play Goals: Tarun Fizer (12)
Power Play Assists: Nielsen (20). 
Shots on Goal: Cameron Wright (281). 
Shooting Percentage: Johnny Walker (18.5 %) 12 for 65.   
Game Winning Goals: Wright (9) – Tied for the league lead.
Wins: Trent Miner (17)
Save %: Miner (.910).
Goals Against Average: Miner (3.04)
Shutouts: Miner (3)
Best Grizzlies Home Attendances in the 2022-2023 Season
Attendance was up by an average of 1,085 per game in the 2022-2023 regular season. The annual Guns N Hoses night drew a season high 10,397 as Utah won 4-3. The regular season finale saw a huge crowd of 9,693 as Utah clinched a playoff spot against the Tulsa Oilers. The Stanley Cup was in the building on March 11th as 8,136 were at Maverik Center to witness the Stanley Cup live and in person and they were treated to an outstanding game as Utah won 5-4 in a shootout.
Grizzlies Winning Weekly/Monthly Awards (2022-2023 season)
Andrew Nielsen – Player of the Week (October 31- November 6, 2022)
Andrew Nielsen – 2023 Western Conference All-Star Team.
Trent Miner – ECHL Goaltender of the Week (Jan. 16-22, 2023).
Brandon Cutler – Player of the Week (January 23-29, 2023).
Jordan Martel – Player of the Week (April 10-16, 2023).