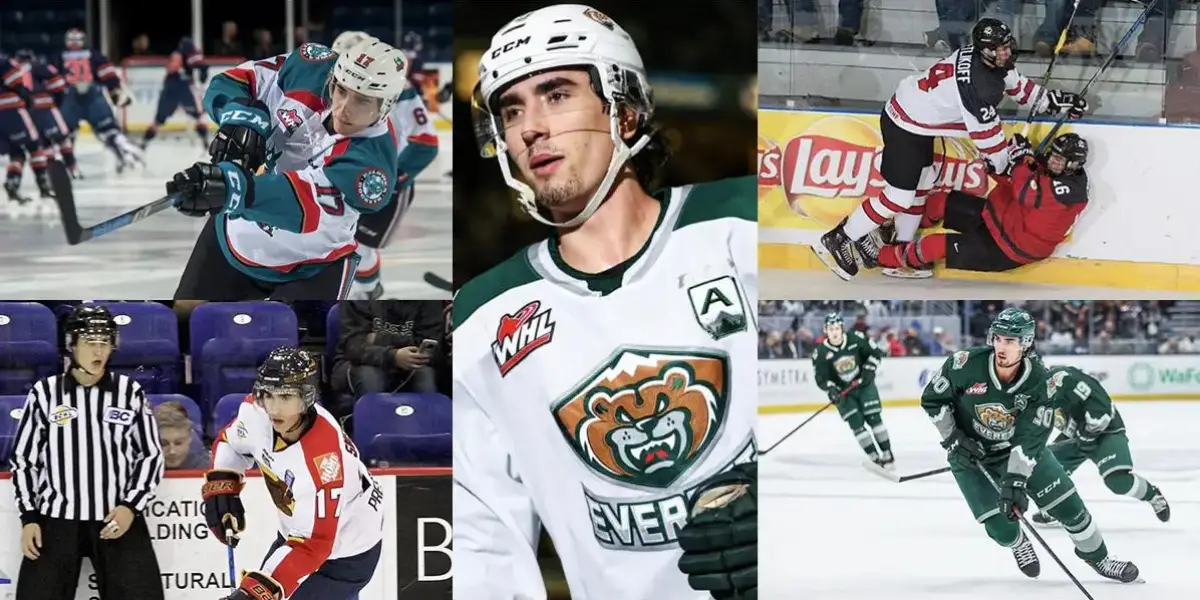 Swetlikoff's Summary: Alex Swetlikoff was born July 6, 2001, in Kelowna, British Columbia, Canada. He stands at 6'3″, weighs 188 lbs, is 21 years old, and shoots left-handed. He played two seasons for the BCHL's Vernon Vipers (2017-18 & 2018-19). In his first season there, he got to play in the World U-17 Hockey Challenge for Canada wearing white. The following season, he moved up to the WHL, where he started with the Kelowna Rockets in his hometown. He played with them until the end of the 2020-21 season. Next, he played for the Everett Silvertips in the same league. This season, he played exclusively for the ECHL's Savannah Ghost Pirates on loan to them by his contracted team, the Henderson Silver Knights of the AHL. Throughout his career, he's made many accomplishments, big and small. Focusing on the bigger ones, his career-best season was last year, as he collected 84 points: 33 goals and 51 assists in his 68 games with the Silvertips. He was ranked 10th in the WHL for goals and second in Power Play Goals. In his lengthy career in the WHL, Alex played 178 games, where he got 58 goals, 80 assists, 138 points, and 139 penalty minutes. He's played alongside Vegas/Henderson star Kaeden Korczak in his time with the Rockets. Swetlikoff was one of the participants in the Las Vegas Golden Knights 2022 development camp along with future Savannah teammates Daniel D'Amato, Pat Guay, Will Riedell, Marcus Kallionkieli, Connor Corcoran, and Isaiah Saville. 
Best in the BCHL: Alex Swelikoff only played two seasons in the BCHL, both spent with the Vernon Vipers. They play at Kal Tire Place in Vernon, British Columbia, Canada. In his 78 games for the Vipers, he racked up 11 goals, 23 assists, 34 points, and 45 PIM. In the 2017-18 season, he played in the WHC-17 (World U17 Hockey Challenge) – an international ice hockey tournament held yearly in Canada. Swetlikoff wore white for Canada, and in the six games he played, he got a single assist along with two PIM. At some point in his second season with them, he got moved up to the WHL, playing for the Kelowna Rockets.
WHL Wonders: Starting in the 2018-19 season with 32 games played, six goals scored, eight assists, and six minutes penalty minutes, Alex had a strong and decent start to what would be his four-season-long career in the WHL. He had 58 goals, 80 assists, and 138 points in his total of 170 WHL games. Of those numbers, he scored 25 goals, 29 assists, and 54 points in the three seasons he played for Kelowna. He played those three seasons as a teammate for future Vegas Golden Knights Prospect Kaeden Korczak. His best season in his whole career was the only one spent with the Silvertips last season. He was able to snag 84 total points – 33 goals, and 51 assists in his 68 games played in Everett, Washington. That season was not only the best of his career but his last in the league, as he would be going to the ECHL for the next season. 
Swetty in Savannah: Alex Swetlikoff, also known to his teammates and fans as "Swetty," is currently playing on loan by Henderson for the inaugural season team, the Savannah Ghost Pirates. In his 65 games played in the Lowcountry, he scored 20 goals and assisted 29, giving him 49 points. He's had 65 penalty minutes, giving him a PIMPG of 1.00. He leads the team in shots-on-goal with 192 and in game-winning goals with four. He's had one first goal, one overtime goal, one unassisted goal, one empty net goal, six power-play goals, and two short-handed goals. He has an average of 0.75 points per game, which shows how much of a valuable player he is on the ice. Among the many great things he's done in Savannah, one of the most important and most recent is that he's the second player in the team's franchise to reach 20 goals, behind Brent Pederson. With three games remaining in his first season in the ECHL, he will most likely rack up a few more points before it ends.
The SGP's last three games are:
April 12, April 12 at the SC Stingrays at 7:05 EST
April 13, April 13 at the Greenville Swamp Rabbits at 7:05 EST
April 15, April 15 at home against the Solar Bears at 7:00 EST
For more Savannah Ghost Pirates news and updates, follow me on Twitter @gabriellediane0!