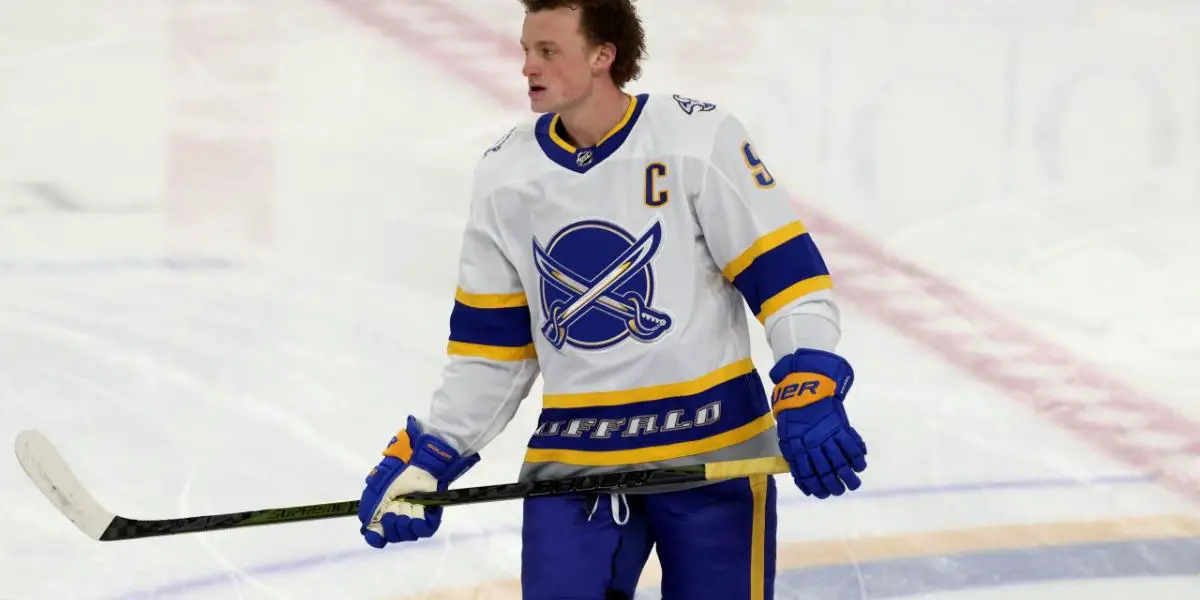 Jack Eichel trade winds are blowing once again. Rumors around the Buffalo organization are swirling that the sweepstakes have come down to two contenders, Vegas Golden Knights, and Calgary Flames being the lucky two. Many have thought Eichel's camp has been nearing filing a grievance encompassing the scenario with the Sabres and their refusal to allow him to have the surgery he wishes to have. Now we hear the Sabres are trying to finish the Eichel trade sooner rather than later.
An important note for both teams, they are both OK with Eichel getting his artificial disk replacement.

Calgary Flames
Calgary has been a team that has consistently been inconsistent. Great years from their core are getting few and far between and general manager Brad Treliving knows that his time is coming to an end with the Flames if he can't get this team over the hump. In recent years, the Flames have added Jacob Markstrom, Christopher Tanev, Blake Coleman, and more. The time has come for the Flames to compete for a Stanley Cup, it's been more than rumored that the Flames want to shake up their core and move on from one of their pieces. Enter Jack Eichel, while Sean Monahan has been one of the names talked about in the Flames trade talks, Matthew Tkachuk has stolen the show. Late Wednesday evening, rumors started circling amongst the NHL twitter wires. Reportedly, Tkachuk and Monahan are both being flaunted as key pieces in a package deal for Eichel, the package would also include a previous 1st round pick, a 1st round pick, and 2nd round pick.
A lot of people have thought to themselves "why would the Flames just want to trade Tkachuk away so soon?" Honest answer? Tkachuk's qualifying offer next season will be approximately $10 million and after the previous contract negotiations, Treliving is not one to jump so quickly back into that fire. At the end of the day, the Flames may just not want to commit the amount of money to Tkachuk that he feels he deserves, therefore they can move on as a part of an Eichel package and not be any worse for wear.
Vegas Golden Knights
Vegas has been an electric part of the NHL since they joined the league in 2016, most certainly for their roster construction. Ownership and management within the Golden Knights organization have no fear of taking risks and trading away an abundance of assets in the quest to win a Stanley Cup as quickly as possible. Look no further than Alex Pietrangelo, Mark Stone, Max Pacioretty, and so on. Could Jack Eichel be the next on that list? It looks like Vegas hopes so, however, the cost may be something they just can not do. Buffalo has reportedly been asking for Payton Krebs from VGK, one of their top forward prospects and centerpiece to their future. Up to this point, VGK has made Krebs an untouchable while dangling defenseman Nicolas Hague in a package. The closest we have gotten to a probable package would be Shea Theodore, Payton Krebs, 1st round pick, 2nd round pick, prospect, and have conditions on the picks for Jack Eichel's health/lottery protection.
That is quite the haul to give up for Eichel, right? It still doesn't look like this is a sure deal because of Krebs, but you have to admit, Vegas desperately needs Eichel to lead their team from the center position. For Vegas, the question you ask is, when will they run out of assets to trade and their team falls apart?
We hope to hear about a Jack Eichel resolution soon, it is expected to happen before/during this coming weekend. Teams want Eichel to get on his way to recovery and on the ice for them post-trade.