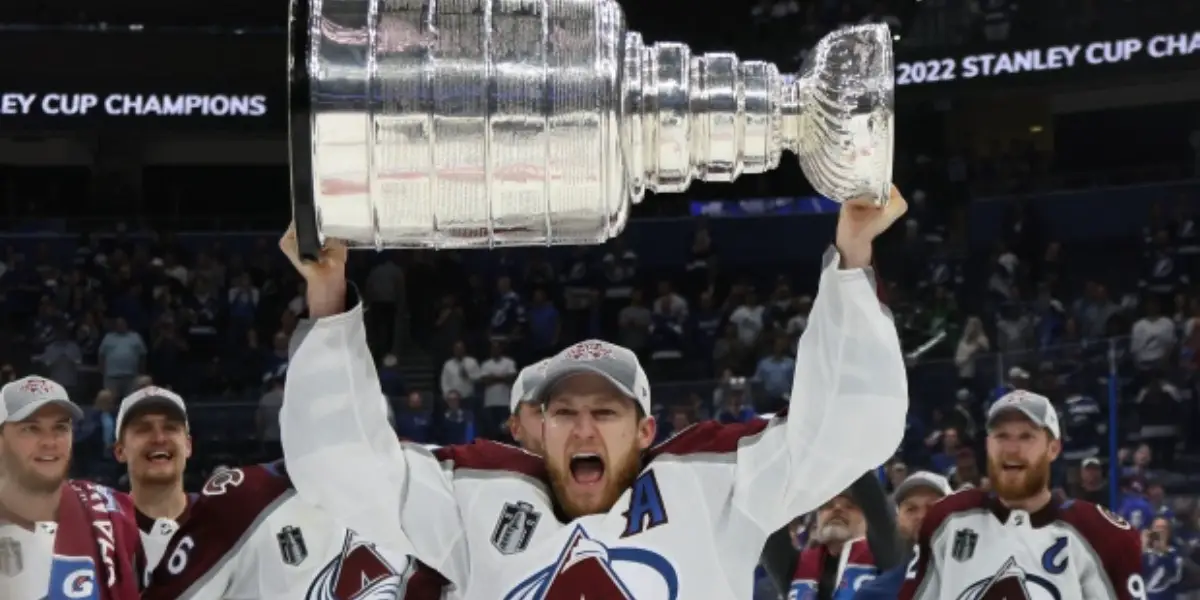 As of the writing of this article, Nathan MacKinnon is the highest-paid player in the NHL. He signed an eight-year extension with the Colorado Avalanche, $12.6million AAV, and an $85.34 signing bonus.
There was little doubt MacKinnon would be staying with the Avs. At the NHL media tour this summer, he said he wanted to be "An Av for life. That's my only focus, for sure." The only thing they had to figure out was the contract details. His last contract was a seven-year $44.1 million deal with a $6.3 million cap hit, the fourth highest on the team. He has one year left on his current deal.
MacKinnon has seen everything with the Avalanche, from a 48-point season to a 2022 Stanley Cup win. As the first pick in the 2013 draft, he made the NHL All-Rookie Team, had the most rookie points, assists, and goals, and won the 2014 Calder Trophy. He's also been a three-time finalist for the Hart Memorial Trophy and won the 2020 Lady Byng Memorial Trophy for sportsmanship and gentlemanly conduct.
He helped lead the Avalanche to their first Stanley Cup win in 20 years this season. In regular season play, he had 88 points in 65 games (32 goals, 56 assists) and a 22 plus/minus. He had 13 goals and 24 points in 20 playoff games this season, including a hat trick against St. Louis in round 2 and the opening goal of game 6 in the finals. His 13 payoff goals were the second highest in franchise history, behind only Avalanche Executive Vice President Joe Sakic's 18 in 1996.
MacKinnon is no doubt a star player. The Halifax, Nova Scotia native is going into his 10th season at the top of the league and the Avs franchise. He led the league with 117 shots and six power-play goals this season and has 648 points (242g/406a) in 638 career regular season games; fourth overall in Avalanche history. He's sixth overall in franchise scoring, fifth in points per game (1.02), seventh in goals (242), sixth in assists (406) and power-play tallies (71), and fourth in game-winning goals (46). He is the most successful player in the 2013 draft class and is a generational talent. Avalanche General Manager, Chris McFarland, says, "We are thrilled he will continue to be a member of this team and this community for many years to come." 
The Avalanche succeed with MacKinnon on the ice. His talents, combined with those of phenom Cale Makar and the Avalanche's depth players like Valeri Nichushkin and Artturi Lehkonen, make the Avalanche a team that is strong in both ends and can cause trouble for opposing teams through all three periods. MacKinnon is the backbone of the team, on and off the ice. He is a leader in the locker room, working with long-time captain and friend Gabe Landeskog to get the team through anything. After the game two loss to St. Louis in the playoffs, MacKinnon said in a presser, "We lost, and that's okay. We didn't expect to sweep." MacKinnon led the Avs into game three with that mentality, reminding them this was still their game, and they roared back for a 5-2 win in St. Louis.
With MacKinnon's signing today, the Avalanche have all their stars secured for the next few years. They may be changing goalies and moving on from big players like Nazem Kadri, but the Avs' chances at another cup are still high. They're becoming more consistent, constantly striving for greatness, and finally getting career players who will stick with them no matter what. With the salary cap going up possibly soon, there's no telling what the Avalanche will be able to do.
The boys are back after a long break but have plenty to talk about as the playoffs are in full swing. We go series by series, looking at how teams have fared so far and who will come out on top. Thanks for listening! Please rate and review our show on your favorite listening platform. Check out our partner's website at www.insidetherink.com for all your latest hockey news.