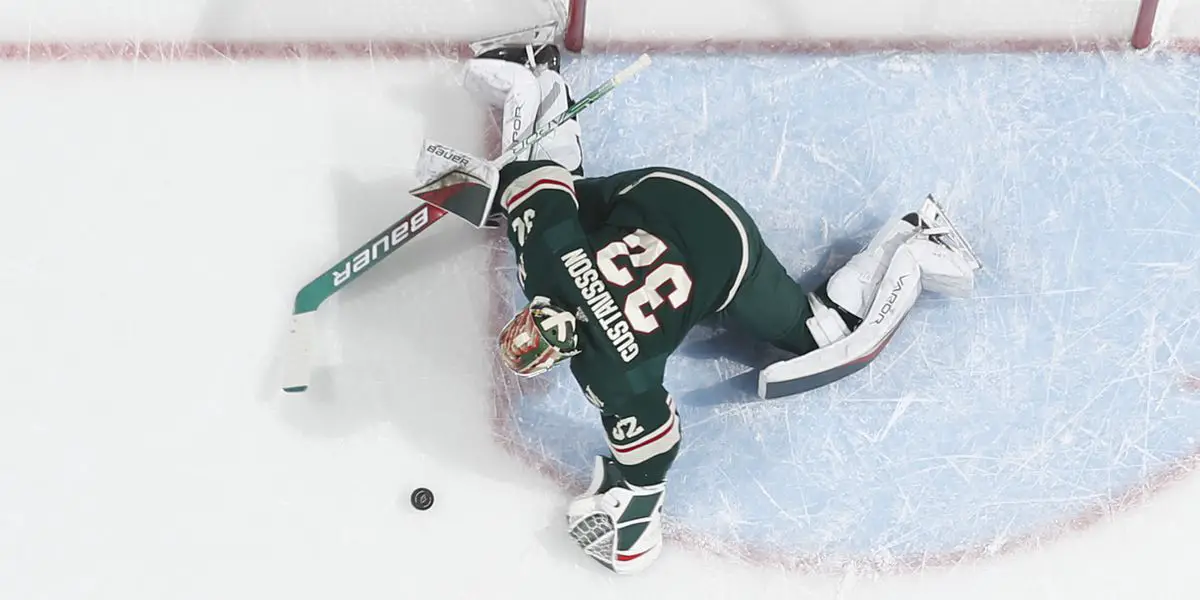 When it comes to the Stanley Cup playoffs and goaltending, teams will often go with one goaltender more often than not.
You generally will not see clubs rotate their goaltenders and instead stick with the hot hand at the most important time of the year. Sure, it is okay to split time during the regular season, but when it comes to the playoffs, the net belongs to one guy and one guy only.
Minnesota Wild head coach Dean Evason apparently did not get that message. After Wild goaltender Filip Gustavsson stood on his head in making 51 saves in his team's 3-2 double-overtime victory over the Dallas Stars on Monday night, April 17th, Evason elected to go with veteran Marc-Andre Fleury to start Game 2.
The move backfired on Evason in a big way as his team lost 7-3 in Game 2 on Wednesday night, April 19th. Fleury, 38, stopped just 24 of 31 shots and did not look comfortable between the pipes.
After the game, Evason expressed to NHL.com reporter Tracy Myers that the loss should not be put on Fleury's shoulders and that using both goaltenders is what they have done all year long. He also said that it was more of a team loss.
"It's what we do, right? We've done it all year," Wild coach Dean Evason said of alternating goalies. "The game, nothing was on 'Flower' tonight. It was all on us."
While I understand that the two-goalie arrangement is what the Wild did all year long, it really should not apply to the playoffs, especially in the case of his hockey club. For starters, Gustavsson was amazing in Game 1.
Gustavsson, 24, was the main reason the Wild won Game 1. He made big save after big save, responded well after giving up two quick goals early in the second period, and showed that he could handle the pressure of playoff hockey.
Secondly, Gustavsson was much better than Fleury in the regular season. Yes, I understand that I wrote a few weeks ago that Fleury should be the starting goaltender in the playoffs, but I overlooked the fact that Gustavsson was the much better goaltender this year.
In the regular season, Gustavsson was 22-9-0-7 and had a 2.10 goals against average, a .931 save percentage, and three shutouts. Those are all-star quality numbers and one that should not have only earned him the net in Game 1 but also the net throughout the playoffs.
Fleury finished his regular season with a 24-16-0-4 record to go with a 2.85 goals-against average, a .908 save percentage, and two shutouts. Yes, those are not terrible numbers, but they were certainly not better than Gustavsson's.
Lastly, all that matters right now is wins. After Gustavsson won Game 1, one probably figured that he would be back in the net for Game 2.
Yes, I understand that a 1-0 series lead provides somewhat of a cushion, but that does not mean that you have to deviate from the goaltender that won you the first game. You are supposed to stick with him until he gives you a legitimate reason to go to the other guy.
Evason cannot afford to make another mistake in this series. The Stars are too good of a hockey team to do that against.
Gustavsson needs to be the Wild's goaltender moving forward. Let's see how Evason handles this situation moving forward.
The boys are back after a long break but have plenty to talk about as the playoffs are in full swing. We go series by series, looking at how teams have fared so far and who will come out on top. Thanks for listening! Please rate and review our show on your favorite listening platform. Check out our partner's website at www.insidetherink.com for all your latest hockey news.