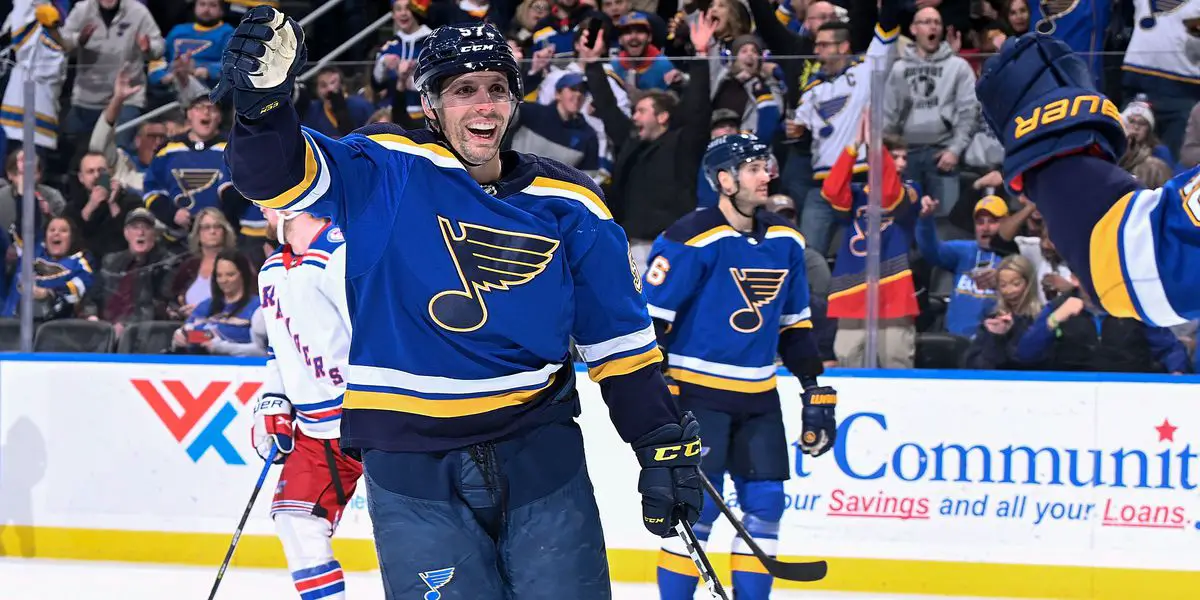 After veteran defensemen Marc Staal and Danny DeKeyser weren't re-signed this summer, the Red Wings are, for the second season in a row looking for two new alternate captains to back Dylan Larkin. New head coach Derek Lalonde said in his media availability Friday that he plans to name the alternates after the preseason wraps. In the annual Red & White game in Traverse City, five players were chosen as alternate captains who may be some indication of where Lalonde is looking. 
On Team Red, Michael Rasmussen, Filip Hronek, and Olli Maatta all wore 'A's,' and on Team White, David Perron and Ben Chiarot supported Dylan Larkin. With returning core players and veteran additions through free agency, there is a more substantial leadership pool to pick from for Derek Lalonde. Here are five potential candidates to fill the alternate captain vacancies.
David Perron
Perron impressed in Traverse City with his compete level, which shouldn't be a surprise given the style of game he plays. The 34-year-old is still at the top of his game, coming off of a 27-goal and 57-point campaign in St. Louis last season. Perron received praise from head coach Derek Lalonde through training camp for his work ethic and leadership.
"What's been really exciting about David is he has self-admitted that he's had to evolve throughout his career on approach, work ethic, and habits. I think it's an unbelievable example of where he is now. He expects practice to be at a high pace. He wants guys to work throughout the entire practice. I think he's embracing that role."
Perron came from a highly competitive culture in St. Louis and was a key player on their way to winning the Stanley Cup in 2019, and he is looking to carry that mentality over into Detroit.
"I came in about two weeks before camp. I just started to raise the bar in the little three-on-three's we were doing. You want to get to a level where it's not even a question, you just get on the ice and work," Perron said in his media availability after day one of training camp.
Perron has worn an 'A' at various points during his tenure as a Blue but also was an alternate captain for the Vegas Golden Knights in their inaugural season, helping lead the team to the Stanley Cup Finals. Perron will be a key piece to the Red Wings' top-six this season, providing the team with offense behind the likes of Dylan Larkin and Lucas Raymond and a go-to shooter on the left half wall of the powerplay. Entering his 16th season, Perron has the most NHL experience playing in five (now six) different markets, which has a lot of value to a young, up-and-coming team.
Ben Chiarot
Detroit made a splash this summer in a concerted effort to improve defensively, highlighted by veteran Ben Chiarot. The 31-year-old had an up-and-down season in Montreal before being dealt at the trade deadline to the Florida Panthers and improved his game. 
When the physicality ramped up during training camp, Chiarot was one of the most impressive players, receiving praise from his teammates and Derek Lalonde.
"You just see Ben's approach, he is an everyday guy. He (Chiarot) comes out to practice hard. That example alone for our young defensemen is very good."
Red Wings' top prospect, Simon Edvinsson, also mentioned that Ben Chiarot was one of the players helping him through his first NHL training camp. Chiarot will bring an element of physicality that was sorely lacking on the Red Wings' blueline last season. Chiarot wore an 'A' for parts of last season with the Canadiens and has the most NHL experience on what could be a young defensive core this season in Detroit.
Tyler Bertuzzi
Last season Tyler Bertuzzi made a big jump in becoming a top-line caliber winger in the NHL. Bertuzzi has always played a gritty, skilled game that finds him in the tough areas around the ice. Outside of Dylan Larkin, the longest-tenured Red Wing is Bertuzzi.
The 27-year-old scored at a near point-per-game clip, posting 30 goals and 62 points in 68 games. A big part of Lucas Raymond's success in his rookie campaign can be attributed to Dylan Larkin and Tyler Bertuzzi, as they made up the Red Wings' top line for the majority of last season. By all accounts, Bertuzzi is beloved by his Red Wings teammates and is a positive voice in the locker room.
The only question surrounding Bertuzzi being selected as an alternate captain is his contract situation. Bertuzzi is currently in the final year of a two-year, $9.5 million contract he signed in the summer of 2021. The Red Wings and Bertuzzi also went to arbitration the summer prior, where the third-party arbiter awarded Bertuzzi a one-year, $3.5 million deal. The list of players over the past five years that have gone to salary arbitration and received a third-party verdict is small. Besides Tyler Bertuzzi and Yakov Trenin (NSH, 2022), every player on that list no longer plays for the team they went to arbitration with.
Steve Yzerman said at the beginning of the summer that his goal was to sign both Dylan Larkin and Tyler Bertuzzi to extensions before they enter unrestricted free agency in 2023. If Bertuzzi comes to terms with Detroit on a long-term extension, he's a natural candidate to wear an 'A.'
Andrew Copp
When Andrew Copp had agreed to a five-year contract on the opening day of free agency, Steve Yzerman signaled that the Ann Arbor native would be a core piece to the Red Wings as they look to take that next step. Copp's five-year deal is the longest contract Yzerman has signed since being named Red Wings General Manager in April of 2019.
Copp is coming off a career season, scoring 21 goals and 53 points split between Winnipeg and New York. Upon breaking into the NHL, Copp played the role given to him and, through hard work, earned more ice-time, developing into a top-six player. Copp was a part of the University of Michigan's leadership group his final two seasons and was Dylan Larkin's captain in 2014-15. Copp grew up a Red Wings fan and represents the city proudly. While new to the team, Copp has expressed the desire to be a leader in the Red Wings lineup and has a strong case to be an alternate captain.
Moritz Seider
Too soon? If the Red Wings choose to roll with a group of three or four alternates as they did in 2018, which gave Dylan Larkin his first taste of being a leader, Seider is a strong candidate in 2022-23.
Seider took the league by storm in 2021-22, winning the Calder Memorial Trophy after posting 50 points as a rookie defenceman. Not only did Seider impress with the puck, but he was also the go-to defender in his own end, whether with his physicality or stopping the league's best. Seider may not be the most vocal leader at this point of his career, but he leads by example on the ice each night with his high-compete level and elite play. Getting to learn the ropes of being a leader in the NHL under Dylan Larkin, who understands where Seider is at this point in his career, would benefit both himself and the Red Wings.
After much speculation, the Red Wings signed Patrick Kane to a one-year contract. We breakdown all the details surrounding the signing, Kan's potential impact and fit, and what this does for the Red Wings moving forward. Later, we look back at the last three games following Sweden and the Red Wings currently sit third in the Atlantic Division through 20 games, with a record of 11-6-3. We highlight the performances of Alex Lyon, Shayne Gostisbehere, Lucas Raymond, and more!