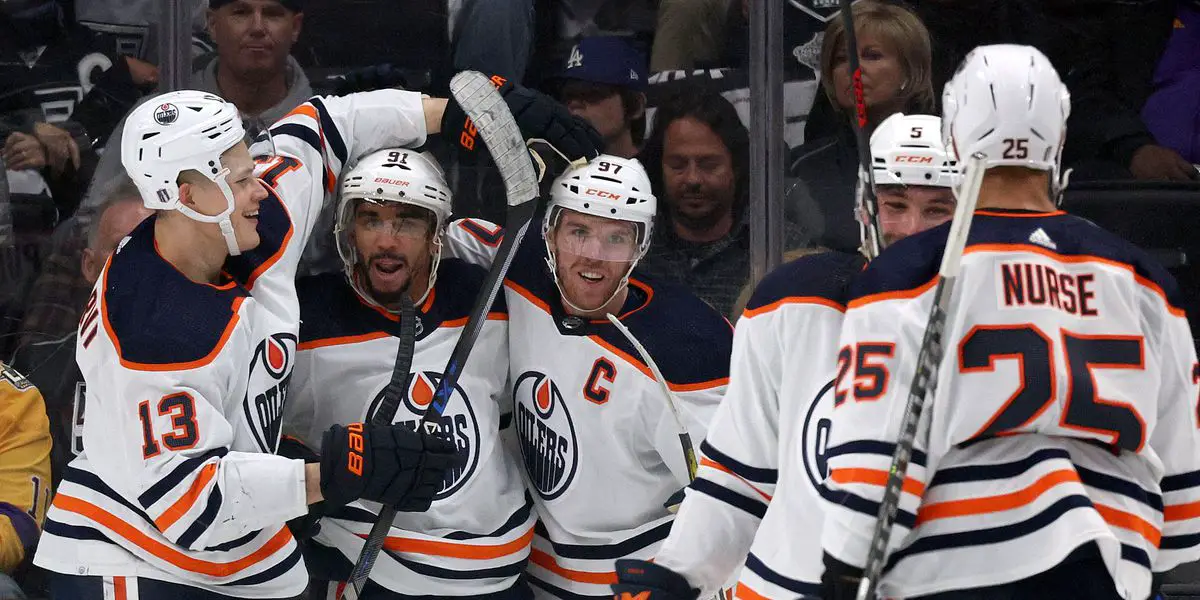 Every off-season, there is always that very dull spot. The excitement of free agency is gone, trade rumors go quiet, the teams are set, and that's where we are right now. Thankfully, we are about to be out of that. As training camp is starting up and pre-season games are up and running, opening night is just right around the corner. So, with that, it's time to throw out some predictions for the Oilers this upcoming season.
1. Bounce Back For The Bison King
It's been the talk of the summer for the Oilers and their fans, and a lot are getting tired of the trade rumors, as the speculation has just gone back and forth ever since the Oilers got eliminated from the playoffs. I don't envy Puljujarvi's treatment from Edmonton media, as a couple of reporters have made it clear that they don't want to see Jesse Puljujarvi in Edmonton for another go around. Still, he's not the first player to encounter that.
It's safe to say that Puljujarvi will never have finishing luck that bad again. It just seemed like everything was against him. That said, he owns more than his fair share of the blame for that, it can't all be bad puck luck, but every player goes through rough stretches in a season. Take Zach Hyman as an example; last season, he went on a 17-game period where he only scored in one of those games. Hockey's weird; it just happens.
All that there, though, gives me a full reason to believe that Puljujarvi will bounce back and get to his 2021-22 pre-injury form. Let's not forget this was a player who scored 23 points in his first 29 games. Even during his slump, he brought elite defensive play and is probably the Oilers' best defensive forward at 5v5. There is no reason to believe that "The Bison King" can't bounce back and prove to fans he's worth keeping around.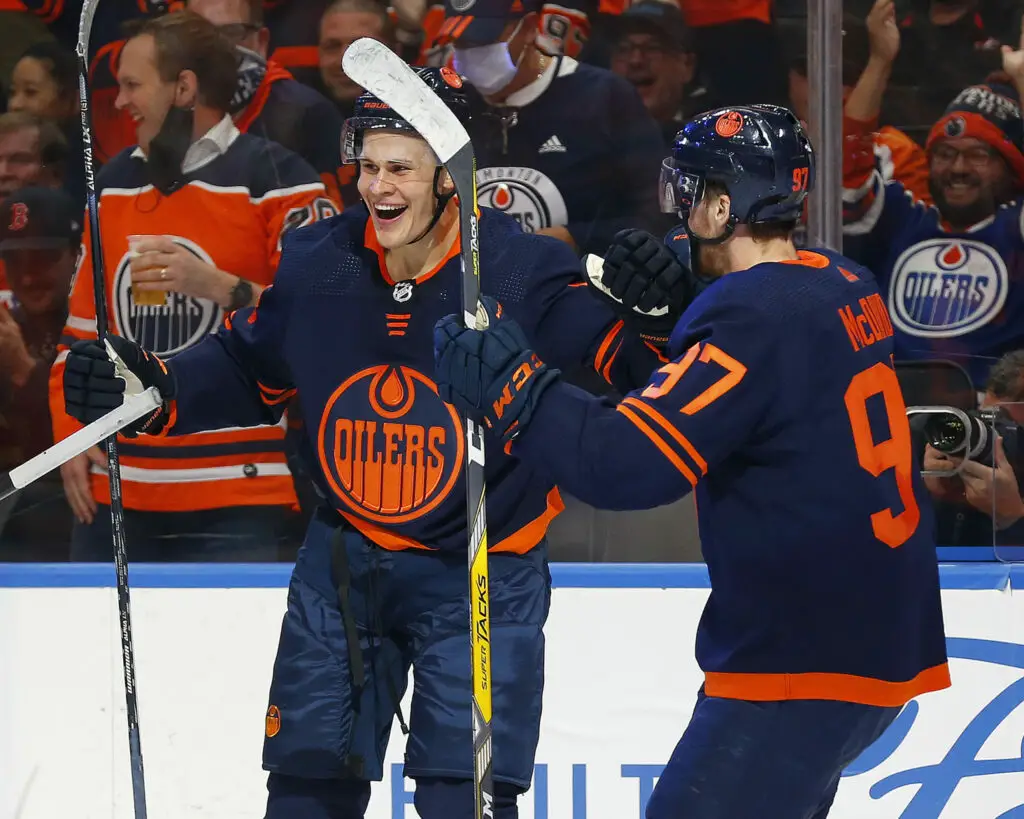 2022-23 prediction: Jesse Puljujarvi will finish the season on the first line with Connor McDavid and Evander Kane, scoring 27 goals and 19 assists.
2. Tyson Barrie Gets Dealt At The Trade Deadline
As the Oilers entered the off-season, many fans had believed that Tyson Barrie would get moved, as it seemed that keeping him around was a bit redundant. This isn't because of Tyson Barrie's play this past season, but because of Evan Bouchard's. Bouchard's first full season in the NHL set the tone for something Oilers fans should be excited for, as he notched 43 points in 81 games, also with little to no powerplay time.
As it looks, Tyson Barrie will be on the Oilers opening night roster. A bit of a surprise, but I have a hard time seeing him being an Oiler through 82 games. This is because of the Oilers' actual defensive play. Anyone who has watched Tyson Barrie knows he is a reliable offensive d-man, but he struggles mightily when it comes to defense. Teams need defense in the playoffs; we saw what happens when you try to outscore teams constantly. It doesn't win you a Stanley Cup.
Barrie has value, there is no question that whatever team he goes to gets better on the offensive side of things, but with the emergence of Evan Bouchard, it's hard to see a spot where Barrie fits on the team. Bouchard needs minutes to grow, be on the powerplay, and be in the top 4 (if not the top pairing). Sure, you can throw Barrie on the 3rd pairing, but that's an expensive 3rd pairing. If I'm Ken Holland, I'm taking advantage of this situation and either getting a cheaper defensive defenseman or re-gaining draft capital.
2022-23 prediction: Tyson Barrie will continue to put up his average in points, but get dealt at the deadline to one of the Seattle Kraken, Philadelphia Flyers, or Dallas Stars.
3. Dylan Holloway Gets Nominated For ROTY
Dylan Holloway has been patiently waiting for his time to shine in Edmonton, and he is finally getting it for two reasons… 1) The Oilers have no cap, and for them to be cap compliant, Dylan Holloway has to be on the opening night roster. 2) So far, he's earned a shot. During the rookie showcase in Penticton, the Oilers rookie showed off his skillset against both the Flames and Canucks, scoring two beautiful goals in each of the games.
We aren't too far from seeing the lineups for opening night, but my guess will be that Holloway starts on the third line right wing, alongside Nugent-Hopkins and Ryan McLeod. Something that a lot of scouts and insiders have said about Holloway is that he's built for the NHL. He's got a strong frame, speed, and skill to keep up with the high-level game. It's safe to say that fans are more than ready to see it, and the Oilers are more than prepared to show they have finally learned their lesson on how to develop prospects properly.
2022-23 prediction: Dylan Holloway will finish the season in the top six, scoring 50-plus points, 25-plus goals, and finish in the top 3 for Calder trophy voting.
4. Jay Woodcroft Will Be Nominated For COTY
It's hard to say if this is a hot take or not. On one hand, you have a young coach who will enter his first full NHL season. On the other hand, you have a guy who stepped into a mess of a team in February and turned them into a deep playoff run, into the WCF. Again, hockey is weird. Another person to give credit to is Dave Manson, the Oilers' defensive coach who joined the team at the same time as Woodcroft and was a big help to the side of the defense coach.
When Woodcroft was first hired as Head Coach, fans knew he would bring something that the Oilers had not tried yet, a modern look at the game. Woodcroft brings analytics, a younger perspective to the game of hockey, something the Oilers desperately needed, and he hit the ground running, winning five straight games. As the season continued, so did the winning ways of the Woodcroft and the Oilers, as the new head coach finished with a record of 26-9-3, and the Oilers with a record of 49-27-6, good for second in their division. When Woodcroft joined the Oilers, they were five points out of the second wild card spots, and playoffs were in doubt.
Jay Woodcroft will be given a chance to see a full 82 games season out of his team, which fans are excited about. Players like Dylan Holloway and Philip Broberg should be especially excited, as they already have experience with Jay Woodcroft with their time in Bakersfield.
2022-23 prediction: Jay Woodcroft will finish top three in voting, giving the Oilers their first head coach to be nominated for the trophy since Glen Sather in the 85-86, where he won the award.
5. The Edmonton Oilers Finish 2nd In The Western Conference
With every season, a team has a contender comes very high expectations, and this is one of them. I want to put first in that heading, but the Colorado Avalanche just won the Stanley Cup, and I feel it would be a disservice to them to predict they can't own the Western Conference again this season. Expectations are dangerous, and Oilers fans know more about this than most fans. Remember that lousy season the Oilers had in 2017-18? Before that season started, they had the second-best odds of winning the Stanley Cup.
The Oilers have a different feel to them this season. It isn't a feeling that people are questioning anymore, wondering if they are good. It's a true belief. The Edmonton Oilers are good. The star power is a perfect amount, the forward depth is there, the defense is fine, the goaltending is solid, and the coaching is there. On paper, the Oilers have a team that can do some damage; they already have.
Another thing, the pacific division is weaker than the rest of the divisions. Look at the Atlantic division as an example, which has about three genuine cup contenders: the Leafs, Lightning, and Panthers. That is a very strong, very competitive division. Luckily, the Oilers don't have to worry about them too much, as they'll only play those three teams six times a season. This isn't to say they aren't as good of a team as those 3 (they beat 2 of them last season), but to say they have a chance to take advantage of a good situation.
The feeling in Edmonton is that the Oilers can be something special this season. The deep playoff run woke the city of Edmonton up, it gave fans a taste of what it's like to win. It left them wanting more, and the Oilers have a great opportunity to give that to them.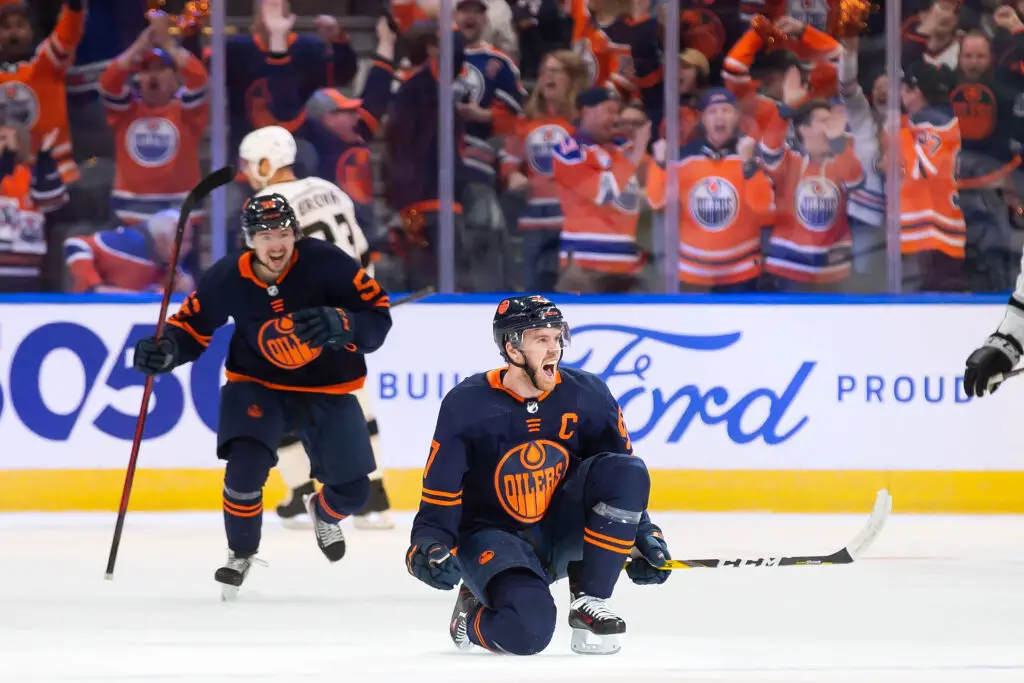 2022-23 prediction: The Oilers will go 55-21-6, giving them 116 points on the season. This would be their best season since the 85-86 season (56-17-7, 119 points)
The boys are back after a long break but have plenty to talk about as the playoffs are in full swing. We go series by series, looking at how teams have fared so far and who will come out on top. Thanks for listening! Please rate and review our show on your favorite listening platform. Check out our partner's website at www.insidetherink.com for all your latest hockey news.