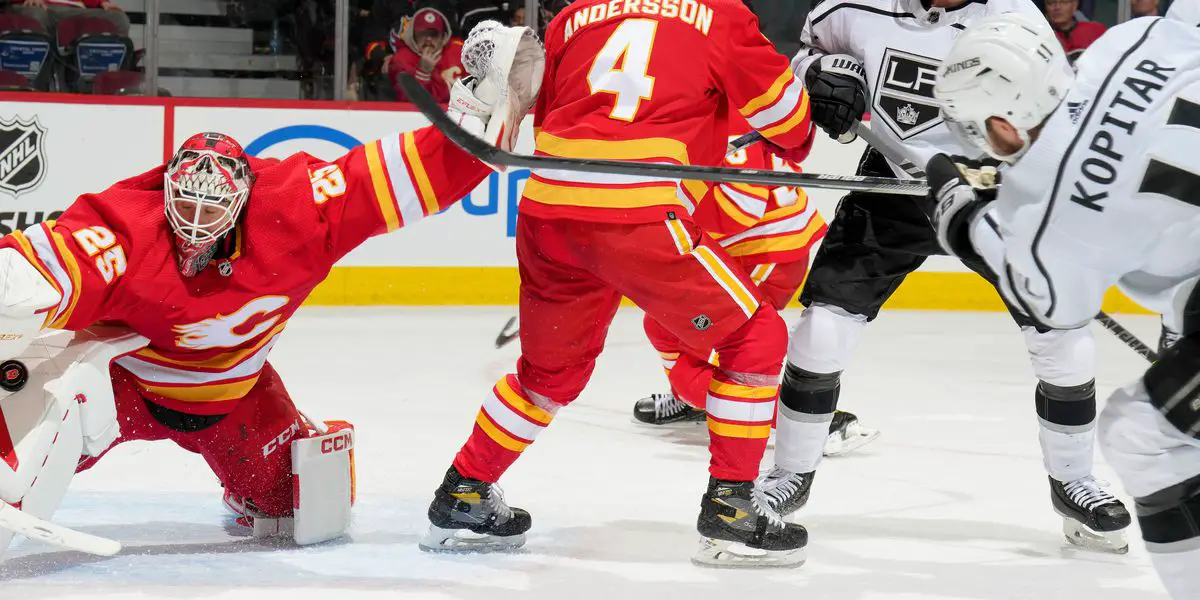 There is no doubt that the Calgary Flames have been a huge disappointment this season.
As of this writing (Monday, March 13), the Flames are five points out of the second wild-card spot with a record of 30-24-13 for 73 points. Considering the fact that the Flames won the Pacific Division and were the sixth-best team in the league last season, this year has been an awful one in Calgary.
The team has really struggled on offense this season. They are currently 19th in the league in goals scored and 23rd on the power play despite being second in the league in shots per game (35.5).
Speaking of struggling, one player that has had his downs this season is the Vezina Trophy finalist from last season, Jacob Markstrom. Markstrom, 33, was all-world for the Flames this season when he was 37-15-0-9 with a 2.22 goals-against average, a 922 save percentage, and nine shutouts.
Things have been much different for Markstrom this year. He is currently 18-18-0-8 with a 2.83 goals-against average, a .895 save percentage, and one shutout.
With that said, Markstrom's play seems to be turning around. Yes, the Flames have a lot of work to do, but based on the way Markstrom has played as of late, anything can happen, and maybe he can help get this team into the playoffs.
In his last seven starts, Markstrom is 3-3-0-1 with a 2.07 goals-against average and a .931 save percentage. His record would be even better if the Flames knew how to put the puck in the net on a consistent basis.
For starters, Markstrom is not allowing soft goals. For much of this season, pucks had been finding ways through him, and for now, at least, he has found a way to do a better job of gobbling up pucks and keeping the puck under control.
Secondly, he looks like he is playing with a lot more confidence. He is back to challenging shooters, cutting down angles while also doing a much better job of reading plays, all things that made him successful last season.
Lastly, he is doing everything he can to show his team that despite the naysayers and everyone else that is counting this team out, there is still a chance for the Flames to sneak into the playoffs. Markstrom knows that the team will need him at his best in order to accomplish that goal.
While it is great to see that Markstrom has turned his game around, it hopefully will not be a case of too little too late come April.
The boys are back after a long break but have plenty to talk about as the playoffs are in full swing. We go series by series, looking at how teams have fared so far and who will come out on top. Thanks for listening! Please rate and review our show on your favorite listening platform. Check out our partner's website at www.insidetherink.com for all your latest hockey news.