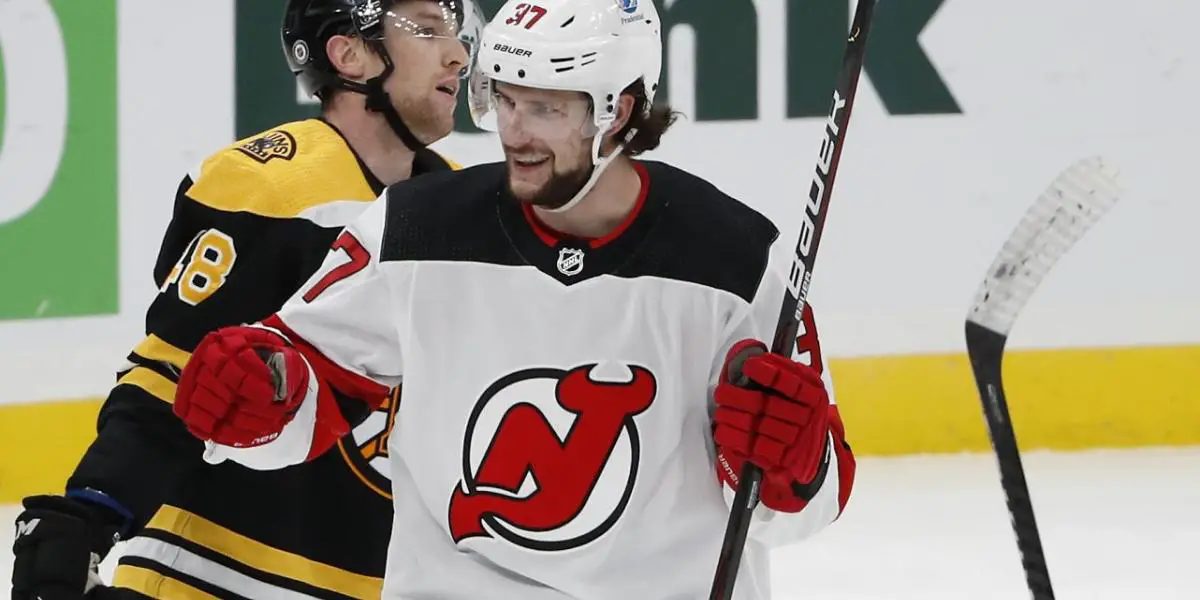 This off-season, Bruins general manager Don Sweeney pulled off a trade adding young center depth to the roster. Sweeney sent out aging veteran Erik Haula to the New Jersey Devils in exchange for 25-year-old Pavel Zacha. For many years fans have been demanding that Sweeney and the Bruins address the lack of young center depth that has the potential to play in the top six. With Patrice Bergeron on the back nine of his career, this needed to get addressed sooner than later.
Pavel Zacha is a former 6th overall pick but has never lived up to his potential just yet, as he owns a career-high of 36 points. While the stats don't jump off the board, the potential is still there, and his former coach agrees.
Longtime NHL forward Mark Recchi finished his career with three seasons as a member of the Boston Bruins, helping them bring the Cup back to Boston in 2011. The former Bruins assistant captain stated that he believes the Bruins won the trade. Recchi would know, as he was an assistant coach for the Devils from 2020 to 2022 and watched Zacha develop after being selected 6th overall in 2015.
Recchi spoke to Boston Hockey Now about Zacha:
'He's a great kid; I mean just a great kid and a great teammate ''As for him as a player? Well, I think there's a ton of skill there once he can figure our how to use it on a consistent basis."
''I mean talent wise, Donny [Bruins general manager Don Sweeney] got a steal here. Talent-wise he's way better than Haula. He's got the skill and just a big body and when he uses that body he's hard to take the puck away from."
While the stats don't back up Recchi's comments, he clearly knows more than us fans as he has coached Zacha for a few seasons seeing firsthand what the big-body Czech is capable of.
With Brad Marchand rehabbing from off-season hip surgery and out until late November to December, Zacha will most likely benefit from playing in the top-six forward group. It is still to be seen if head coach Jim Montgomery will play him on the second line with fellow Czechs David Krejci and David Pastrnak or the top line with Patrice Bergeron and Jake DeBrusk.
Recchi also commented on the Czech connection:
"With Krejci coming back, that's huge because I know he loves 'Krech' and looks up to him He can really help him on and off the ice."
''Confidence and just putting it all together has been the issue. Last year, he got off to a great start; was really our best player, and then he hit a bump a bit, and he just couldn't seem to dig himself out of it."
''He wants to show he deserved to get drafted where he is, and effort isn't an issue at all; it's just confidence and really knowing he can do it."
Hopefully, Recchi is correct as the Bruins will need Zacha to produce early on as they need secondary scoring if they want to stay competitive till fully healthy.
Zacha has 179 career points in 386 games, and with the leadership group of a new coach in Jim Montgomery and veterans Krejci and Patrice Bergeron, the 25-year-old has a chance to break out in his first season as a Bruin.
Bruins prospect tournament standouts, Metro Division Preview, Blake Wheeler loses the "C", Nic Hague contract dispute, and Evander Kane gets another bag.Thanks for listening! Please rate and review our show on your favorite listening platform. Check out our partner's website at www.insidetherink.com for all your latest hockey news.